Monday, March 2, 2015
SU Faculty Art Exhibition to Run Through Saturday, April 4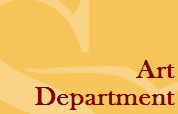 SALISBURY, MD---Members of Salisbury University's Art Department showcase their works during the department's annual faculty art exhibition through Saturday, April 4, in the University Gallery of Fulton Hall.

Faculty exhibiting include Jeanne Anderton, Gary Brotman, Jessica Cross, Steven Durow, Evan Fitzgerald, Paul Flexner, David Gladden, Carl Goldhagen, Marjorie Hill, Elizabeth Kauffman, Jinchul Kim, Jennifer Liston, Sally Molenda, John Mosher, Pam Olszewski, Victoria Pass, Dean Peterson, Brooke Rogers and Bill Wolff.



Gallery hours are 11 a.m.-4 p.m. Monday-Friday, noon-4 p.m. Saturday. Sponsored by SU Art Galleries and the Art Department, admission is free and the public is invited.

For more information call 410-548-2547 or visit the SU Art Galleries Web site at www.salisbury.edu/universitygalleries.