SU Art Galleries Hosts 'The Chromanauts' Nov. 18
Wednesday November 15, 2017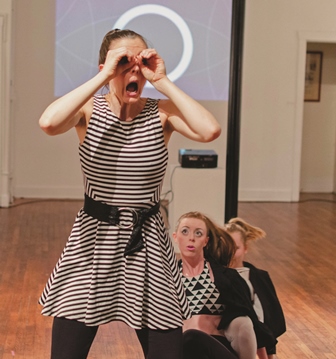 SALISBURY, MD---Dance and visual art meet in the soaring sci-fi adventure of "The Chromanauts" 7:30 p.m. Saturday, November 18, in Room 317 of Salisbury University's Conway Hall.
SU Art Galleries (SUAG) hosts this artistic performance, featuring choreography by Christine Hands, and video, sound and light by John Mosher of SU's Art Department.
Originally staged and co-produced by Side Street Studio Arts in Elgin, IL, the performance follows the Chromanauts as they take off on a voyage to the "negative space," where they encounter the Astromonid, an uncanny being that is both alien and familiar.
Admission is free and the public is invited. For more information call 410-548-2547 or visit the SUAG website at www.salisbury.edu/universitygalleries.
SHARE