Friday, April 13, 2012
SU Alumna Thawley Earns $150,000 Vocal Scholarship Package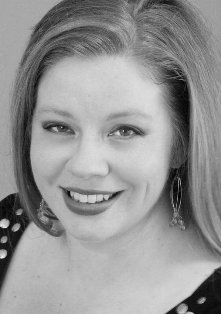 SALISBURY, MD---If a picture is worth 1,000 words, how much is a song worth?

For Salisbury University alumna Kathrin Thawley, the answer is $150,000.

The soprano recently placed second in the graduate division of the Alltech Vocal Scholarship Competition. Her prize: $8,000 in cash, a full scholarship to the University of Kentucky master's program in music, and summer tuition to the renowned American Institute of Musical Studies in Graz, Austria.

At the American Institute, she will take master classes in opera and lieder with international faculty and audition for agents and presenters.

"I'm looking forward to performing on international stages," she said. "That has been a dream of mine. … I'm passionate about learning whatever I have in front of me and performing it well ... as if the composer and librettist were sitting in the audience." She hopes one day to pass her knowledge and talents on to others, teaching music at the collegiate level.

The Baltimore native, who now lives in Salisbury, earned her B.A. in music, focusing on vocal performance, at SU last May. At Kentucky, she will seek to continue her education, building on the foundation laid by Drs. Linda Cockey, William Folger, John Wesley Wright and others in SU's Department of Music. Her scholarship studies package has an estimated value of $150,000.

Locally, Thawley continues to sing as a guest soloist with SU's music ensembles. She joins the Salisbury and University chorales for a performance of John Corigliano's Fern Hill during the groups' spring concert. The 4:30 p.m. Sunday, April 15, performance in Holloway Hall Auditorium, also features Gabriel Fauré's Requiem. Admission is $10, $8 for seniors age 62 and over.

She also plays Ruth in the SU Opera Workshop's production of Gilbert and Sullivan's The Pirates of Penzance Saturday-Sunday, May 5-6, in the Great Hall of Holloway Hall. Curtain is 3 and 8 p.m. Saturday, 3 p.m. only Sunday. Admission is $15, $12 for seniors age 62 and over.

For more information call 410-543-6030 or visit the SU Web site at www.salisbury.edu.