Wednesday, April 20, 2011
Princeton Review Again Names SU a 'Green College'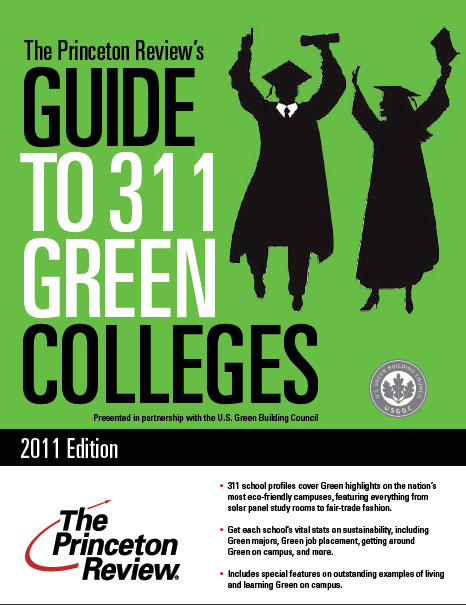 SALISBURY, MD---For the second consecutive year, The Princeton Review, in partnership with the U.S. Green Building Council (USGBC), has named Salisbury University one of the nation's most environmentally responsible colleges.

The University is featured in the Guide to 311 Green Colleges, a free resource for college applicants that highlights impressive environmental and sustainability programs at campuses across the country.

"I am honored that The Princeton Review again has recognized Salisbury University for our strong commitment to sustainability," said SU President Janet Dudley-Eshbach, who signed the American College and University Presidents Climate Commitment in 2007. "It is easier for an institution to continue to operate according to the way things have been done in the past. At Salisbury University, we have shown that with creative thinking, it is possible to make changes that better our environment while maintaining the same high academic and operational goals and standards. I'm grateful for the ongoing and unwavering dedication of SU students, faculty and staff to making our campus more sustainable."

Published just in time to commemorate Earth Day on Friday, April 22, the guide is based on a survey of hundreds of colleges nationwide. Data examined include institutional commitment to LEED building certification, environmental literacy programs, formal sustainability committees, use of renewable energy resources, recycling and conservation programs, and more.

The 311 colleges were selected based on "green rating" scores from summer 2010 in The Princeton Review's online profiles and annual guidebooks. SU received a rating of 87 (on a scale of 60-99) in The Princeton Review's Best 373 Colleges. All campuses in the guide were rated in the 80th percentile or higher.

"College-bound students are increasingly interested in sustainability issues," said Robert Franek, The Princeton Review's senior vice president of publishing. "Among 8,200 college applicants who participated in our spring 2011 'College Hopes and Worries Survey,' nearly seven out of 10 (69 percent) said having information about a school's commitment to the environment would influence their decision to apply to or attend the school."

"From a recycling program spanning more than two decades to a more recent electricity- and water-saving partnership with Pepco Energy Services, being 'green' is not new at SU," said Wayne Shelton, director of campus sustainability and environmental safety. "Our Teacher Education and Technology Center became the Eastern Shore's first USGBC LEED-certified new construction project in 2008, earning Silver status."

Today, LEED Silver certification is the minimum goal for all construction projects at SU, with some, like the new home of the Franklin P. Perdue School of Business, aiming for Gold.

Recently, SU became the first higher education institution to be honored with the WMDT/Mountaire Environmental Star Award. The University also has earned the Maryland Department of Natural Resources "People Loving and Nurturing Trees" (PLANT) award for its tree-friendly campus, which is a national arboretum and home to student-planted wildlife, and rain and vegetable gardens.

Students use Mac-Gray's high-efficiency laundry units, which SU was the first university in the nation to install in residence halls campuswide. They may also opt to live in the University's Green Floor Living Learning Community. The eco-friendly floor is based in Manokin Hall, one of two residence halls recently making the switch to geothermal heating and cooling, with a third residence hall scheduled to complete the conversation by fall 2011. Also in the "green" spirit, SU's Motor Pool has replaced some of its older, higher-mileage vehicles with environmentally friendlier hybrid cars.

In the classroom, environmental studies majors are learning from award-winning Chesapeake Bay writer Tom Horton and other distinguished faculty. Biology and business professors have studied forest growth locally and in the Amazon thanks to more than $1 million in National Science Foundation and Nature Conservancy grants.

Other sustainable initiatives are detailed in the campus' climate action plan, which outlines steps to reaching a goal of zero net greenhouse gas emissions by 2050.

To download the Guide to 311 Green Colleges visit www.princetonreview.com/green-guide.aspx or www.centerforgreenschools.org/greenguide.

For more information call 410-543-6030 or visit the SU Web site at www.salisbury.edu.