Tuesday, May 27, 2014
Perdue School Students Compete in Business Simulations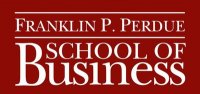 SALISBURY, MD---Shoes? Cameras? Sensors? No problem; students in Salisbury University's Franklin P. Perdue School of Business can manufacture and sell them all … at least virtually.
Students in three SU classes vied against hundreds of others worldwide this semester through virtual management simulation programs. Overall, these students ran some of the world's top companies that never existed.
Seniors in Dr. Richard Hoffman's capstone Strategic Management course came on especially strong during the final two weeks of their semester-long simulation, the Business Strategy Game. They competed against over 2,600 teams from 185 institutions around the world to see who could boast the best branded and private-label shoe manufacturing sales.
Weekly highlights included:
Cheetah Athletics' two top 25 best return on investment performance (19th and 25th place), managed by Christina Bustamante, Kyle Erter, John Faust and Michael Szyjka;
EZ-Walk's tie for 24th place in overall game-to-date score, secured by Hallie Barnes, Jeffrey Helferstay, Khurram Sarfraz and Philip Valencia; and
Finishline Shoes' 94th best stock price performance, obtained by Nick Disciullo, Chris Gaines, Ken Janssen and Austin Whitehead.
In the Glo-Bus global business simulation, management students in David Hilton's class found similar weekly success. The BitSnaps digital camera sales team of Kiersten Durst, Edwin Majano, Seth Poffenberger and Ryan Weinhold tied for 77th best overall game-to-date score out of nearly 1,400 teams from 86 institutions.

Also scoring big were students in Dr. Vera Street's class, who scored in the 87th percentile overall out of some 2,903 teams nationwide, virtually selling electronic sensors.

In the final round, they boosted their score into the 90th percentile, placing them in the top 10 percent of all participants worldwide. Team members included David Bloom, John Buntz, Zack Gerber, Alexis Hatch and Navarone Simpson.

"Given the wide use of theses simulations, it is impressive that Perdue School teams achieved such high rankings globally," said Hoffman. "We feel this is, in part, a testimony to the education they are receiving from the Perdue School of Business."

For more information call 410-543-6030 or visit the SU website at www.salisbury.edu.