Perdue School Opens Innovation, Entrepreneurship, Economic Development Hub
Wednesday March 1, 2017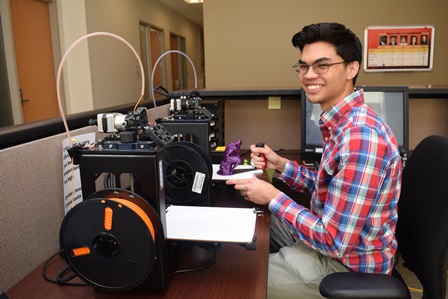 SALISBURY, MD---Since 1987, Salisbury University students have vied for the coveted Bernstein Achievement Award for Excellence, honoring the year's best business plan.

Now, they have a training ground to help make those plans even grander.

SU's Franklin P. Perdue School of Business recently launched a new Innovation, Entrepreneurship and Economic Development Hub (formerly the Student Services Center) on the first floor of Perdue Hall. Part of ongoing efforts led by William Burke, SU executive director of economic development, the hub houses the school's expanding Innovation Lab, overseen by Dr. Gene Hahn.

Hahn helped create a makerspace atmosphere within the Perdue School, incorporating 3-D printing and rapid prototyping into his information and decision sciences classes. He also pioneered a new course in digitally enabled product development using 3-D printing and the Arduino microcontroller.

In addition to the 3-D printing facilities and rapid prototyping support offered at the lab, the new hub includes dedicated spaces for idea generation and opportunity assessment.

It also provides space to help students prepare their business plans for SU's Entrepreneurship Competitions (the Bernstein Award serves is the top prize) and Philip E. and Carole R. Ratcliffe Foundation Shore Hatchery entrepreneurship program, as well as other local, regional and national business plan competitions.

Students in SU's freshman and sophomore Entrepreneurship Living Learning Communities, and members of the University's Collegiate Entrepreneurship Organization (CEO) and Building Opportunities and Supporting Sisters (BOSS) program will share the space for student-to-student business plan preparation and coaching.

Perdue School faculty and staff, and representatives from the Small Business Development Center at SU; the SU Foundation, Inc.; and others also have space at the hub to meet with students, business partners, community leaders and other members of the local "entrepreneurship ecosystem."

Members of the SU Entrepreneurship Faculty Learning Community, and other innovative and entrepreneurial faculty and staff on campus also may use the hub for cross-discipline collaboration and additional opportunities.

For more information call 410-543-6316 or visit the Perdue School website at www.salisbury.edu/perdue.
SHARE