Perdue School Faculty Present at 75th Academy of Management Meeting
Friday August 14, 2015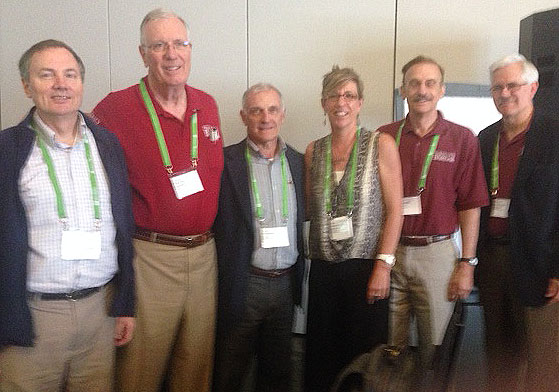 SALISBURY, MD---Salisbury University's Franklin P. Perdue School of Business had a strong presence at the Academy of Management's 75th annual meeting, "Opening Governance," in Vancouver, British Columbia, Canada.
A team led by faculty from SU's Management and Marketing Department presented the workshop "Open Governance: In Large and Small Enterprises, and Across Industries and Culture," one of only 16 all-academy presentations selected from 567 proposals.
SU presenters included Drs. Stephen Adams, Thomas Calo, Richard Hoffman, Olivier Roche and Frank Shipper. Joining them were Mary Ann Beyster, president of the Foundation for Enterprise Development; Dr. Charles Manz of the University of Massachusetts Amherst; and Craig Pearce of MEF University, Turkey.
The workshop examined multiple models of open governance across industries and cultures, and how those models could be changed or enhanced through leadership, property rights, decision processes, transparency and trust. In addition, the presentation explored the impact of open governance on effectiveness and creativity.
Shipper also served as a panelist for the discussion "Anticipatory Governance Approaches to Weak Signals: Reliability, Resilience, Renewal-Based Practices." He spoke alongside representatives from Harvard and Cornell universities, and Google, among others.
In addition, he led the discussion "Mindsets and Filters That Prevent Weak Signal Detection" during the roundtable "Challenges in Detecting Weak Signals and Separating Them from Noise" and the discussion "Lessons from Organizations Operating in Extreme Conditions with Little Parallels" during the roundtable "Interpreting, Communicating and Amplifying Weak Signals."
Hoffman delivered the presentation "Employee Ownership and Union Labor: The Case of United Steel," co-authored with Marvin Brown, also of SU's Management and Marketing Department. His presentation explored the efforts of the United Steel Workers of America to use "investment bargaining" as a means of buying out ailing steel firms in the 1980s and '90s.
For more information call 410-543-6030 or visit the SU website at www.salisbury.edu.