Perdue School Co-Hosts Annual Economic Forecast Thursday, January 19
Friday January 13, 2012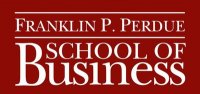 SALISBURY, MD---Dr. Memo Diriker, director of Salisbury University's Business, Economic and Community Outreach Network (BEACON) keynotes the 24th annual Economic Forecast Thursday, January 19, in Perdue Hall's Bennett Family Auditorium.
Registration for the regional presentation begins at 7:30 a.m. SU Provost and Senior Vice President of Academic Affairs Diane Allen, Franklin P. Perdue School of Business Dean Bob Wood and Salisbury Area Chamber of Commerce President Ernie Colburn welcome guests at 8 a.m.
J. Michael Scarborough, president and CEO of The Scarborough Group, Inc., opens presentations, speaking on "The National Economy."
Scarborough has presented 401(k) educational seminars to clients and employees of Fortune 500 companies throughout the nation. He is a frequent speaker at industry conferences and on CNBC. His comments have appeared in Business Week, Kiplinger's Personal Finance, Money, the Chicago Tribune, USA Today, the Wall Street Journal, The Washington Post and the Los Angeles Times, among others. He earned his B.S. in finance from SU and his M.B.A. from Baldwin-Wallace College, and has taught personal finance and economics courses at SU and Johns Hopkins University.
The Scarborough Group is a pioneer in the 401(k) advice industry. It currently manages more than $2 billion in retirement assets as one of the nation's largest providers of allocation management for 401(k) plan participants.
A panel of regional experts, moderated by Dr. Clifton Griffin, SU dean of graduate studies and research, follows with the discussion "Opportunities and Challenges We Face on the Lower Shore in 2012." Panelists include Michael Gerschenfelt, president of Sysco Eastern Shore; accountant John Stern of PKS and Company; and Michael James, managing partner of Ocean City's Carousel Hotel and past member of the Governor's Economic Development Committee.
William McCain of W.R. McCain and Associates presents a regional real estate summary, followed at 11 a.m. by a choice of two breakout programs.
In the first, Wayne Strausburg of Hall Consulting and Management, a member of the Maryland Governor's Commission on Small Business, speaks on the commission's "Small Business Development Survey Results and Preliminary Recommendations."
In the second, a panel discusses "Workforce and Human Resources Issues" on the Lower Shore. Panelists include Ray Grossman of Shore Health System, representing the Eastern Shore chapter of the Society of Human Resource Managers (SHRM); Marie Waller, owner of Quality Staffing Services; and Dr. Douglas Wilson of Peninsula Regional Medical Center.
Diriker speaks during the chamber's January general membership luncheon, served in the Perdue Hall Atrium. Following introductions by Wicomico County Executive Rick Pollitt and Wor-Wic Community College President Ray Hoy, his presentation focuses on the recently completed tri-county regional visioning project. This effort helped update the Lower Shore Vision document created a decade ago as part of the Lower Shore's comprehensive economic strategy plan.
Tours of Perdue Hall, which opened last fall, follow the luncheon.
A speakers' reception precedes this year's event from 6-8 p.m. Wednesday, January 18, in SU's Scarborough Leadership Center. The facility is named in honor of J. Michael Scarborough, who contributed more than $800,000 to help fund its construction in 2001. Admission to the reception is $50.
Admission to Thursday's Economic Forecast is $50 for members of the Salisbury Area Chamber of Commerce and other local chambers of commerce. Admission for non-chamber members is $75. Cost to attend the membership luncheon is an additional $15. To RSVP e-mail chamber@salisburyarea.com.
The event is sponsored by the Perdue School of Business, the Eastern Region Small Business Development Center at SU, BEACON, the Salisbury Area Chamber of Commerce, the Tri-County Council for the Lower Eastern Shore of Maryland, the University of Maryland Eastern Shore, and Wor-Wic Community College.
For more information call 410-749-0144.