Perdue Faculty Earn Praise, Grant for Case Studies
Thursday February 2, 2012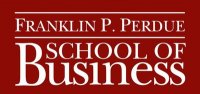 SALISBURY, MD---Business students throughout the world are benefitting from research published by faculty in the Management and Marketing Department of Salisbury University's Franklin P. Perdue School of Business.
Case studies performed by SU faculty on companies that have employee stock ownership plans (ESOPs) are receiving national and international recognition. Overall, studies of ESOP companies have found that businesses participating in these types of plans — through which employees are issued stock and become part owners in the company — outperform and recover faster from economic downturns than traditional firms.
Recently, the National Center for Employee Ownership (NCEO) pledged support for these studies, offering the Perdue School an unsolicited $10,000 grant from its Rosen Ownership Opportunity Fund.
According to Corey Rosen, NCEO's recently retired executive director for whom the fund is named, these case studies are "so critical to getting business students to take these ideas seriously," adding that he was "very impressed" with SU's efforts.
"It's very unusual that someone provides research money without a formal request or proposal," said Dr. Frank Shipper, chair of the Management and Marketing Department.
He credits the success to all Perdue School faculty who have worked on ESOP case studies, including Stephen Adams, Marvin Brown, Thomas Calo, Richard Hoffman, Oliver Roche, Marc Street, Vera Street and Christy Weer.
In the past three years, Perdue School case studies have been published in five different languages (English, Chinese, Korean, Spanish and Portuguese) and in at least four textbooks from Cengage Learning and other publishers. They are estimated to reach some 300,000 students around the globe and have received praise from educators at institutions throughout the United States.
"For smaller, closely-held companies, the excellent cases by Professor Frank Shipper (and colleagues) are really very well done," said Dr. Joseph Blasi, the J. Robert Beyster Professor of Employee Ownership at Rutgers University.
Dr. Deborah Ancona, Seley Distinguished Professor of Management at the Massachusetts Institute of Technology, praised an SU study of Delaware-based manufacturer W.L. Gore & Associates as "excellent, and students can learn a lot" from it.
Similarly, Dr. Richard Boyatzis, H.R. Horvitz Professor of Family Business at Case Western Reserve University called the Perdue School study of construction and job management software provider HCSS "a superb case study with a compelling story."
Individually, these and other SU ESOP studies are making headlines not only on Web sites run by business organizations such as the Foundation for Enterprise Development (FED), but also in national media, including MSNBC.com. SU case study articles are routinely among the top 25 downloaded each quarter from Organizational Dynamics' Web site. The FED has endorsed a proposal for a book on broad-based employee ownership, including ESOPs, by Perdue School faculty.
These types of employee partnerships "appear to be ready for growth due to broad philosophical support," said FED President Mary Ann Beyster. "More than 100 academics have integrated aspects of employee ownership into their curriculum … [and] there are approximately 11,300 ESOPs employing 10 million people, and collectives and cooperatives employing an additional two million people."
With that in mind, it is not difficult to understand why each of the SU studies made available on the Case Place Web site of The Aspen Institute, an international non-profit organization dedicated to fostering leadership, has received more than 1,000 views in less than a year. Business and education professionals want to know more about ESOP — and SU's management faculty are at the forefront of the trend.
For more information call 410-543-6030 or visit the SU Web site at www.salisbury.edu.