Thursday, March 3, 2011
Nature Enthusiast Brent Nixon Takes SU to 'Alaska' March 14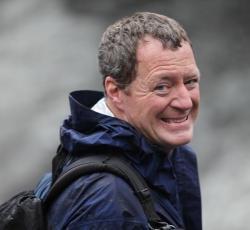 SALISBURY, MD---Nature enthusiast Brent Nixon journeys through "Alaska!" 6 p.m. Monday, March 14, at Salisbury University's Ward Museum of Wildfowl Art (909 S. Schumaker Dr.).

His talk and visual presentation explore that state's Inside Passage, providing an up-close look at the land, and its people and creatures. Nixon describes Alaska as a "magnificent treasure chest" where travelers can "fly with eagles, walk forests with bears and swim icy waters with whales."

Nixon was a featured naturalist on Travel Alaska, Turner Broadcasting's three-part TV series, and has contributed video imagery to the National Geographic, Animal Planet and Discovery channels.

Currently, he is president and CEO of Nature Talks, a group dedicated to environmental education and endangered species research. In the North Pacific, he has examined the behavioral responses of humpback and killer whales to increased human influences, including boating traffic.

Sponsored by the Ward Museum and SU's Richard A. Henson School of Science and Technology, the one-hour talk is free and the public is invited. Refreshments are served at 5:30 p.m.
In addition, on Tuesday, March 15, Nixon speaks to SU students and faculty on "The Orca Controversy: Where Do You Stand?" at 4 p.m. in SU's Henson Science Hall Room 103. He examines the physiology and behavioral traits of killer whales, and discusses such issues as conservation and global pollution. He aided in the creation of the nation's first non-captive whale watch park, Lime Kiln on San Juan Island, WA.
Sponsored as part of the Henson Seminar Series, this second talk for the campus community is also free. Refreshments are served at 3:45 p.m.
For information call 410-543-6030 or visit www.salisbury.edu.