Thursday, September 26, 2013
'Marked' Showcases SU Faculty Art September 30-October 26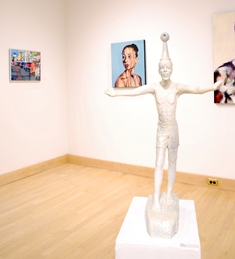 SALISBURY, MD---Members of Salisbury University's Art Department showcase their works during the department's annual faculty art show, "Marked," September 30-October 26, in the University Gallery of Fulton Hall.

Panel discussions with faculty members are 3:30 p.m. Tuesday and Thursday, October 8 and 10, in Fulton Hall Room 111. A recital by Music Department faculty is 5-6 p.m. Friday, October 11, in Room 112. The evening culminates with an exhibit reception at 6 p.m. in the University Gallery.

Faculty exhibiting include Elizabeth Kauffman, Edward Brown, James Hill, Marjorie Hill, Jeanne Anderton, Paul Flexner, Jinchul Kim, Sally Molenda, John Mosher, Gary Brotman, Carl Goldhagen, Jessica Cross, Pamela Olszewski, Dean Peterson, William Rogers, Steve Durow, Evan Fitzgerald, Corinne Beardsley and David Gladden.

"Marked" is a themed exhibition, focused on what inspires the SU Faculty's artistic practice. This year's exhibition will give the Salisbury community the chance to see the impact these professors have on their students and vice versa. "Marked" is curated by Galleries Manager Marisa Sage.

Gallery hours are 11 a.m.-4 p.m. Monday-Thursday, noon-4 p.m. Saturday. Sponsored by SU Art Galleries and the Art Department, admission is free and the public is invited.

For more information call 410-548-2547 or visit the SU Art Galleries Web site at www.salisbury.edu/universitygalleries.