Joan Soriano, 'Duke of Bachata,' Performs at SU October 4
Monday September 11, 2017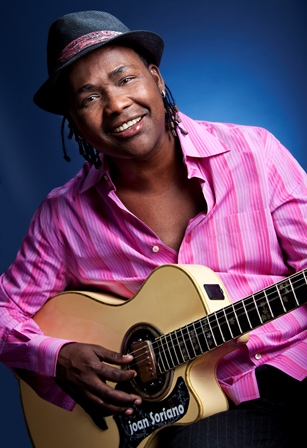 SALISBURY, MD---Bachata, a style of social dance and music originating in the Domincan Republic, is now popular throughout the world.
Steel-string bachata musician Joan Soriano continues Salisbury University's Hispanic Heritage Month Festival with a concert featuring the distinctive sound 7 p.m. Wednesday, October 4, in Holloway Hall Auditorium.
Known as "The Duke of the Bachata," Soriano blends Afro-Dominican traditions with influences from Africa, Europe, Latin America and the Caribbean to produce a unique sound.
Born in the rural countryside near Santo Domingo in the Dominican Republic, Soriano fashioned his first guitar from a tin can and fishing line. As a boy, he received little formal education — the seventh of 15 children, he left school to help his father farm the family's land.
Forming a band with his young brothers and sisters, he began to perform at neighborhood events. Nicknamed "Los Candes" — after their father, Candelario — the group became a local sensation. At age 13, Soriano hitched a ride to Santo Domingo and went on to nurture his talent working with some of the island's greatest bachata stars.
Today, his popularity extends far beyond the Dominican Republic. Critiquing his debut album, El Duque de la Bachata (The Duke of Bachata), National Public Radio proclaimed "bachata … has a new star." The Miami News Times said Soriano "embod[ies] the very history of his music."
His performance is made possible through Southern Exposure: Performing Arts of Latin America, a program of the Mid-Atlantic Arts Foundation in partnership with the National Endowment for the Arts.
Sponsored by SU's Cultural Affairs Office, admission is free and the public is invited. For more information call 410-543-6030 or visit the SU website at www.salisbury.edu.
SHARE