Wednesday, August 30, 2017
Jackson Chamber Music Series Presents 'Trio Lennon' Thursday, September 28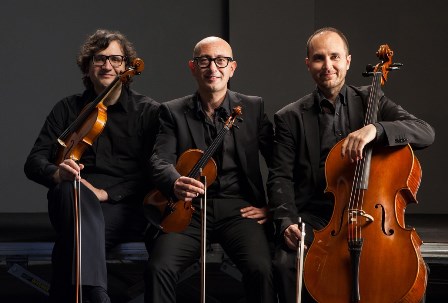 SALISBURY, MD---Music from The Beatles — with a classical twist — comes to Salisbury University as the Peter and Judy Jackson Chamber Music Series presents Trio Lennon 7 p.m. Thursday, September 28, in Holloway Hall Auditorium.

Italian soloists Luca Marziali on violin, Roberto Molinelli on viola and Alessandro Culiani on cello perform a repertoire that ranges from classical to romantic, with influences from the Vienna School to American music.

Molinelli has rearranged several melodies from John Lennon and Paul McCartney, readapting them into a wider-ranging symphonic structure while preserving the lyrical and expressive features that have made the originals such lasting successes. On "Hey Jude," for example, the musicians use their traditional instruments in new ways, emulating percussion.

Trio Lennon's SU performance is sponsored by the Cultural Affairs Office; World Artists Experiences, Inc.; and the Embassy of Italy in Washington, D.C. Admission is free and the public is invited.

For more information call 410-543-6271 or visit the SU website at www.salisbury.edu.