Friday, May 20, 2011
Iostudio Lauds Work of SU Marketing Students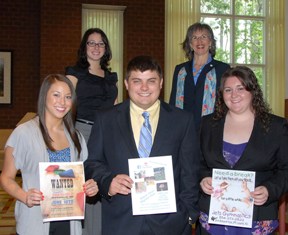 Top row, from left: Lindsey Schwalb and Paula Morris. Front row, from left: SU students Caitlyn Twilley, Spenser Smallwood and Jennifer Houghton. Not pictured: SU students Roger Follebout III and Chelsea Kotlas.

SALISBURY, MD---Students in Paula Morris' marketing classes at Salisbury University recently received real-world feedback from iostudio, a marketing firm based in Washington, D.C., and Nashville.

Executives and directors from both of iostudio's offices judged advertisements designed by Morris' students as part of a class project. Students were charged with securing and meeting with a client, and designing a print, TV, radio or online ad; billboard; annual report; or brochure to meet the client's needs.

Student teams worked with local businesses including Station 7 Restaurant, Peninsula Regional Medical Center, Jets Gymnastics, Digital Dirt and Kane Real Estate. Judges praised the students' "clear message and clean layout," "good copywriting," "good use of humor," "good use of imagery" and "good layout," among other topics.

Once their projects were completed, students wrote papers describing how those experiences related to what they learned in the class. Morris said the assignment gave students "experience and confidence" they may not have received within the confines of the classroom.

Iostudio advertising account executive Lindsey Schwalb, a Parkside High School alumnus, coordinated judging for the contest.

For more information call 410-543-6030 or visit the SU Web site at www.salisbury.edu.