Thursday, April 3, 2014
Guerrieri University Center Art Space Presents 'How She Hides' April 4-May 1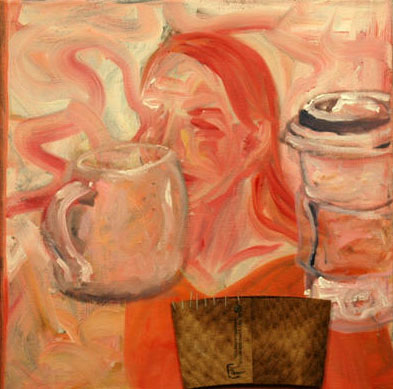 SALISBURY, MD---The Guerrieri University Center Art Space hosts the exhibit "How She Hides" by junior Andrea Lecha from April 4-May 1.
Lecha grew up in Columbia, MD, as a first-generation American. Speaking Spanish as her first language, she was drawn to imagery as a visual language and started painting at age 15. She is pursuing a B.F.A., with a concentration in painting, at SU.
"The first thing someone notices when they see my work is its abuse," she said. "I rip, tear and scrape the already worn-in jeans. I lay the paint on, then scrub it in and sand it off. I glue stuff on, scratch it off and sew something on top of it. The process and story behind the work are a lot more important than the actual look of the finished painting.
"I'm also very influenced by the 'dirty' qualities of Robert Rauschenberg's works. My paintings never end up being 'pretty' or 'clean' because to me, everything in life is ugly, imperfect and complicated in a way. When I paint, it's about an aspect of my life that I can't really solve or communicate. I use the medium to replicate the same feelings I feel — abandonment, abuse, heartbreak — and the end where I take all the pieces of me left and 'sew' or 'glue' myself together.
"I was recently told, 'In order to love, you need to be torn, violated and broken, then built back up.' My artwork is just that, physically and psychologically, through the medium I chose to use and the imagery and story behind the pieces."
The Art Space is located in the Guerrieri Center's second-floor concourse. Admission is free and the public is invited. For more information call 410-543-6247 or visit the Art Space website at http://www.salisbury.edu/guc/artspace.