Wednesday, March 24, 2010
Gilchrest Explores Environment, Politics with SU Students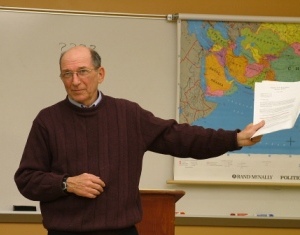 SALISBURY, MD---A champion of environmental issues who served Maryland's 1st district for nine terms, former U.S. Congressman Wayne Gilchrest is sharing his first-hand legislative experience with 33 Salisbury University students this spring.

Through his course "The Environment and the Political Process," Gilchrest teaches students about Congress and explores such policy issues as the Chesapeake Bay Program, Clean Water Act, Magnuson Act, energy and endangered species. During one recent class, his students explored global climate change, and discussed consequences and solutions.

"Each of you comes from a different background with your own experiences and views on politics, the economy and the world," he told them. "I'm trying to show that even though you have a certain 'frame of reference,' you can still learn new things."

SU senior Matt Teffeau of Preston, MD, first met his former representative during a youth tour to the Capitol. "His insight into policy-making and politics in Washington is firsthand experience that you cannot learn anywhere else," he said. "I enjoy the different views that are shared in class."
SU senior Tim Powers of Towson, MD, said "not too many people can say they had a former congressman for a professor!" He added: "Gilchrest has a unique style of teaching, unlike all my other teachers. During class, we not only learn from him but he also learns from us, viewing us as the next leaders of our country."
Gilchrest, who during his tenure earned a reputation as an independent thinker, is examining the future of moderate Democrats and Republicans in Congress with his students. Another discussion topic is America's ability to heal the fractured geo-political balance of power in the Middle East and links to ecological thinking in that process.
"I hope students gain a healthy sense of American Democracy in the early 21st Century and a basic framework of knowledge to be competent participants in a global community," he said.
Gilchrest is bringing past and present members of Congress, their staff, journalists and party leaders to speak to his Tuesday night class. His students are examining legislation moving through the House and Senate, and reading Jeffrey Sachs' Common Wealth: Economics for a Crowded Planet. The book explores challenges facing humanity, including global warming and environmental destruction; population stability; poverty; and political logjams that hinder global cooperation on such issues.
"Students in SU's growing environmental issues program are benefitting from Congressman Gilchrest's many years of expertise dealing with environmental policy issues in the U.S. House of Representatives," said Dr. Michael Lewis, program director. "We look forward to a public seminar he will deliver later this semester."
While in Congress, Gilchrest chaired the Chesapeake Bay Watershed Task Force and co-chaired the Climate Change Caucus. He also served on the Natural Resources Committee, as well as subcommittees on Fisheries, Wildlife and Oceans, and Water Resources and Environment.
Gilchrest isn't the only environmental expert teaching at SU this spring. Award-winning author Tom Horton is exploring "Rhetoric of the Environment" with students.
For more information call 410-543-6030 or visit the SU Web site at www.salisbury.edu.