Thursday, September 11, 2014
Environmental Colloquium Series Continues This Fall at SU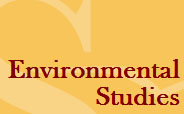 SALISBURY, MD---Salisbury University's fall Environmental Studies Colloquium Series continues with "Celebrating Nature: A Conversation Between a Naturalist and a Poet" on September 24.

All presentations in the series are 7 p.m. Wednesdays in Henson Science Hall Room 243.

"Celebrating Nature" features two SU faculty members: Dr. Ron Gutberlet, associate chair of the Biological Sciences Department, and Nancy Mitchell of the Environmental Studies Department. They discuss the interaction between natural history and art.

Gutberlet taught at the University of Texas at Tyler from 1998 until coming to SU in 2007. He also served as a research associate at the University of Texas at Arlington's Amphibian and Reptile Diversity Research Center and is vice president of the Maryland Ornithological Society and a member of state's e-bird review team. His research interests include the natural history and conservation biology of reptiles, amphibians and birds.

Mitchell, formerly of SU's English Department, is a 2011 Pushcart Prize recipient and the author of two volumes of poetry: The New Surround and Grief Hut. Her poems have appeared in Agni, Green Mountains Review, Poetry Daily, Salt Hill Journal and Great River Review, and have been anthologized in Last Call by Sarabande Books, and The Working Poet by Autumn House Press.

Upcoming presentations in the series include:

October 22 – "Dolphins and Aquaria: The National Aquarium and Its New Policies." The National Aquarium in Baltimore recently changed its policies regarding captive dolphin performances. A representative from the aquarium discusses these policy shifts and their implications.

November 12 – "Trees and the City" with Charles Murphy. Trees have been shown to have a number of positive impacts on cities, from regulating heat to providing habitat for insects, birds and other animals. Murphy, of Tree Baltimore, discusses his experiences working to increase tree cover in that city.

November 19 – Panel discussion: "Environmental Regulations and the Local Farm Movement." Salisbury farmer Ted Wycall and his Greenbranch Farm has been a leader in the sustainable local food movement. However, he has found that some environmental regulations intended to help the Chesapeake Bay have unexpectedly impacted on his attempts to make a living growing food. This panel considers the relationship between environmental regulations and the local farm movement, using Wycall's experiences as a case study.

Sponsored by the Environmental Studies Department, admission is free and the public is invited. For more information call 410-543-6030 or visit the SU website at www.salisbury.edu.