Education Professors' Scholarship Helps SU Seniors
Wednesday April 19, 2017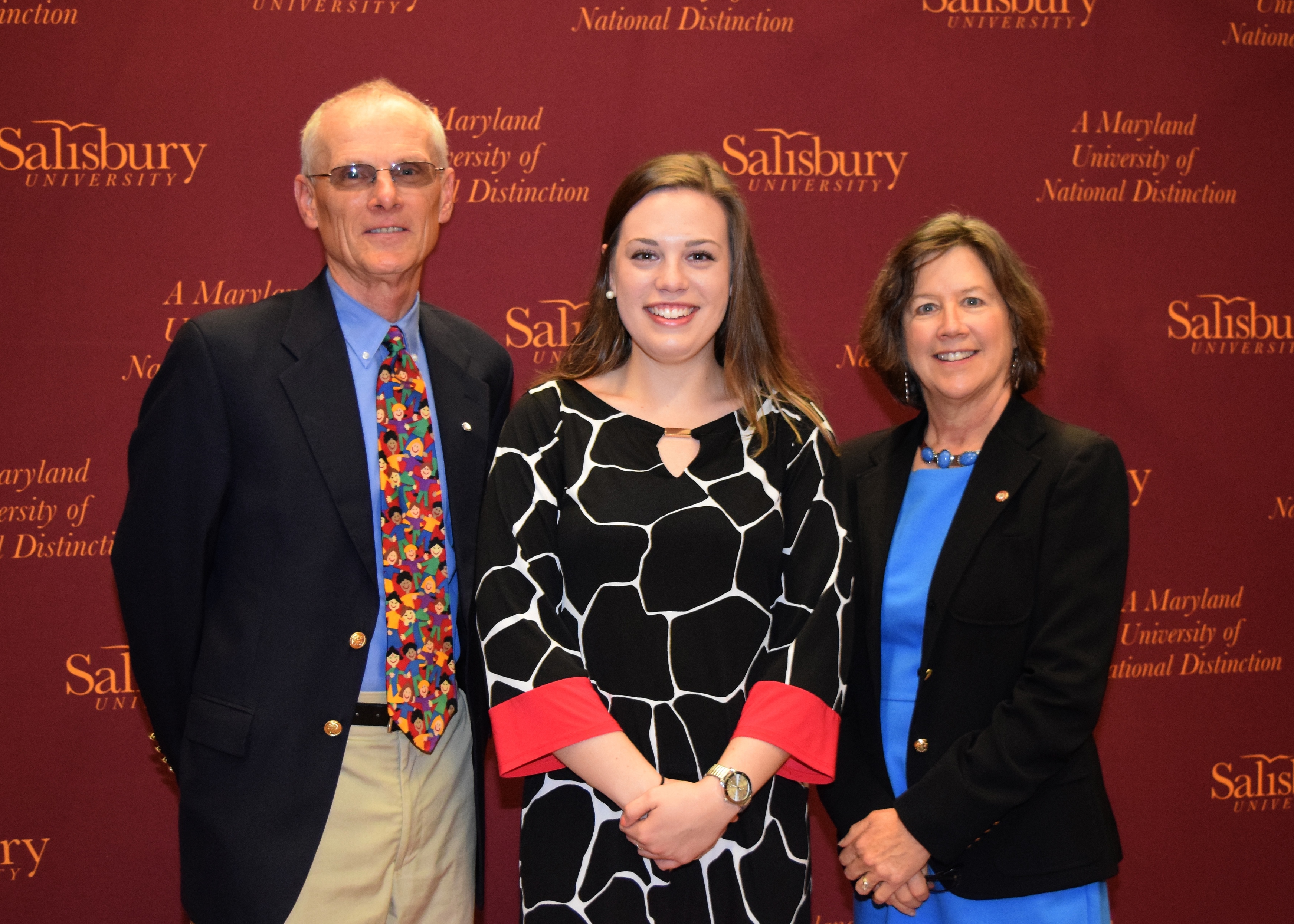 SALISBURY, MD---Two Salisbury University education professors have created a scholarship that fully covers senior year tuition for an education major from Maryland.
Dr. Jon Andes of the Education Specialties Department and Dr. Laurie Andes of the Teacher Education Department started the Andes Family Scholarship to encourage more SU students "to enter the field of education, graduate and make a difference in the lives of young people." The endowed gift will provide an ongoing scholarship for an education major.
"These two Salisbury professors are invested in future educators like myself through more than just teaching us the craft," said senior Brianne White, the current 2016-17 beneficiary. "I feel honored to have received such a generous award."
Jon Andes said their reasons for starting it are simple: "We both believe strongly in public education. Its success directly depends on teachers in classrooms. We want to encourage the best and the brightest young people to become teachers."
Laurie Andes added that they are very fortunate to have had their own children accept college scholarships that made a difference in their academic success – and they wanted to reciprocate. "When you don't have financial worry it allows you to maximize your potential in college," she said.
The need-based scholarship is for students who combine high academic performance with a history of excellence. The Andes chose to help with students' senior years, as they often have additional expenses related to teaching internships, such as commuting to school, dressing professionally or cutting back on other jobs.
White is an elementary education major and ESOL minor from Frederick, MD, who has interned at both Berlin Intermediate School and Buckingham Elementary in Worcester County. She said: "At first, I wasn't sure if I would have the money to go to a university and, as my time at Salisbury ends, I have begun to worry about my loans. This scholarship has provided me with peace of mind by lightening my financial burdens."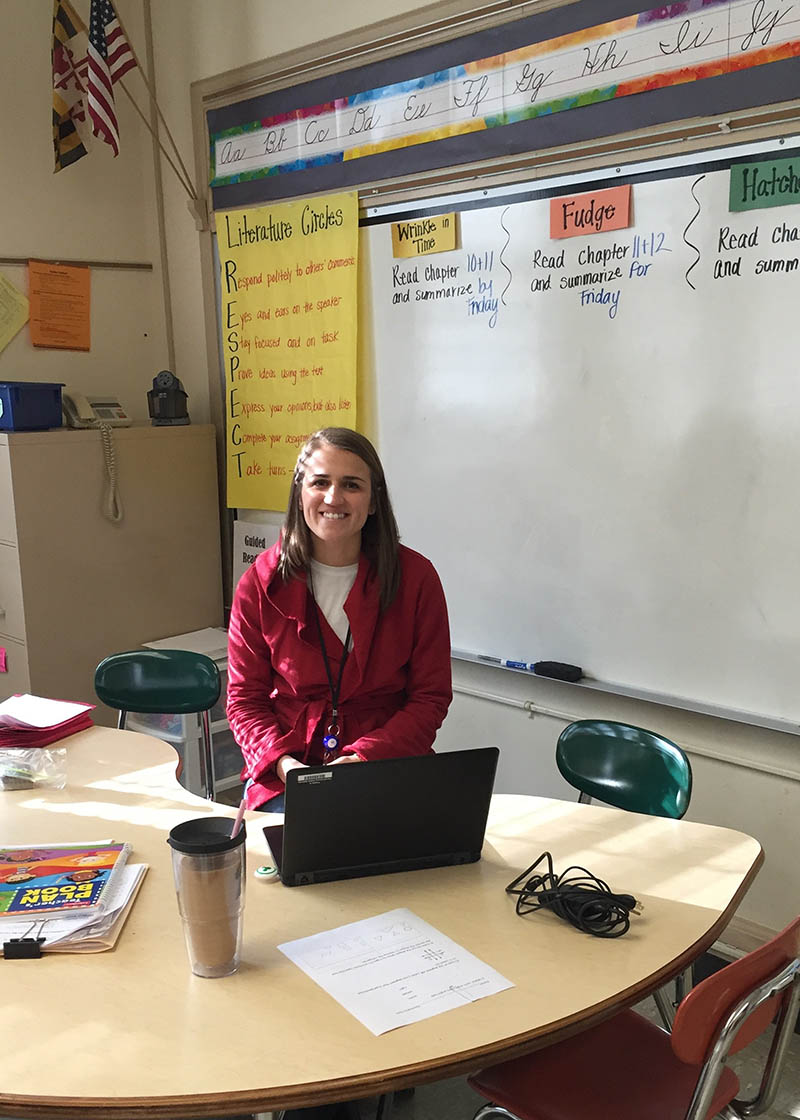 The inaugural recipient, Bethany Baer '15, said the scholarship helped her purchase curricular resources and other items for her "future classroom." An elementary education major and creative arts minor from Westminster, MD, she now is a fourth grade STEM teacher at Elmer A. Wolfe Elementary in Carroll County.
"I was concerned that my classroom library would not be as large and as high quality as some I had seen in my student teaching and observations, but with the help of the Andes Scholarship I was able to purchase books that my current students read every day!" she said. "It also allowed me to buy professional clothing for interviews and job fairs, and books for my own professional development that I use for guidance."
The Andes are familiar with the challenges and opportunities new teachers face; both started in public education in Harford County. Laurie taught elementary school before her 20-year career at SU. Jon was a high school social studies teacher and coach who climbed the administrative ranks, eventually becoming a 16-year superintendent of Worcester County Public Schools then, later, bringing his expertise to SU.
"Teaching is one of the most demanding professions because you are dealing with the human experience," he said. Laurie Andes sees changes related to literacy, diversity, and federal and state guidelines all on the horizon for new teachers.
In addition to K-12 education, the Andes also believe in supporting public higher education. Both are graduates of Pennsylvania state colleges that, like SU, were founded as "normal schools" dedicated to teacher training.
"Jon and Laurie are shining examples of what it means for faculty and staff to truly give back," said Jason E. Curtin '98, vice president for advancement and external affairs and executive director of the SU Foundation, Inc. "Their passion for education is evident in not only their careers, but in providing opportunities in higher education for others. The Andes Scholarship comes from their passion, heart and desire to 'pay it forward' to a promising student. We are grateful for their commitment."
The Andes' generosity is complemented by their impact in the classroom. Baer, who took "Literacy Assessment and Intervention" with Laurie Andes, called them "wonderful teachers, but even better people." White said she learned in Jon Andes' "School in a Diverse Society" class the difference a teacher can make by greeting their students with a positive attitude – something he always did.
For White, receiving a scholarship started by faculty members showed her that she is not the only one dedicated to her education – her SU professors are vested, as well.
"When I found out the Andes family made the scholarship possible I was in awe," she said. Baer added: "Their willingness to help future educators is greatly admired."
Another alumna also has benefitted from the Andes' gift: Karen Carty '16, an elementary education major who was part of SU's cohort at the Eastern Shore Higher Education Center in Wye Mills, received the award in 2015-16.
Pictured, from left, are Jon Andes, White and Laurie Andes.
For more information call 410-543-6030 or visit the SU website at www.salisbury.edu.
SHARE