Dr. Ying Wu Travels to China as Fulbright Scholar
Wednesday August 25, 2010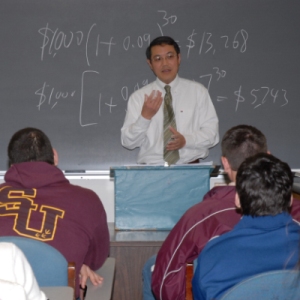 SALISBURY, MD---Dr. Ying Wu of Salisbury University's Franklin P. Perdue School of Business has been named a Fulbright Scholar, one of higher education's highest honors, for the 2010-2011 academic year. He will teach international economics, as well as monetary economics and macroeconomics, at the University of International Business and Economics in Beijing, China.
"Dr. Wu is a first-time Fulbright grantee and the only economist among just 20 U.S. Fulbright Scholars selected to visit China as teachers and researchers this year," said Dr. Herman Manakyan, chair of SU's Economics and Finance Department. "We are proud to have had three faculty members from our department receive this prestigious award in the last three years, which is a strong indication of the quality of our faculty."
Selected for achievement and leadership, Wu is among some 1,100 U.S. faculty and professionals going abroad this year on Fulbrights. In addition to teaching, he will conduct research on the macroeconomic mechanism of processing trade, the optimal path for economic structural transition and policy implications. He also will explore challenges to Keynesianism economics theory in the debt-laden, post-bubble era.
These are among the subjects he will examine with Chinese students at a number of universities where he will deliver guest Fulbright lectures and seminars throughout the year. Other topics include China's monetary autonomy in the era of globalization; debt deflation and monetarization; and the liquidity trap, currency carry trade and monetary policy effectiveness.
"Besides contributing to existing economics literature, I hope to enrich my teaching curriculum at Salisbury and help broaden the local business community's understanding of key issues in the current global economic environment," Wu said. "I am humbled to help build understanding between the U.S. and the People's Republic of China, especially considering the existing economic and financial nexus between the two nations, and the ongoing structural transition that is happening. I look forward to exploring the embedded risks and opportunities, and the economic prospects for both countries in the post-bubble era. It's truly my honor to receive such a prestigious award."
Wu earned his Ph.D. in Economics from the University of Oregon, and his master and bachelor degrees from Beijing University. He is a 2007 recipient of SU's Distinguished Faculty Award and has successfully coached winning teams in the Federal Reserve Bank's College Fed Challenge, which requires students to make predictions about the U.S. economy. His research has appeared in Atlantic Economic Journal, Contemporary Economic Policy and International Review of Economics and Finance, among other journals.
Sponsored by the U.S. Department of State's Bureau of Educational and Cultural Affairs, the Fulbright Scholars program was established in 1946. A flagship international exchange program, it now operates in more than 155 countries. For more information call 410-543-6030 or visit the SU web site at www.salisbury.edu.

SHARE