Wednesday, August 15, 2012
Dr. Michael Scott Appointed to Maryland iMap Committee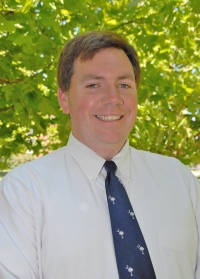 SALISBURY, MD---Maryland Governor Martin O'Malley has appointed a Salisbury University professor to a panel that oversees the state's mapping system.

Dr. Michael Scott of the Geography and Geosciences Department is serving on the Maryland Integrated Map (iMap) Executive Committee, which sets policy and advises the Governor on state iMap initiatives.

"Dr. Scott's achievements in the application of geospatial data and technology are well respected within our state and across the nation," said Dr. Diane Allen, SU provost and senior vice president of academic affairs. "His efforts have garnered numerous awards and have led to leadership roles in several GIS-related organizations. Salisbury University is proud of his academic and professional successes, and service to the community."

Scott is the founder and director of SU's Master of Science in GIS Management Program. He also leads the Eastern Shore Regional GIS Cooperative at SU, which he founded in 2004 to provide GIS technology, data, technical support and training to local governments. In total, the ESGRC has garnered over $5.5 million in grants and contracts, and completed more than 130 projects, including septic system and broadband mapping for the state.

The Maryland iMap initiative is a free, centralized collection of commonly used, best-available map data, such as roads, streams, government boundaries and property information. The portal assists in capturing, storing, analyzing, managing and presenting data linked to a location for use by citizens, businesses and officials. Scott joins officials from the Maryland Department of Planning and other state offices, as well as representatives of private sector companies, on the committee.

Scott previously chaired the Maryland State Geographic Information Committee. He is a Regional Councilor for the Middle Atlantic Division of the Association of American Geographers and a member of the GIS Sub-Committee for the Delmarva Emergency Task Force.

In 2009, Scott won the University System of Maryland's $80,000 Wilson H. Elkins Professorship and FEMA's HAZUS User of the Year Award. He earned the USM Board of Regents' Faculty Award for Public Service in 2008 and the Outstanding Contribution to GIS in Maryland Award in 2007.

Scott earned his Ph.D. in Geography from University of South Carolina in 1998 and specializes in the areas of GIS, cartography and environmental hazards.

For more information about the committee, visit www.imap.maryland.gov. For other details, call 410-543-6030 or visit www.salisbury.edu.