C-SPAN3 to Air Lecture by SU's Kotlowski Aug. 18-19
Wednesday August 15, 2012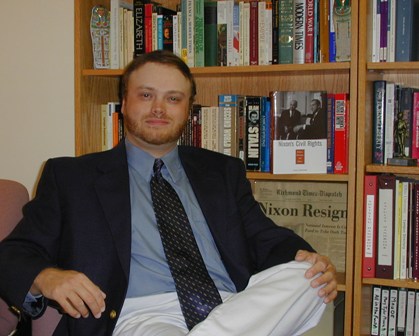 SALISBURY, MD---Audiences throughout the United States have the opportunity to learn more about its 37th president as Salisbury University History Professor Dean Kotlowski is spotlighted this weekend during C-SPAN3's Lectures in History series.
In April, a crew from the network filmed Kotlowski's lecture "Richard Nixon and Civil Rights," part of his "America in the 1970s" course. The broadcast of the lecture debuts 8 p.m. Saturday, August 18, re-airing at midnight and 1 p.m. Sunday, August 19, as part of the network's "American History TV" programming block. The presentations are also streamed live online at www.c-span.org/History.
Kotlowski is no stranger to C-SPAN. Earlier this year, he appeared as a panelist at the Richard Nixon Library and Birthplace in Yorba Linda, CA, discussing "Understanding Richard Nixon and His Era: Domestic Policy."
The professor has earned critical acclaim for his book Nixon's Civil Rights: Politics, Principle, and Policy, published by Harvard University Press. More recently, he has conducted extensive research into the life and work of former Indiana governor and Franklin D. Roosevelt cabinet member Paul V. McNutt, which Indiana University Press plans to publish as Paul V. McNutt and the Age of F.D.R.
That research earned him an interview in the upcoming documentary Rescue in the Philippines, discussing U.S. and Philippine efforts to transport Jewish refugees from Nazi Germany to Manila in the late 1930s. A trailer for the film is expected to premiere this month at the Israeli Film Festival in Tel Aviv.
For more information call 410-543-6030 or visit the SU Web site at www.salisbury.edu.