Wednesday, November 14, 2012
Cybersecurity Expert Geers Speaks at SU Thursday, November 29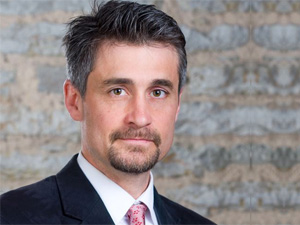 SALISBURY, MD---Internationally recognized cybersecurity expert Kenneth Geers of the Naval Criminal Investigative Service (NCIS) discusses "The Art of Cyber War" on Thursday, November 29, at Salisbury University. His talk is 7 p.m. in Perdue Hall's Bennett Family Auditorium.

Geers is a computer investigations and operations analyst and cyber expert with NCIS. His career with the Department of Defense also includes work at the National Security Agency, the Defense Intelligence Agency, a nuclear arms control support team, the John F. Kennedy Assassination Review Board, and the U.S. embassy in Brussels, Belgium.

His talk explores cyberspace as a new domain of warfare, with computers as both a weapon and a target. The lecture supports SU's focus on cybersecurity education, including a new collaborative B.S.-to-M.S. program with the University of Tartu and Tallinn University of Technology in Estonia.

A French and Russian linguist, Geers was the first U.S. representative to the North Atlantic Treaty Organization's Cooperative Cyber Defence Centre of Excellence in Estonia. Widely published on the relationship between information technology and national security, he is author of the book Strategic Cyber Security.

In addition to analyzing computer and network logs, he plays chess and serves as a SANS Institute mentor for security professionals around Washington, D.C. Over the years, he has explored the world, stopping to wait tables in Luxembourg, harvest grapes in the Middle East, climb Mount Kilimanjaro, and rise at 3 a.m. in a strict Trappist monastery.

Geers earned a Ph.D. in information and communication technology from Tallinn University of Technology in Estonia. His research interests include international security, cyber terrorism, infrastructure security and information warfare.

Sponsored by SU's Richard A. Henson School of Science and Technology, and co-sponsored by the Charles R. and Martha N. Fulton School of Liberal Arts and Franklin P. Perdue School of Business, the talk is free and the public is invited. For more information call 410-543-6030 or visit the SU Web site at www.salisbury.edu.