Thursday, February 7, 2013
Caviglia-Harris Earns Leopold Leadership Fellowship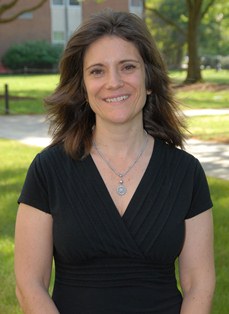 SALISBURY, MD---From research in the Brazilian Amazon to sustainability efforts on the Delmarva Peninsula, Dr. Jill Caviglia-Harris of Salisbury University's Economics and Finance and Environmental Studies departments has been an environmental leader for many years.

Recently, Stanford University's Stanford Woods Institute for the Environment selected her as one of this year's prestigious Leopold Leadership Fellows. Honorees are mid-career academic environmental researchers from around the world, based at North American institutions of research or higher education. They are conducting research related to the environment and sustainability in the biophysical sciences, the social sciences, or technical, medical or engineering fields, and contributing to environmental science and leadership in addressing sustainability challenges.

Fellows are selected through a highly-competitive process based on scientific qualifications, leadership ability and strong interest in sharing their knowledge beyond traditional academic audiences. Honorees participate in intensive leadership and communications training designed to develop skills to better engage decision makers, media and the public. The 20 fellows in the 2013 cohort include researchers from the Massachusetts Institute of Technology, the University of Notre Dame and Brown University.

Caviglia-Harris was chosen for her research in deforestation and human welfare, and the role of human decisions in shaping the environment. She has intertwined teaching and research by involving students in hands-on learning through research projects, data collection and fieldwork.

"Dr. Caviglia-Harris has worked hard over the years not just to build a body of excellent scholarly work, but also to engage our students in that process at every stage," said Dr. Maarten Pereboom, dean of SU's Charles R. and Martha N. Fulton School of Liberal Arts. "She is the kind of scholar-teacher who thrives at this institution and whose efforts make us better in readily identifiable ways."

Her development of new teaching approaches has led to publications in economics education journals, while empirical research has allowed the generation of student presentations and publications, and grant-funded fieldwork (including more than $796,000 from the National Science Foundation) in the Amazon. As one of the founding members and past chair of the SU Student Research Conference, she has helped Salisbury become a nationally recognized leader in undergraduate research.

Stanford is not the first institution to recognize Caviglia-Harris' work. She has received SU's Distinguished Faculty Award and the University System of Maryland's (USM's) highest teaching honor, the Board of Regents Faculty Award for Excellence. In addition, she has earned the Southern Economic Association's prominent Kenneth G. Elzinga Teaching Award.

In 2012, with Dr. Mike Lewis, chair of the Environmental Studies Department, she received the USM's prestigious Wilson H. Elkins Professorship. They plan to use the $80,000 to create an on-campus organic farm, design a field research station and expand existing research in the Amazon.

For more information call 410-543-6030 or visit the SU Web site at www.salisbury.edu.