Thursday, September 4, 2014
Art League of Ocean City Presents Jinchul Kim Solo Exhibit Through Sunday, September 28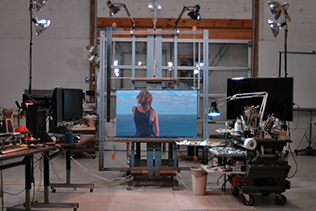 SALISBURY, MD---The Art League of Ocean City presents "Unspoken Story," a solo exhibition by Jinchul Kim of Salisbury University's Art Department, through Sunday, September 28, at the Ocean City Center for the Arts, 502 94th Street.

An opening reception is 5-7 p.m. Friday, September 5, as part of the league's monthly "First Friday" celebration. Complimentary refreshments will be served.

A realist oil painter known for his exceptional portraiture, Kim has been a resident of Maryland since 1996. Born in South Korea, he came to the United States in 1989.

He earned his B.F.A. and M.F.A. from King Se-Jong University in Seoul, Korea, concentrating on painting. In 1993, he received a second M.F.A. from the School of Visual Arts in New York, focusing on multimedia and sound installation. He shows his work internationally, including locations in Korea, Japan, France and Spain.

Kim's work has been seen in some 20 solo exhibitions in New York, Florida, Virginia, Maryland, Delaware and Seoul, and in over 170 invitational shows and group exhibitions. He teaches painting and drawing at SU.

"Art allows me to encapsulate my life experiences with the world I constantly perceive," said Kim. "This hybrid — as I call it — of what exists and how I see it to exist has been the focal point of my sensibility The muse for my work is the momentary images from daily accidents that I capture into my mind. They are the random impacts and revelations that I distinguish from a casual occurrence."

Gallery hours are 11 a.m.-4 p.m. daily. Admission to the reception and exhibit is free and the public is invited. For more information visit the Art League of Ocean City website at http://artleagueofoceancity.org.

For more information about SU call 410-543-6030 or visit the SU website at www.salisbury.edu.