American Spiritual Ensemble Performs February 22
Monday February 9, 2009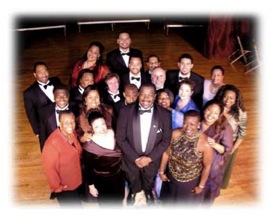 SALISBURY, MD---Created in the fields and plantation houses of the old South, the spiritual allowed slaves to secretly communicate through singing.
That musical art form returns to Salisbury on Sunday, February 22, as the American Spiritual Ensemble performs 4 p.m. at Asbury United Methodist Church. The world-renowned singing group includes Salisbury University music faculty John Wesley Wright. The event is part of SU's African-American History Month celebration.
Founded by Dr. Everett McCorvey in 1995, the ensemble strives to keep the tradition of American Negro spirituals alive. It has performed throughout the world, including such prestigious venues as the Metropolitan and New York City operas. It also has been broadcast as part of the PBS documentary The Spirituals.
Admission is $10, $5 for SU faculty and staff and children 12 and under. SU students receive one ticket free with a student ID.
A master class for SU music students, led by McCorvey, is 12:30 p.m. Thursday, February 19, in the Great Hall of Holloway Hall. Admission to this performance is free.
The concert is sponsored by Asbury United Methodist Church; the Peter and Judy Jackson Music Performance Fund; Salisbury University's Department of Music, Office of the Dean of the Charles R. and Martha N. Fulton School of Liberal Arts and Office of Multicultural Student Services; the SU Foundation, Inc., and is made possible, in part, by a grant from the Salisbury Wicomico Arts Council, awarded by the Maryland State Arts Council and the National Endowment for the Arts.
For more information call 410-548-2985 or visit the SU Department of Music Web site at www.salisbury.edu/musicdept.

SHARE