'Adventures in Ideas' Celebrates the '70s Saturday, February 2
Tuesday January 29, 2013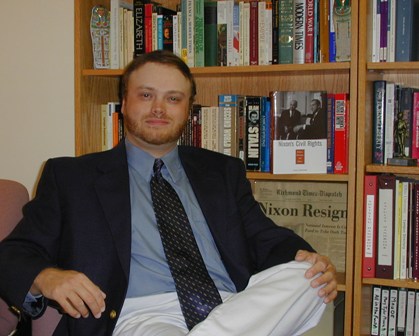 SALISBURY, MD---Richard Nixon governed the nation (for a while, anyway), Archie Bunker ruled the airwaves, and disco was king.
The 1970s was a decade of polarizing, tumultuous events and pop-cultural phenomena. Dr. Dean Kotlowski, professor of history at Salisbury University, discusses some of the political, entertainment and cultural milestones that helped define the era as part of SU's Adventures in Ideas humanities seminar series. His presentation, "Stayin' Alive: Surviving the 1970s," is 10 a.m.-3 p.m. Saturday, February 2, in Teacher Education and Technology Center Room 179.
Kotlowski has earned critical acclaim for his book Nixon's Civil Rights: Politics, Principle, and Policy, published by Harvard University Press. Last year, he appeared as a panelist at the Richard Nixon Library and Birthplace in Yorba Linda, CA, discussing "Understanding Richard Nixon and His Era: Domestic Policy." C-SPAN filmed and rebroadcast the event.
The network later came to SU to film Kotlowski's lecture "Richard Nixon and Civil Rights," part of his "America in the 1970s" course, for C-SPAN3's "American History TV" programming block. In 2008, he taught a similar course at De La Salle University in Manila, Philippines, as a Fulbright Scholar, one of academia's highest honors. In 2013, he is scheduled to appear in the PBS documentary Rescue in the Philippines: Refuge from the Holocaust.
Sponsored by the Charles R. and Martha N. Fulton School of Liberal Arts and the Whaley Family Foundation, admission to the seminar is $30, which includes coffee, snacks and lunch. Advance registration is required.
Upcoming in the series is "Camelot's Hope: Legend and Statecraft from Arthur to Kennedy" with Dr. Kristen Walton of the History Department 10 a.m.-3 p.m. Saturday, March 2.
To register, call Donna Carey at 410-543-6450 or e-mail dmcarey@salisbury.edu. For more information visit the SU Web site at www.salisbury.edu.