Tuesday, January 29, 2013
4saxess Performs at SU Wednesday, January 30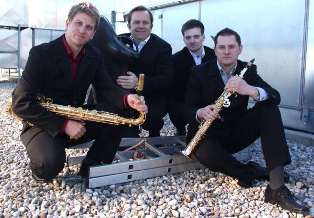 SALISBURY, MD---If one saxophone is good … four must be great!

The Slovenian quartet 4saxess produces rich tones and harmonies that explore the full possibilities of the instrument. The ensemble performs 7 p.m. Wednesday, January 30, in the Great Hall of Salisbury University's Holloway Hall. Its performance was rescheduled from October due to Hurricane Sandy.

Comprised of Primo Fleischman (tenor), Tomislav uak (alto), Lev Pupis (soprano) and Dejan Prešiek (baritone), 4saxess performs traditional Slovenian folk songs, as well as compositions by popular U.S. composers including George Gershwin and Leonard Bernstein.

Sponsored by the Office of Cultural Affairs; Embassy of the Republic of Slovenia, Washington, D.C.; and World Artists Experiences, admission is free and the public is invited.

For more information call 410-543-6271 or visit the SU Web site at www.salisbury.edu.