Monday, March 16, 2015
35th SU Philosophy Symposium Asks 'What's on Your Plate?' Apr. 11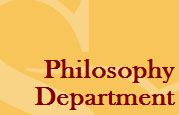 SALISBURY, MD---French attorney Jean Anthelme Brillat-Savarin is credited with coining the phrase, "Tell me what you eat, and I will tell you what you are."

Or, more colloquially: You are what you eat.

Drs. Chad Lavin of the Virginia Polytechnic Institute and State University, and Lisa Heldke of Gustavus Adolphus College in St. Peter, MN, expound on this and other thoughts about food during Salisbury University's 35th annual Philosophy Symposium.

This year's event, "What's on Your Plate? Food, Politics and Identity," is 9 a.m.-3 p.m. Saturday, April 11, in Teacher Education and Technology Center Room 153.

Events begin with a continental breakfast. During the morning session, Lavin and Heldke weigh in on topics including the significance of farming and cooking, meat and vegetarianism, diet and obesity, and exotic and local foods.

Following a break for lunch, faculty and other local panelists add their insights. The audience is invited to join in the discussion throughout the day.

Lavin, associate professor of political science at Virginia Tech, is the author of Eating Anxiety: The Perils of Food Politics. In it, he examines the use of digestive metaphors in political thought, as well as ongoing debates about food politics to show how the experience of eating structures conceptions of identity, truth and power.

Heldke, professor of philosophy and gender, women and sexual studies at Gustavus Adolphus, is a section editor for The Encyclopedia of Food and Agriculture Ethics. She also is co-author of the forthcoming book Philosophers at the Table, an exploration of the relationship between food and philosophy.

Sponsored by the SU Philosophy Department, admission is free and the public is invited. For more information call 410-677-5070 or visit the SU website at www.salisbury.edu.