SU Men's Lacrosse Team, Marketing Students Raise Over $13,500 for Leukemia and Lymphoma Society
Thursday May 11, 2023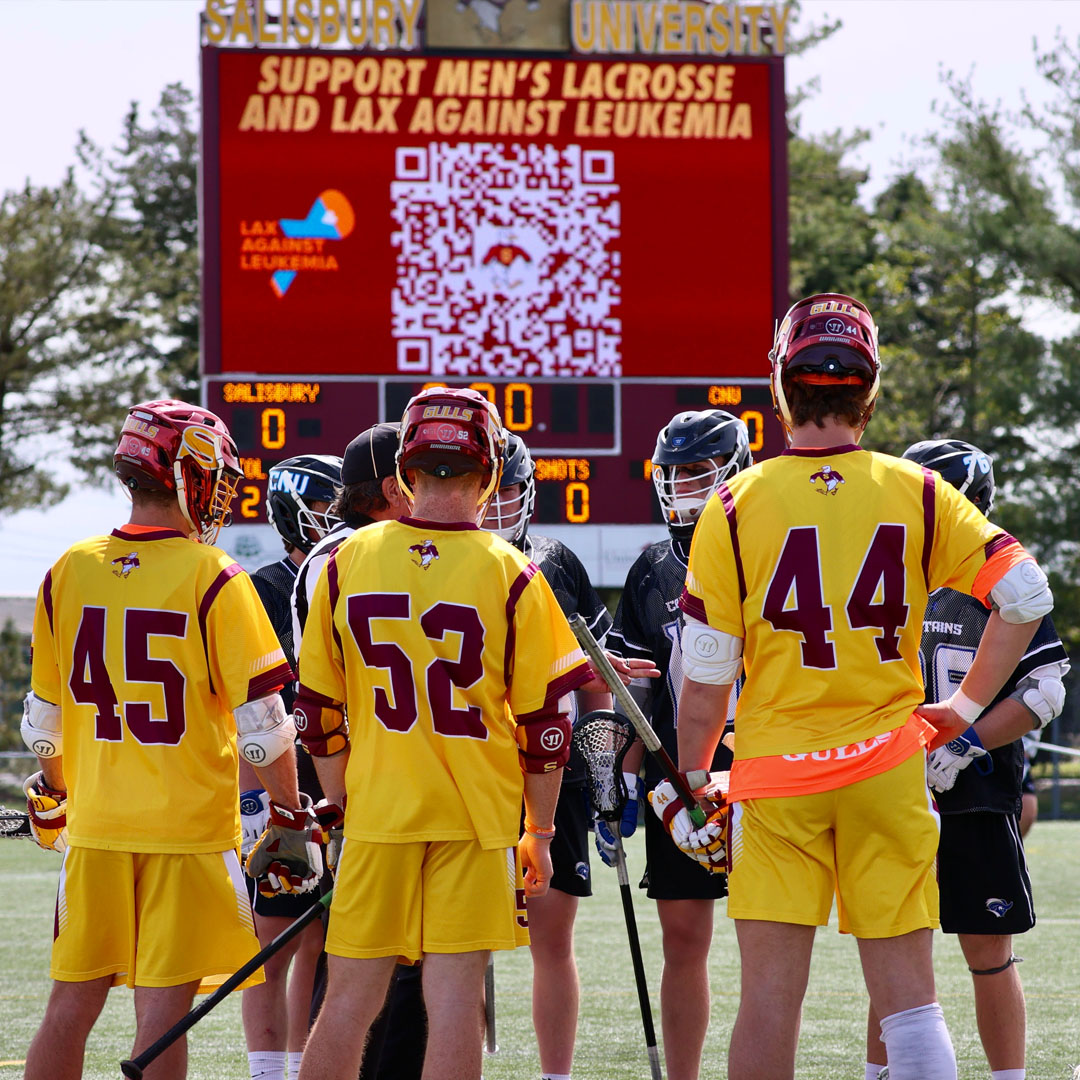 SALISBURY, MD---The Salisbury University men's lacrosse team recently worked with SU sales and marketing students in the Franklin P. Perdue School of Business to raise some $13,594 for the Leukemia and Lymphoma Society during the team's annual LAX for Leukemia event.
For the second year, students in Dr. Gustavo Schneider's Sports and Event Marketing class took up the challenge, surpassing last year's $8,715 total, as well as this year's $9,000 goal.
Efforts included a silent auction during the team's April 8 game vs. Christopher Newport University. Working with men's lacrosse graduate assistant coach Andrew Borkowicz, students formed teams to plan and execute marketing campaigns to create awareness about the game and collect donations.
In addition, they created social media posts and e-marketing strategies in advance of the game, cold-called local businesses to solicit items for the auction, and organized and promoted a "dine and donate" event with area restaurant Playa Bowls, which donated 10% of its proceeds from the event to the cause.
"Students enjoyed the process of working on a real marketing campaign while helping a great cause," said Schneider.
This year marked the men's lacrosse team's 13th LAX for Leukemia game. The first was held in 2011 in honor of teammate Alex Nieves, who had been diagnosed with leukemia prior to the start of that season. The team rallied around him on its way to an NCAA championship that year, offering support during his treatment and recovery.
"LAX for Leukemia has been a strong tradition with the men's lacrosse program, and I'm grateful that we were able to partner with the Perdue School students for the second consecutive year," said longtime SU head men's lacrosse coach Jim Berkman. "I'm extremely pleased with the effort from our team, our campus and local community that continue to raise funds and awareness and exceed our goals each year."
For more information about the Perdue School, visit www.salisbury.edu/perdue. For more information about men's lacrosse at SU, visit https://www.suseagulls.com/sports/mlax.
Learn more about SU and opportunities to Make Tomorrow Yours at the SU website.