Walton Earns 2022 SU Distinguished Faculty Award
Tuesday August 30, 2022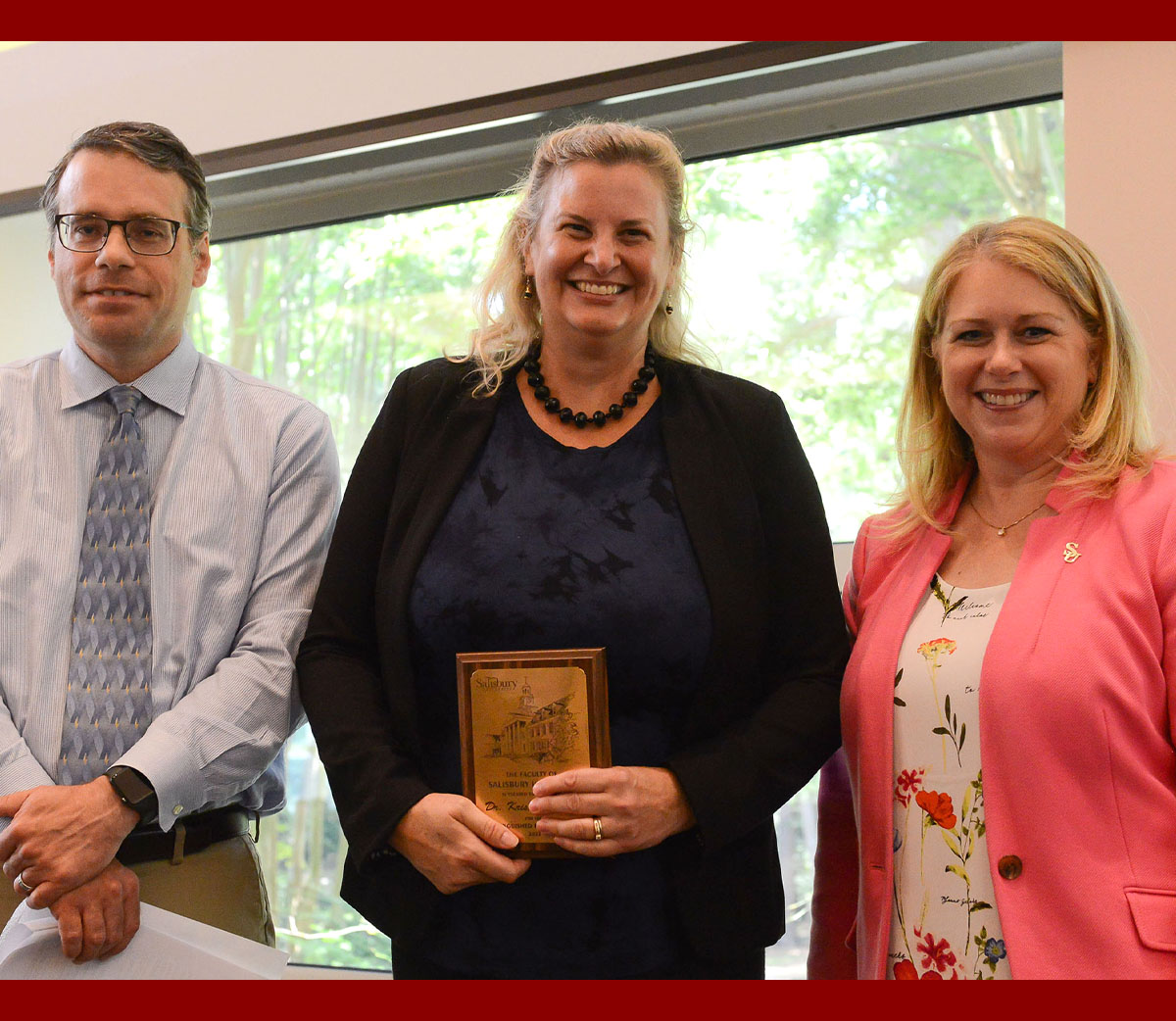 SALISBURY, MD---"An enthusiastic, creative and skilled classroom teacher"; "a dedicated faculty mentor" and "a champion of international education opportunities for students" — this is how colleagues described this year's Salisbury University Distinguished Faculty Award winner: Dr. Kristen Walton, professor of history and founding director of the SU Nationally Competitive Fellowships Office.
The prestigious tribute is given by faculty to faculty.
Since coming to SU in 2001, Walton as mentored and advised more than 500 students, many of whom provided support for her nomination.
"As Dr. Walton's former student, having taking five of her classes throughout my time at SU, I can confidently say that her teaching is a model for what all liberal arts education should look like and, particularly, what a history education should entail," said Abiodun Adeoye '20, who also worked with Walton on multiple successful applications for nationally competitive fellowships.
"As a first-generation, self-funded college student, there were numerous times when I was unsure if I would graduate college," said fellowship recipient Martina Maya-Callen '19. "With Dr. Walton's mentorship, not only did I graduate magna cum laude; I achieved academic and personal goals that I truly believed were unobtainable. Dr. Walton has been the most significant person in my academic and professional life."
"Although she never taught me in a class, it was almost impossible not to know who Dr. Kristen Walton was," said Danielle Walker '18, who earned a Fulbright Student Award under Walton's mentorship. "Even today, in my current position, I utilize the skills that she taught me. She is a scholar, a leader, a role model, a friend and, above all else, my mentor."
Since founding the Nationally Competitive Fellowships Office in 2011, Walton has helped nearly 100 SU students earn prestigious awards such as the Gates Cambridge Scholarship, Barry Goldwater Scholarship, Boren Award, Rangel Graduate Fellowship and Gilman Scholarship, among others.
Notably, under Walton's leadership, the center has produced 34 Fulbright Students, representing America's flagship international exchange program, including a University-record nine in 2022. She also has mentored more than 60 Fulbright Student semifinalists. Due in large part to her efforts, the U.S. Department of State and Chronicle of Higher Education have named SU among the nation's top producers of Fulbright students for the past five years.
Her dedication to students has earned her one of the University System of Maryland's highest honors: the Board of Regents' Faculty Award for Excellence in Mentoring. She also has received SU's Charles R. and Martha N. Fulton School of Liberal Arts Excellence in Research Mentoring Award.
In her position with the History Department, Walton also has been an advocate for students studying abroad. In addition to encouraging students to pursue study abroad individually, she has led a program for SU students in London and created an ongoing exchange program between SU and the University of Stirling, Scotland.
For those unable to study abroad, Walton works to bring international history to life in the classroom through creativity and engagement. For instance, in her classes, students place themselves in the shoes of historical figures by reading and composing letters that would have been sent during the Medieval and Early Modern eras, often working to decipher original handwriting from those times.
On other days, students might walk into her classroom and find themselves face-to-face with Walton's theatrical interpretation of an Early Modern queen or even Martin Luther as he makes his promise to God while caught in a thunderstorm.
A scholar of Scottish history, Walton has published multiple book chapters and articles, as well as a monograph: Catholic Queen, Protestant Patriarchy: Mary Queen of Scots and the Politics of Gender and Religion, 1561-73. She has another in progress: An English Queen of Scots: Margaret Tudor and Women's Political Power in Sixteenth Century Britain.
She also has peer-reviewed books and articles for several publishers, presented numerous invited talks and guest lectures; and served as the president, chair and a founding member of the North American Organization of Scottish Historians (NOSH).
Supporters also lauded her service to SU, noting that Walton often serves as a key speaker during open houses and Admitted Student and Scholar days, organizes multiple information sessions each semester for current and potential students, and created an interdisciplinary studies class for Fulbright Student applicants. Several students have noted that she stayed up until the early hours of the morning before the Fulbright deadline, helping them make last-minute revisions.
Celebrating its 35th year in 2022, the Distinguished Faculty Award has been bestowed upon 76 faculty. Walton's name will be added to an honor roll listing all recipients since the award was established.
Learn more about how SU students and faculty are exploring opportunities for greatness and making tomorrow theirs at the SU website.
SHARE