NSF Awards SU's Freeman $480K for Flying Squirrel Research
Wednesday August 10, 2022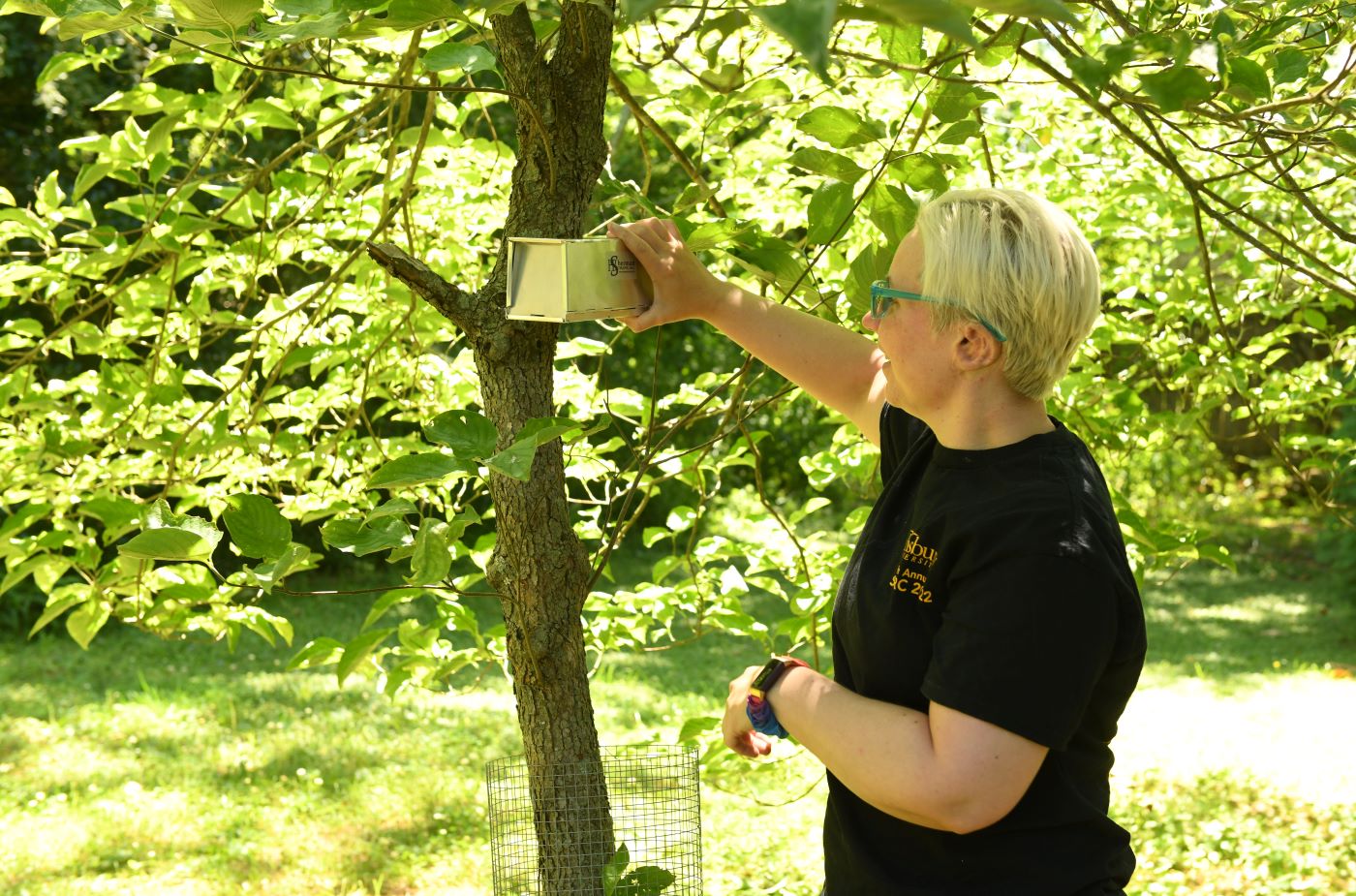 SALISBURY, MD---The National Science Foundation (NSF) is helping a Salisbury University biological sciences professor expand research and student education in the intriguing bonds between flying squirrels.
Dr. Angela Freeman received a three-year, $480,233 NSF grant to continue their independent research, "Neuroendocrinology of Flying Squirrel Social Behavior."
"This grant provides an awesome opportunity to grow my research and share it with SU students," said Freeman. "I had this question about flying squirrels, who display somewhat rare behavior compared to other mammals, in choosing to connect and nest together with unrelated peers throughout the year, independent of outside factors such as temperature and season. I wanted to explore the hormones in their brain to better understand their shifting social and bonding behavior."
The funding will support student assistant compensation, construction and placement of local aviaries, food and housing for the squirrels, and lab equipment.
"Research is the most fun when you don't have to do it alone," said Freeman. "Sharing this experience with students is equally as rewarding as the research itself. Mentorship is my favorite part of the job, and it's important to provide opportunities for students to learn outside the classroom while finding ways to financially support them so they don't have to make a choice between educational advancement and working."
This project was ideal for biological sciences majors Joanna Diaz-Ocana, a senior from Waldorf, MD, and Katie Ekholm, a junior from Seaford, DE, who are assisting Freeman at the inception of this grant and research.
"I was interested in this project because I knew that it would be great opportunity to learn new skills and explore my interest in field research," said Ekholm. "This experience allows me to take another step towards my goal of going into research after I graduate because it will provide the hands-on experience valued in the field."
This work is a continuation of previous research for Ekholm and Diaz-Ocana, who also assisted Freeman on a study surrounding the neuroendocrinology of vampire bat co-operation.
"I learned a lot from helping Dr. Freeman, and I aspired to do more to continue the learning experience of what it's like to be a student research assistant," said Diaz-Ocana. "This current research project has taught me many things such as oddly specific facts on flying squirrels, carpentry skills, patience and what it's like to work with a team that shares the same curiosity in figuring out why animals do the things they do."
Freeman's research employs a three-part approach that will explain what behaviors are modulated during nonapeptide action, during which endogenous release occurs during co-nesting, and how sensitivity to these peptides differ between seasons.
The team will determine how oxytocin, a hormone important for bonding and trust, affects communal nesting behavior in squirrels by administering by the naturally-occurring neuropeptide oxytocin or blocking its effects. They will also explore which parts of the brain are active during communal nesting and whether these brain regions produce oxytocin. Finally, they will look at how season impacts the brain's sensitivity to the effects of oxytocin, and how this impacts communal nesting behavior.
Learn more about how SU students and faculty are exploring opportunities for greatness and making tomorrow theirs at www.salisbury.edu.

SHARE