SU to Host Nanticoke River Invasive Fishing Tournament July 30
Monday July 11, 2022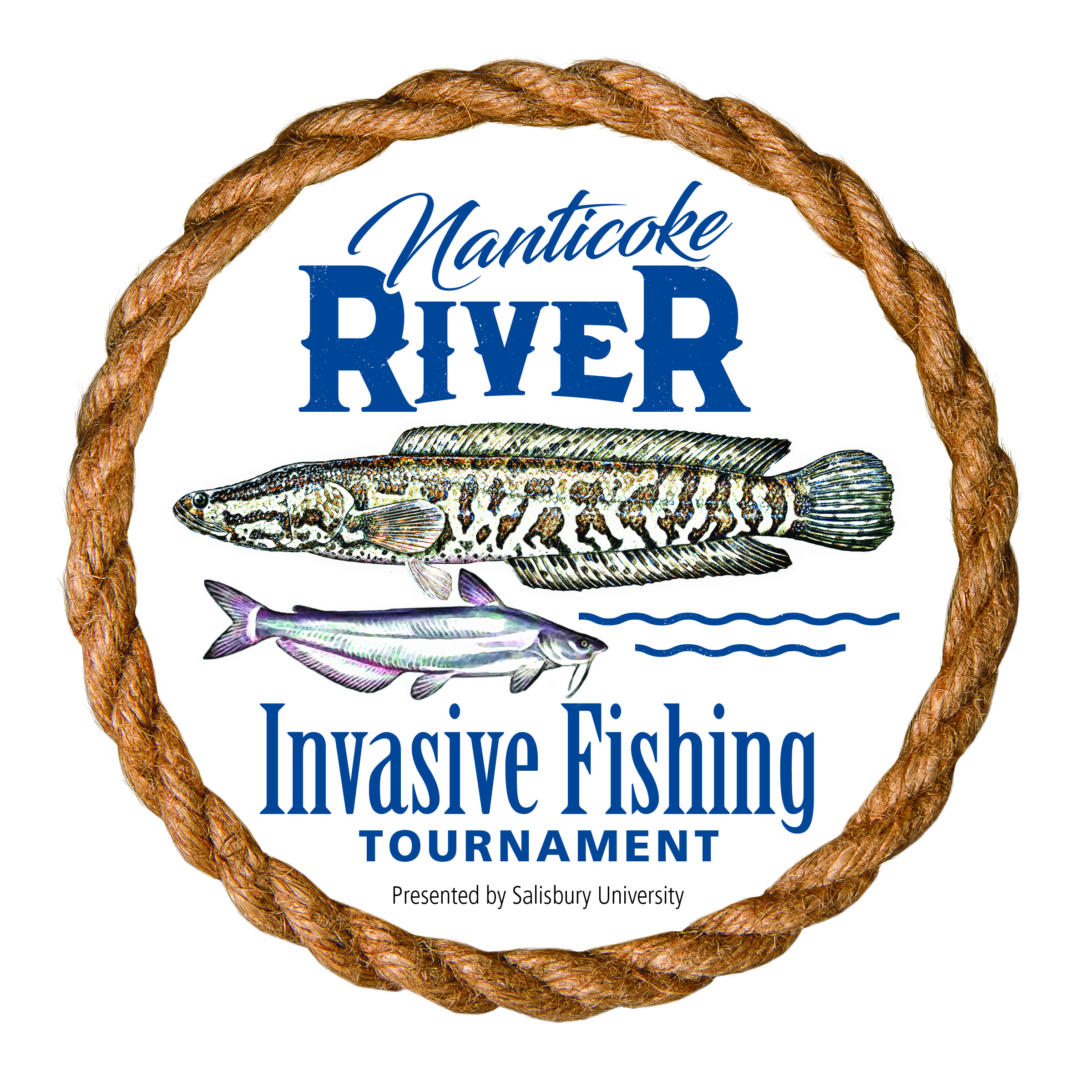 SALISBURY, MD---Dr. Noah Bressman, Salisbury University assistant professor of biological studies, and graduate assistant Zachary Crum are combating invasive species in local waterways, and Eastern Shore anglers can help.
Fishing hobbyists and professionals alike are invited to the Nanticoke River Invasive Fishing Tournament, presented by SU Saturday, July 30 (rain date: Sunday, July 31) at Cherry Beach Park in Sharptown, MD. Lines in at 6 a.m. and weigh-in at 2 p.m., followed by awards and data collection.
Thanks to a grant from the Maryland Department of Natural Resources, the free tournament features some $2,000 in prizes. All blue catfish and northern snakeheads caught will be provided to Bressman's lab to continue research to learn more about their effects on the local ecosystem, with a focus on diet, growth speed, and reproduction rates.
"We really want to spread awareness in local waterway communities about what fish are invasive, and how they can minimize the population to relieve some pressure from striped bass and blue crabs, whose populations are on the decline," said Bressman.
Tournament fishing is permitted at Cherry Beach Park for shore-based anglers. Those fishing from kayaks or boats may use any boat launch along the Nanticoke and tributaries such as Marshyhope Creek and Barren Creek. Maryland or Delaware tidal fishing licenses are required for all participants, respective to their fishing location.
The event is hook and line only and does not include a bow fishing category. Limited fishing gear will be available for those who may not have their own supplies.
Though invasive species like blue catfish and snakeheads have developed a stigma due to the harm they can cause for native species, that does not mean they are unfit for consumption, Bressman said.
"It's important for anglers to know these species should not be released, and we want to bring awareness to the benefits to the native aquatic species once removed," he said. "We encourage using these catfish and snakeheads as a food source and will be sharing creative recipes at the tournament for those who want to try cooking them at home."
Bressman's previous research on invasive fish, "Terrestrial Capabilities of Invasive Fishes and Their Management Implications" is featured in the journal Integrative and Comparative Biology. Data from the next phase will be used to enhance this work and further improve management of certain invasive species.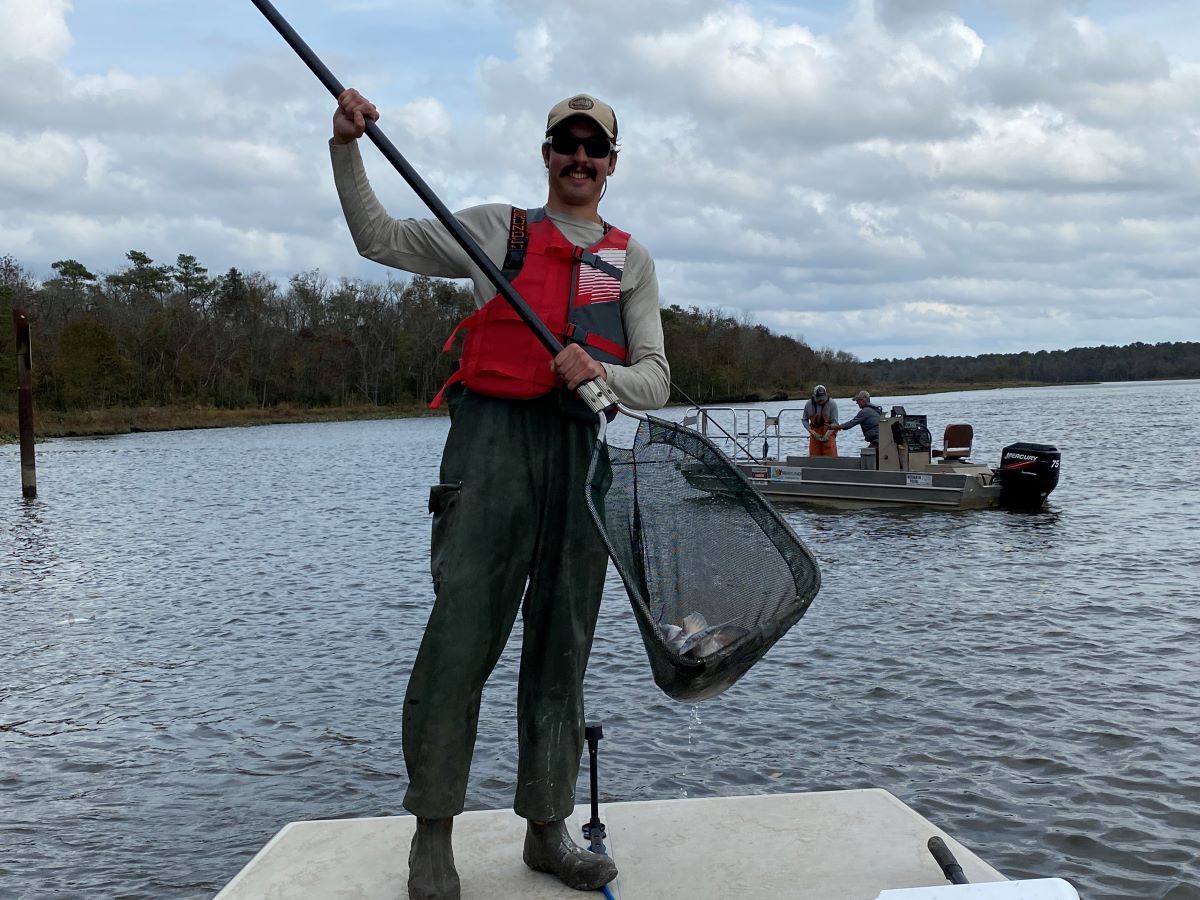 Crum (pictured), an M.S. applied biology student from Chesapeake, VA, is no stranger to aquatic research and conservation efforts. While earning his B.S. in fish conservation at Virginia Polytechnic and State University (Virginia Tech) and following graduation, he has worked at state and federal labs and fisheries across North America, including Alaska, California, South Carolina and the Bahamas.
An avid angler and host of The Fisheries Podcast, Crum has a passion for contributing to impactful change in aquatic conservation and fisheries management, and researching invasive species and their effects is one way to work toward that goal.
"What's so special about SU and Dr. Bressman's lab is our ability to start something new from the ground up to hopefully spark long-term efforts that yield measurable change while capitalizing on the privilege of our location among the Chesapeake Bay and other renowned waterways," said Crum.
"Experiential opportunities like this for both graduate and undergraduate students is invaluable when it comes to learning in the very environments biologists likely will find themselves working in following graduation.
"A tournament is one example of the many ways we creatively can reach anglers and the local communities. By making small changes in the way we handle and educate about invasive species, we are sticking up for underappreciated species and their habitat's water modifications that don't always have a voice but play an important role in our ecosystems and preserving biodiversity."
Research partners include: Brett Coakley, Maryland Department of Natural Resources; Johnny Moore, Delaware Department of Natural Resources and Environmental Control; and Christine Densmore D.V.M., Ph.D., United States Geological Survey.
Tournament prize sponsors include Drake Realty Associates and local lure manufacturers Old Skool Tackle Company and Addiction Baits.
A tournament registration form is available online. For more information visit the Facebook event page or email Bressman.
Learn more about how SU students and faculty are exploring opportunities for greatness and making tomorrow theirs at www.salisbury.edu.