Passing-of-the-Mace Ceremony Celebrates SU Presidential Transition
Thursday June 16, 2022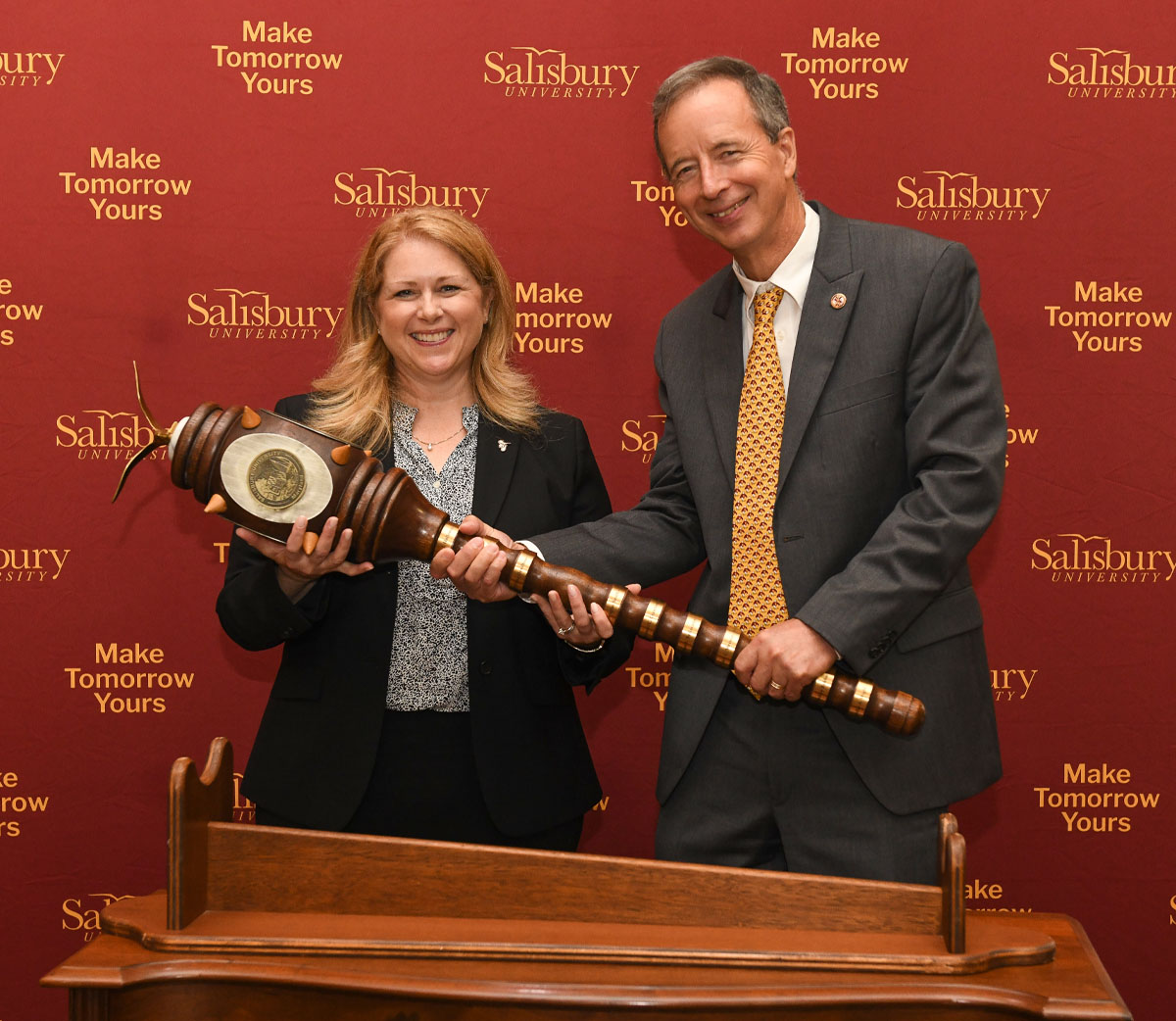 SALISBURY, MD---In ancient Greece, sacred flames were ritually shared between altars via a relay of torch runners, passing the flame from person to person. Each accepted the duty of ensuring the fire was not extinguished on their watch.
Recently, Salisbury University similarly ensured that the flame of education will continue burning brightly at the Eastern Shore campus and its satellite locations, not with the passing of a torch, but with the passing of a mace.
The traditional ceremony signified the transition between SU's ninth President, Dr. Charles Wight, and its 10th, Dr. Carolyn Ringer Lepre.
Joining them were University System of Maryland Chancellor Jay Perman and SU's eighth President, Dr. Janet Dudley-Eshbach, who passed the mace to Wight during a similar ceremony shortly before beginning his tenure at SU in 2018.
The ritual took place in the Great Hall of Holloway Hall, a location synonymous with SU since the University's founding in 1925.
"I feel the gravity of what we do, and why it's important, just a little bit more when I'm in the Great Hall," said Wight.
"For the last year and a half, this space has been used for COVID-19 testing. I'm so proud of the way that our campus came together and persevered through such challenging times, but I'm also happy that this space is now going to be a place where we gather and celebrate once more. To me, that symbolizes both our perseverance and commitment to mission. This is a special place with amazing people."
"It is so important that we demonstrate to our campus community and to everyone connected to this University that we have leaders who support and value one another," said Dudley-Eshbach. "We appreciate and support the work of our predecessors and successors, and that's because we're not in this job for self-gratification.
"We do this because we believe in the mission of higher education. We believe in the importance of preparing the next generation to be good citizens. We believe in what Salisbury University stands for."
Lepre vowed not to take the duties of the presidency lightly.
"It's difficult to express how honored I am to be joining such a prestigious and accomplished group of people," she said. "I'm coming to an institution with a strong foundation, one with a rich history of student success both in and out of the classroom.
"I know that such success can only take place when there are talented and dedicated faculty, with a skilled and committed staff and a University community that wraps its arms around our students to ensure that they can make tomorrow theirs."
The mace has been a symbol of the University since 1997, when it was first used during the inauguration of SU's seventh President, the late Dr. William Merwin. Designed and donated by SU alumnus Clinton Bradway '56, it is comprised of a mahogany staff adorned with 10 pewter rings, each engraved with the name and term of each SU President since 1925. A separate ring features the names of SU's schools and colleges.
Its head includes four oval surfaces, representing the SU seal, iconic Holloway Hall clocktower, the dates when SU began conferring degrees, and the evolution of the University's name from Maryland State Normal School in 1925 to Salisbury University in 2001.
The head is surrounded by eight wooden spikes, crafted from a historic linden tree that stood in front of Holloway Hall for 70 years, from its planting in 1925 until it was felled by a storm in 1995. The mace is crowned by a golden Sea Gull, representing the University's mascot and varsity athletic teams.
Lepre begins her tenure as SU's President on Friday, July 15. She concluded her remarks at the ceremony by recognizing Wight and Dudley-Eshbach's combined 22 years of service to the University, noting that she hopes to continue their legacy: "I am coming into an enviable situation, and that's because of your dedication to this very special place and its incredible people."
Learn more about how SU students and faculty are exploring opportunities for greatness and making tomorrow theirs at the SU website.
SHARE