Nine Honored with SU Alumni Awards
Monday March 7, 2022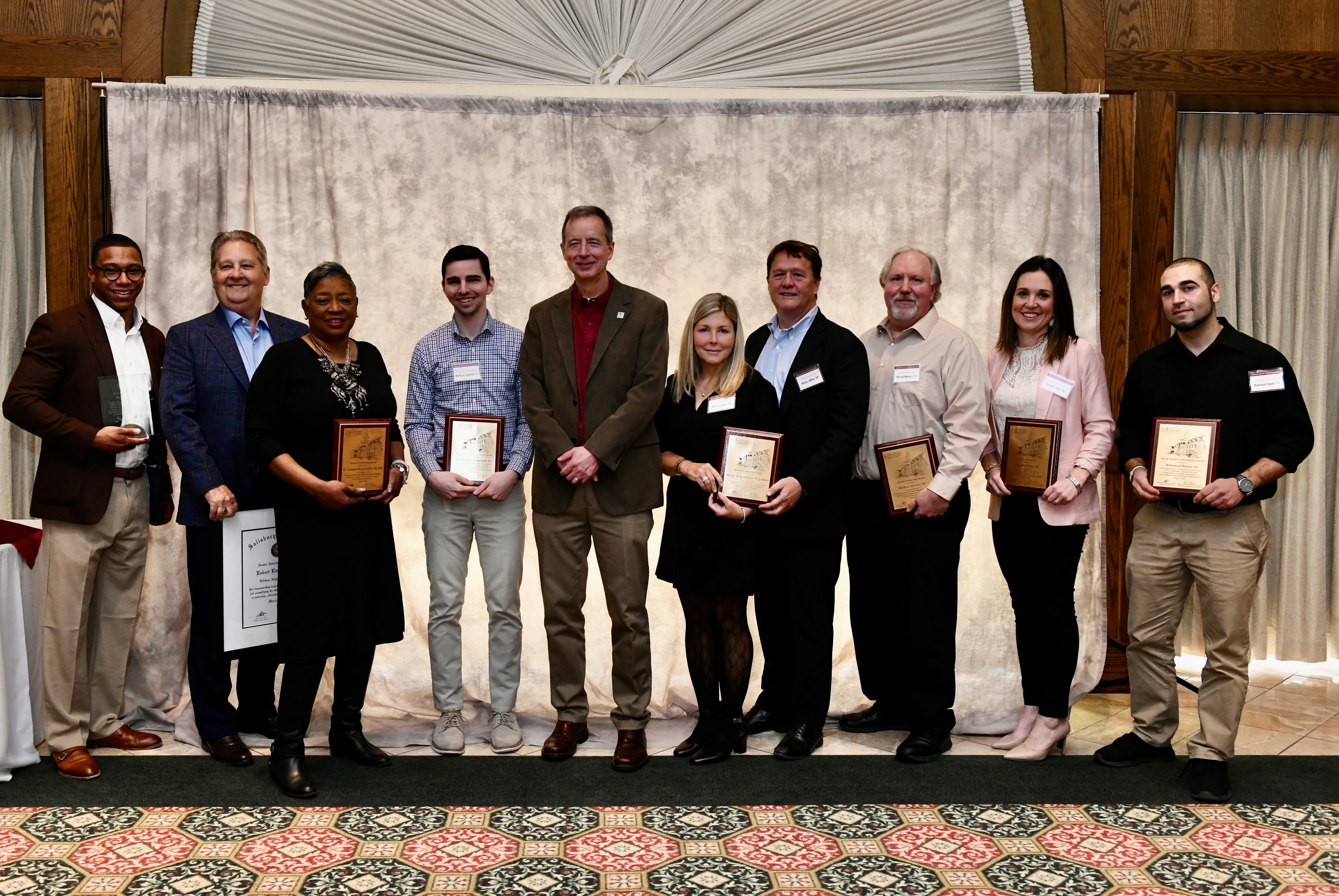 SALISBURY, MD---When it comes to business leaders, Salisbury University alumnus Robert Livingston '75 is among the top of his field.
For his many successes in the business world and beyond, the SU Alumni Association recently honored Livingston with its Lifetime Achievement Award.
The accolade is presented to alumni who have demonstrated long-term career success and exemplify the highest attributes of an SU graduate, including leadership, citizenship, and community and industry service.
Livingston is the retired president and chief executive officer of Dover Corp., a $6.8 billion diversified manufacturer. He previously held similar leadership positions in the company's divisions, including Dover Engineered Systems, Inc., and Dover Electronics, Inc. Before that, he served as president of Vectron International, and vice president and general manager of Salisbury-based K&L Microwave.
He and his wife, Anna, have supported a number of non-profit organizations, including the Chicago Shakespeare Theatre and Chicago's John G. Shedd Aquarium. Also a supporter of SU's Student Entrepreneurship Competitions, he served as the Franklin P. Perdue School of Business Executive Leader Series speaker in 2010.
Livingston's honor capped the association's 2022 awards banquet. Additional honorees included Alumni Leadership Award recipients Dr. Lawanda Dockins-Mills '82, M '96, Wayne '89 and Melissa '89 Judkins, and Mike Mowery '95; Service to Society Award winner Jennifer Shipe '05; and Young Alumni Achievement Award recipients Dr. Matthew Copeland '11 and Mohamad Dajani '14.
The Alumni Leadership Award recognizes alumni who participate in the life of SU through personal involvement on leadership committees, association with the student body and engaging with fellow alumni, augmented by their enhancement to the University's financial welfare.
Dockins-Mills, who retired as associate dean of students in 2020 after 32 years of service to SU, returned to SU in 2021 as interim special assistant to the vice president of student affairs and continues to serve in that capacity. She also served on the alumni association's board of directors from 1994-1996. Among her contributions to SU have been chairing the Town-Gown Council, creating an early model of SU's Powerful Connections student retention program, co-creating an early model of SU's Commuter Connections program, organizing the University's annual door-knocking campaign to connect SU students with their neighbors, partnering with the Student Government Association on projects such as The Big Event community cleanup day, and overseeing the expansion of SU's Wilderness and Experiential Orientation programs by 600%.
Wayne and Melissa Judkins founded SU's Sea Gull Fund in 2000, allowing financial management students to hone their skills by managing a live investment portfolio with a value that has grown beyond $600,000. They regularly engage with Perdue School students on campus and at Financial Management Association events in New York. They also have been generous benefactors to SU in other ways, including matching student and alumni gifts made during the University's annual Giving Day campaign.
Mowery founded the Greater Philadelphia Chapter of the SU Alumni Association in 2001, going on to serve on the association's board of directors as secretary and vice president. He also has worked with the SU Admissions Office to represent the University in the greater Philadelphia area, and organized multiple Alumni Homecoming reunions and events.
The Service to Society Award is presented to alumni demonstrating outstanding community service. Shipe founded the Wyatt's Warriors Foundation to raise awareness of congenital heart defects (CHD) after her son passed away due to complications from open-heart surgery necessitated by the condition in 2015 at just 44 days old. In addition to raising funds to support area families in similar situations, CHD research and education efforts, and the Children's National Medical Center in Washington, D.C., the foundation works to provide a "Warrior Care Package" for every family that must leave local hospitals to seek infant care at larger, specialized facilities out of the area.
The Young Alumni Achievement Award honors SU graduates who have achieved high levels of success early in their careers, with demonstrated leadership capacity and commitment to serving others.
Copeland recently completed his residency in infectious diseases at Georgetown University Hospital and was asked to stay on the faculty at Georgetown's School of Medicine as an assistant professor. He has been on the front lines of the battle against COVID-19, providing lifesaving care. He also has demonstrated academic excellence, earning SU's Cort Chemistry Scholarship and graduating at the top of his class at the West Virginia School of Osteopathic Medicine.
As a computer science and foundations of technology teacher at North Dorchester High School, Dajani works extensively with youth. He also runs an intensive tennis camp each summer and offers private soccer and tennis lessons, with several of his students winning district championships, qualifying for state finals and playing at the collegiate level, including SU. A Chesapeake College Athletic Hall of Fame inductee and Dorchester County First Class Teacher nominee, he also has been featured on the Maryland State Education Association's Twitter feed, Maryland Educators.
In addition, SU President Charles Wight honored his chief of staff, Eli Modlin '16, with the 2022 Special President's Award, recognizing his efforts as the University's COVID-19 response coordinator. Modlin was key in helping SU pivot to virtual operations at the beginning of the coronavirus pandemic, and maintaining the safety of students, faculty and staff while keeping the campus open throughout most of the pandemic.
Learn more about how SU students, faculty and alumni are exploring opportunities for greatness and making tomorrow theirs at the SU website.
SHARE