SU Earns 'High Flyer' Maryland Bird Campus Distinction
Thursday March 17, 2022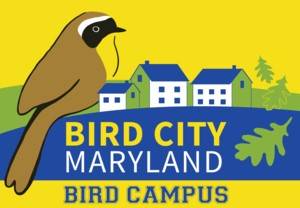 SALISBURY, MD---Salisbury University's nationally ranked campus has consistently been recognized for its bees, flowers and trees. Thanks to the dedication of the Biological Sciences Department, birds are now added to the list.
An application submitted by Dr. Jeremy Corfield, associate professor of biological sciences, and students recently earned SU the title of High Flyer, the most prestigious status of Maryland Bird Campus designation, and the first on the Eastern Shore.
"There were already so many amazing SU efforts supporting Maryland Bird Campus goals of urban conservation and environmental education aimed at making communities healthy for birds and people," said Corfield. "So why not apply to be recognized for things we are already doing so that others can learn more and continue to benefit?"
The application submission was made possible, in part, due to SU's Green Fund. This student-led initiative allows faculty and student teams with sustainable projects that have a potential positive impact on campus to apply for funds collected through yearly student sustainability fees.
Green Fund-awarded student and faculty teams also have earned SU national Bee Campus and Tree Campus designations. SU's arboretum is accredited Level III — the second highest possible — from the ArbNet Arboretum Accreditation Program and the Morton Register of Arboreta.
After putting a call out for environmentally passionate students, Corfield and interested students have joined together, unrelated to coursework, for not only this initiative but additional ongoing Green Fund projects such as bird-friendly window treatments and camera-equipped solar bird houses.
"The work being done by students, faculty and staff are at the forefront of conservation efforts," said Corfield. "These issues matter to students, and they want to get involved even outside of classes."
SU senior biological sciences and environmental science major Rose DeVito, of Bellmore, NY, and Frank Willingham, geographic information systems (GIS) management graduate student, of Easton, MD, were two of the students integral to the effort.
"Achieving this designation is important, especially with the increased ecological impacts we have been seeing from climate change," said DeVito. "It's important to be knowledgeable of these impacts and how personal decisions can make a huge difference on many organisms even in a small areas."
The City of Salisbury is one of three Bird City designations in the state, and the College of Southern Maryland (CSM) is the first and only other higher education institution in Maryland to earn the Bird Campus title.
"We go hand-in-hand with the ecosystem around us; it's all a cycle," said DeVito. "From insects to birds then their predators, outcomes from the sustainable choices that impact wildlife can increase benefits to us as humans, even if we start small."
Categories in the application include habitat creation, protection, and monitoring; campus forest and habitat management; limiting or removing threats to birds; education, curriculum, research and service learning; and campus energy and sustainability. Adopting a resolution to recognize World Migratory Bird Day and holding a campus-wide event to celebrate also are required.
"Applications can be complex and tedious, but it is important to work together as a team," said Willingham. "Partnering with SU groups like the Student Government Association, Horticulture Department and Ward Museum of Wildfowl Art, which have so many beneficial programs and efforts established, allowed us to be able to highlight all the existing great aspects our campus already has."
The team has a website in the works to serve as a central location for all related projects, including live feeds for bird cameras and project updates.
"These designations are important not only to campus, but to the surrounding community as well," said Willingham. "People might think there are thousands of birds and different types of wildlife everywhere, but there are fewer than you think, and we can't survive without them. Awareness is the first step, and all campuses and communities can and should be a model for conservatorship."
Learn more about how SU students and faculty are exploring opportunities for greatness and making tomorrow theirs at www.salisbury.edu.

SHARE