SU's Henson Medical Simulation Center Partners with Atlantic General Hospital to Offer Patient Simulations
Tuesday March 15, 2022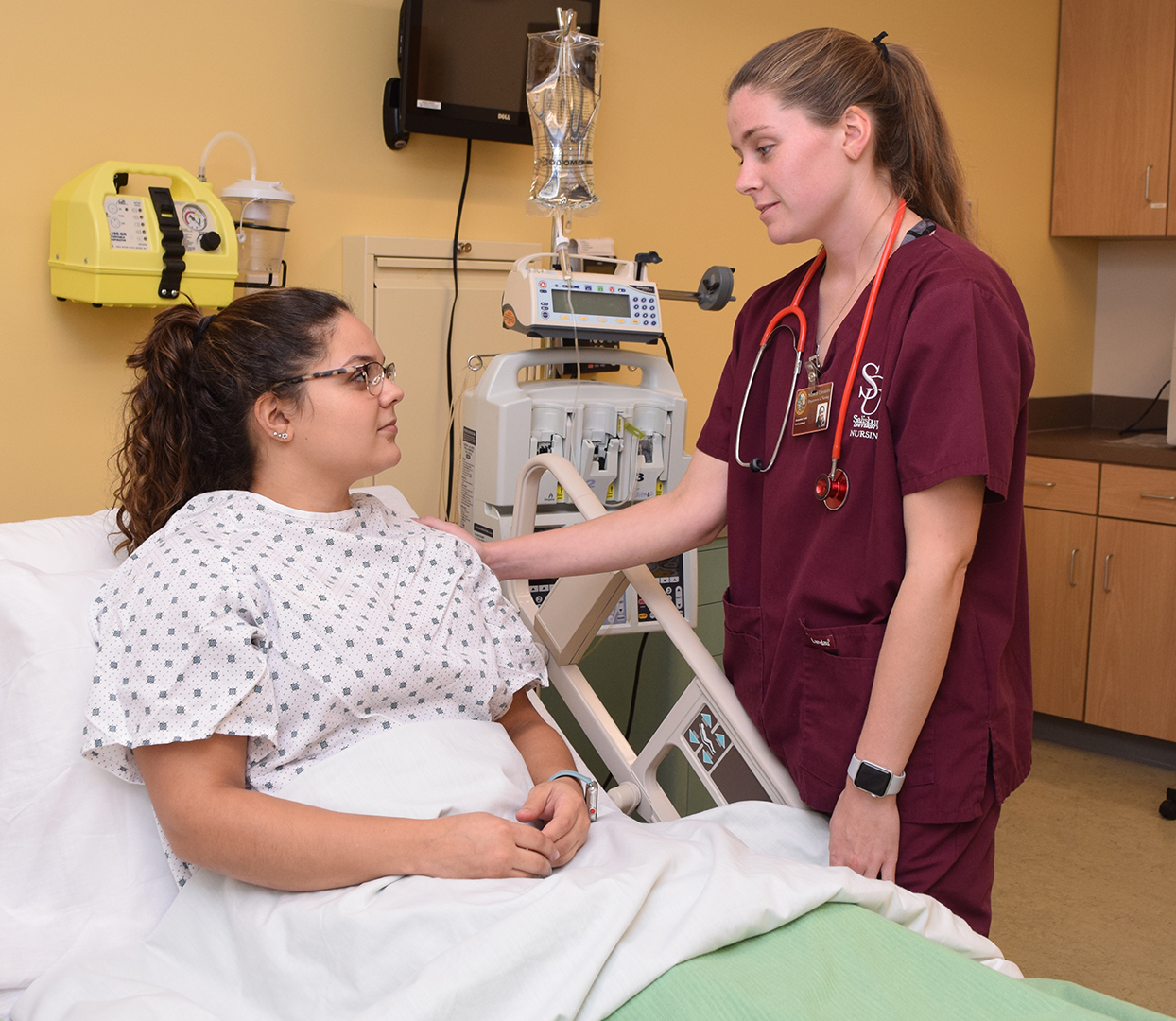 SALISBURY, MD--- Salisbury University's Richard A. Henson Medical Simulation Center and School of Nursing are partnering with Atlantic General Hospital's (AGH's) New Nurse Residency Program to offer standardized patient simulation experiences.
As part of the School of Nursing's ongoing priority to prepare practice-ready registered nurses, the partnership extends learning for novice nurses as they transition from students to practicing professionals.
As a member of the Maryland Nurse Residency Collaborative, a statewide initiative to prepare new nurses as tomorrow's leaders, AGH will use the simulation experience featuring interactions with standardized patient (SP) actors to enhance the program's offerings. The actors are trained by SU's Medical Simulation Center staff and portray patients, family members, and other health professionals to recreate commonly occurring scenarios in health care.
Maryland is the first state in the nation to have all acute care hospitals offer the 12-month Vizient/American Association of Colleges of Nursing (AACN) Nurse Residency Program™ to newly licensed registered nurses. The goal is to assist in a smooth transition from the role of a student nurse to a practicing professional through a combination of hands-on clinical care and other learning activities.
The nurse residents engage with SPs via telehealth conferencing and manage the interactions with an eye toward advocacy for patient safety, managing conflict, and collaborating with others on the health care team. Through simulations, new nurses participate in realistic scenarios, then take part in a group debriefing discussion involving self-reflection, peer feedback, and further exploration of the topic at hand.
More than a dozen new nurses at AGH have participated in these simulations, noting the experience gave them "a chance to work through conflict while in a real-world scenario and helped illustrate ways to improve communication skills."
The collaboration between AGH and the SU Medical Simulation Center is the first of its kind in the state and is supported through a grant from the Maryland Higher Education Nurse Support Program (NSP-II), sponsored by the Maryland Health Services Cost Review Commission.
Providing education, promoting quality and patient safety, and integrating evidence into clinical practice for health profession students and area health care professionals are vital to the center's mission. For more information on how to become a standardized patient actor call 410-546-2465 or visit https://www.salisbury.edu/administration/administration-and-finance-offices/human-resources/careers/.
For more information on AGH programs visit www.atlanticgeneral.org/for-healthcare-professionals/nursing-at-agh/vizient-aacn-nurse-residency-program/.
Learn more about how SU students and faculty are exploring opportunities for greatness and making tomorrow theirs at www.salisbury.edu.

SHARE