Important COVID-19 Information for SU Students
Tuesday February 8, 2022
Dear SU Students,
As Salisbury University continues its COVID-19 precautions, please note the following:
All students, regardless of vaccination status, should have their SU-administered COVID-19 return-to-campus test on file by Thursday, February 10.

Those who do not will be locked out beginning Friday, February 11, and remain locked out until taking the test.

Classes missed due to lack of campus access will not be excused.

Schedule your test at: sutesting.timetap.com

Students granted an exemption are required to test twice-weekly in order to maintain campus access. Employees should not arrive at the testing center more than 15 minutes prior to their assigned testing time.

The testing center is closed for lunch daily from noon-12:45 p.m.

Those arriving more than 15 minutes late will not be admitted and must take a makeup test: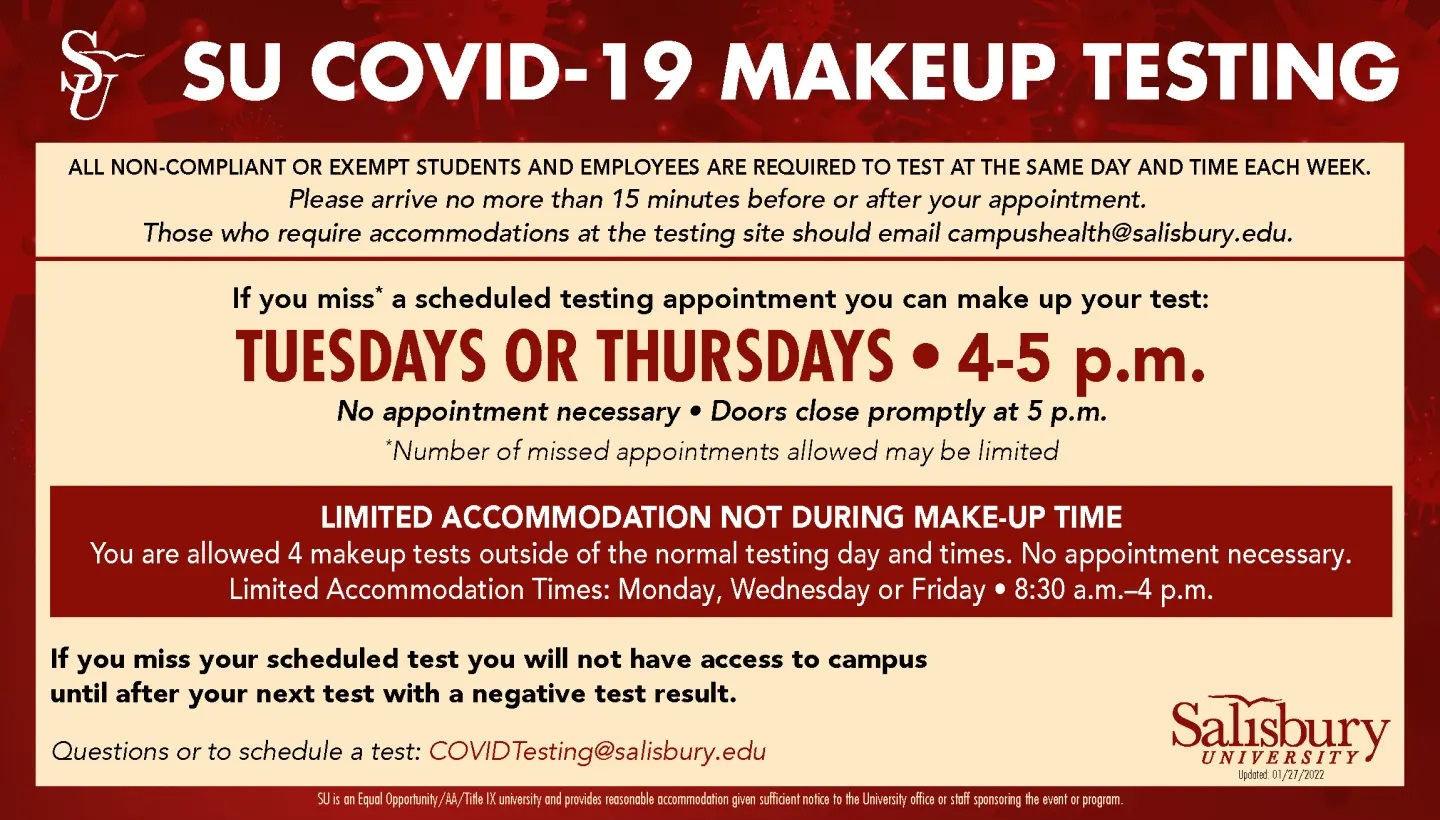 Students should continue to monitor their eligibility for the COVID-19 booster. Visit the

SU COVID-19 webpage

for information regarding eligibility and SU requirements for each vaccine booster (Pfizer, Moderna and Johnson & Johnson).

President Wight's next

live virtual briefing

, scheduled 3 p.m. Wednesday, February 9, will include updated information on SU's COVID-19 protocols, among other topics. Please send any questions for consideration in advance to

StayInformed@salisbury.edu

.
Please view Thursday's message for more information. Questions about SU's COVID-19 policies should be sent to StayInformed@salisbury.edu.
Please stay safe, and thank you for continuing to do your part to #ProtectTheFlock.
SHARE