ESRGC Projects Honored with NADO Impact Awards
Wednesday December 14, 2022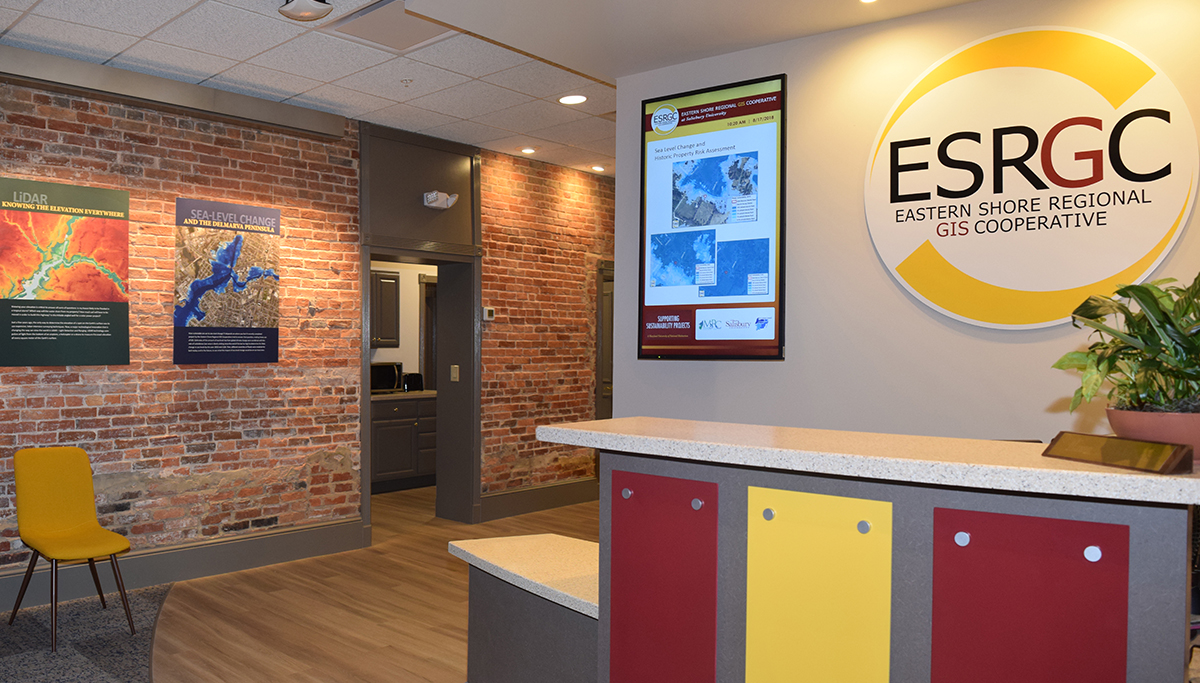 SALISBURY, MD---Salisbury University's Eastern Shore Regional GIS Cooperative (ESRGC) once again has been recognized for its ability to elevate data and mapping projects with impressive and user-friendly geographic information system (GIS) services and web applications.
The National Association of Development Organizations (NADO) recently honored two Mid-Shore Regional Council (MSRC) projects, that the ESRGC partnered on, with NADO Impact Awards.
The Mid-Shore Comprehensive Economic Development Strategy (CEDS) Online project was recognized in the Community Economic Development and Planning category. The Eastern Shore Economic Resiliency Toolkit earned the award in the Emergency Preparedness and Recovery category.
The 2022 Aliceann Wohlbruck Impact Awards honor NADO members for their creative approaches to advancing regional economic development and improved quality of life.
For ESRGC's Erin Silva, project manager, and Anastassiya Suprunova, GIS analyst, who worked on both projects, the awards are a testament to the level of services they strive to provide.
"It's an honor to have the opportunity to foster such positive relationships with so many councils and communities in our own backyard," said Silva. "I'm always amazed at what our ESRGC team comes up with and the innovative creations used to help others take their projects to the next level and make them even more successful as they achieve their goals."
Suprunova also appreciates the value of top-notch, centralized services, not only on the Eastern Shore, but across the state.
"Sometimes you don't recognize how many GIS resources Maryland has compared to other states," she said. "To be recognized among the only NADO-winning projects in the state makes it even more exciting to have that representation fall under the Eastern Shore councils and the ESRGC. You see that your work has paid off. Data, analytics, and the design process can be complicated to work through to accomplish the outcomes needed, but achieving the desired results are so important to crucial regional projects such as these."
The projects spanned multiple regional partnerships, extensive data collection, and analysis, dashboard and website creation — all vital skills SU students are learning while in geography and geosciences courses, including Suprunova's Cartographic Visualization course.
"I think it's so important to discuss and review the ESRGC maps, dashboards and websites I'm working on with my students on a frequent basis," she said. "I want them to see how the topics they are learning are used while working in the field.
"I review how we start at the beginning of a project, how the raw data is collected and formatted, and, finally, show students the visually appealing end result. This behind-the-scenes breakdown of real-time projects that are helping communities allows them to fully conceptualize what they are learning and value the tools they will be using in their careers."
The team's work has been recognized through extension grants for further project continuation and has earned additional accolades, including the Maryland Economic Development Association's Economic Development Program Award and the International Economic Development Council (IEDC) Regional and Cross Border Collaboration Award.
"We are a collective of minds and resources," said Silva. "Our goal is to always work together to find the right solutions for our partners. The core of the ESRGC's mission is to promote our partners and our region. It's in our best interest to deliver quality products, especially as these projects span environmental, regional and economic impacts that are vital to our communities."
For more information visit the ESRGC's website.
Learn more about how SU students and faculty are exploring opportunities for greatness and making tomorrow theirs at the SU website.