From Job Fairs to Career Closet, SU Connects Students to Future Success
Friday November 4, 2022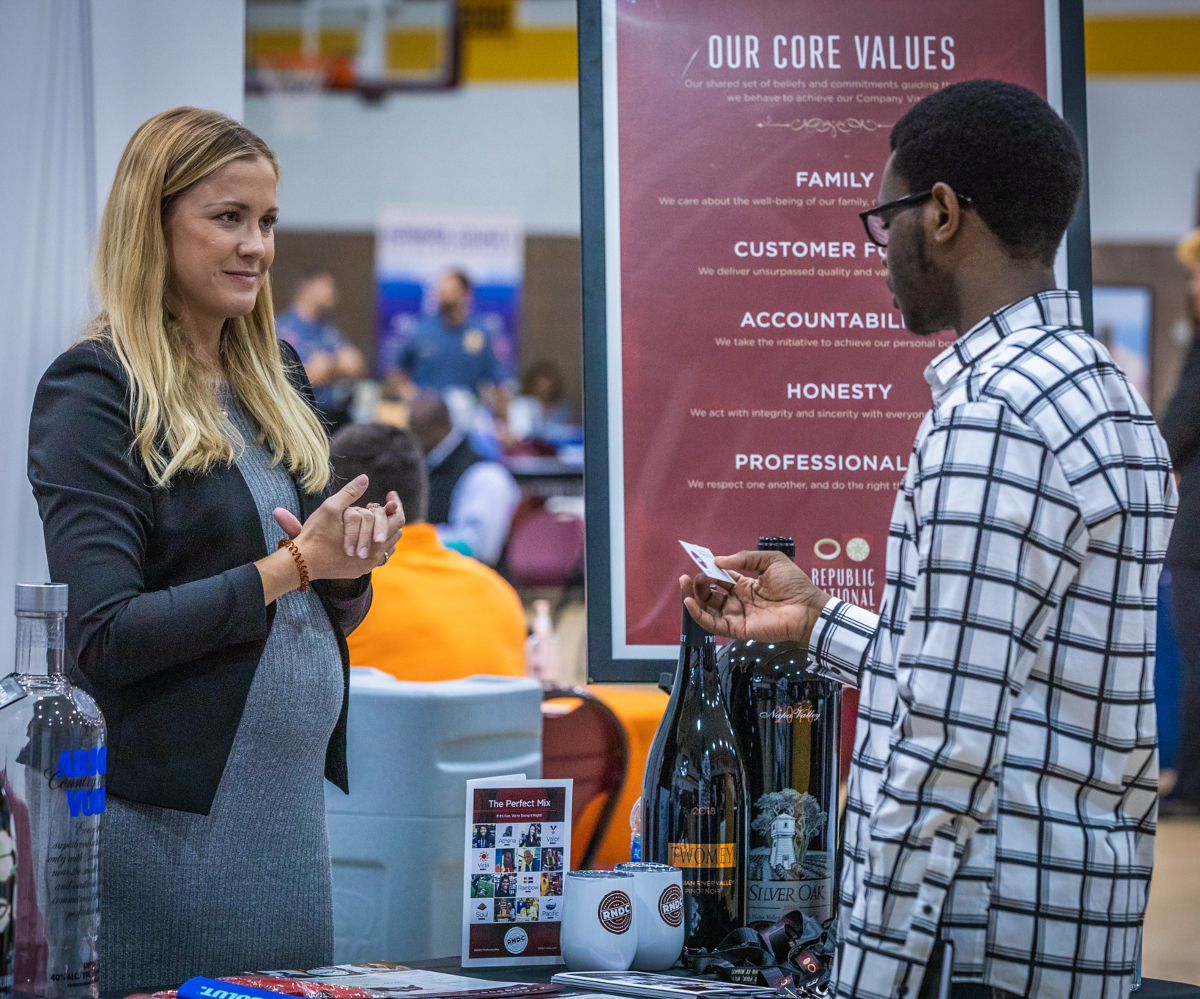 SALISBURY, MD---For Salisbury University students, success begins the moment they step on campus. Many students this semester took another step toward building their tomorrow by taking advantage of the plethora of opportunities the University offers to prepare them for a successful future.
The recent fall Job and Internship Fair put students in front of more than 80 area employers, including TidalHealth, the Maryland General Assembly, Perdue Farms and Assateague National Seashore.
For many, the event provided valuable connections and experience. Michalec Milauskas attended last spring's Job and Internship Fair, where he found his summer job at Anthony's Liquors in Ocean City.
"It worked out great," Milauskas said. "I got to live at the beach and work a fun job, where I became educated in hundreds of crafts, drafts and liquor. I made award-winning sandwiches and met a ton of famous people who I was able to gain knowledge from."
Milauskas' experience worked out so well, he decided to attend this semester's job fair as well. He found a potential future with Republic National Distributing Company and spoke to recruiters about pursuing a career there.
"I really enjoyed my conversation with the recruiters," Milauskas said. "The opportunity to shop around and get your name in the heads of some of these companies is the most important step in getting out there in the workforce."
With more than 300 students and alumni involved, the fall Job and Internship Fair doubled its attendance from the spring event. About a third of the recruiters were SU alumni – some who were hired at the same job fair two years ago and are now on the other side of the table.
Alumni Jesse Malaby '16 and Kate Rumley both attended the job fair representing Sherwin Williams, hoping to recruit more candidates from their Alma Mater.
"All the students we met were promising," Malaby said. "As SU alumni, it is always great to come back year after year to see this beautiful campus. We look forward to attending the next job fair."
SU offers many other resources to help set students up for success, including its Career Closet – where students can borrow free professional attire to wear for interviews and job fairs – and the Sophomore Success Fair.
This year's Sophomore Success Fair featured 37 different academic departments and resources to help students take advantage of all the opportunities available to them during their time at SU. More than 100 attended, making connections to provide them with academic resources for their majors and further develop their college career paths.
"These are wonderful opportunities for students to connect with our employer partners for jobs and internships, and to ensure they have access to resources that are important to their success as students," said Clare Tauriello, interim director of Career Services. "Employers tell us that SU students are professional and motivated, and it all starts here. We're happy to contribute to a culture of success for our students."

View more photos from the Job and Internship Fair on the University's Flickr gallery.
Learn more about opportunities to Make Tomorrow Yours at SU.
SHARE