SU Welcomes Fulbright-Scholar-in Residence to Enhance Nursing Education
Friday October 7, 2022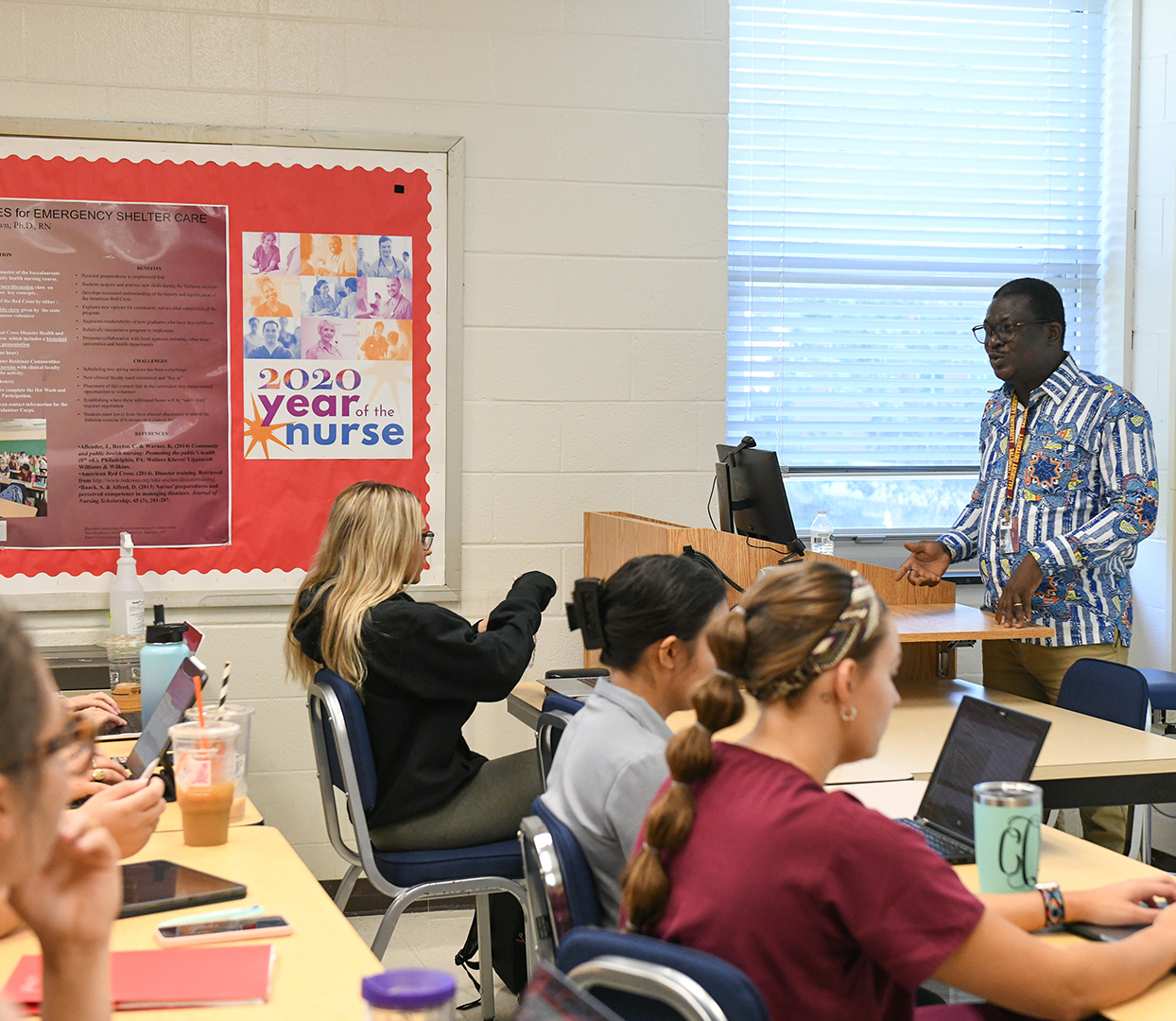 SALISBURY, MD---Communities across the globe are looking to higher education institutions to graduate more nurses, while maintaining the quality of instruction, to combat the international drop in health care providers.
Salisbury University's School of Nursing has partnered with the School of Nursing and Midwifery at the University of Cape Coast, Ghana (UCC), to ensure their graduates are the most diversely educated nurses entering the workforce.
SU nursing students have the privilege of learning from one of UCC's very own, Dr. Christian M. Boso, during his Fulbright Scholar-in-Residence for the 2022-23 academic year.
While he has been on campus only for a short time, the SU community already has made an impression.
"I think SU is a great institution," said Boso, who moved to Salisbury with his wife and three children in August. "Institutions are about people, and the SU community has shown that they value people. Faculty, staff and students have been so welcoming."
The Fulbright Scholar-in-Residence (S-I-R) Program is a unique initiative specifically driven by the goals of U.S. institutions of higher education to enhance internationalization efforts on their campuses.
"Being new to this country, there was always going to be the fear of the unknown. I was not sure what to expect," said Boso. "The hospitality from those in the College of Health and Human Services, the School of Nursing, Dr. Brian Stiegler [SU assistant provost for international education] and his staff in the Office of International Education have all helped to calm nerves. I am indeed enjoying the new challenge."
Boso brings 19 years of experience in education and clinical practice to SU. He is teaching three courses this semester, covering topics in global health and community health nursing with a rural perspective.
"I hope to impart on my students that nursing knowledge transcends boundaries," he said. "I bring cultural perspectives to common issues. As I share stories from Ghana in my teaching, it is my hope that students will begin to internalize global perspectives regarding health issues and eventually become global citizens."
S-I-Rs work across departments and curricula in a variety of ways to widely enhance or expand an existing international program, develop new world area studies programs, add an international dimension to existing coursework, or provide an opportunity for U.S. students to learn about a particular world region or country.
"My program is related to classroom instruction with a focus on nursing education," he said. "I look forward to collaborations in the area of patients' education with community-based perspectives, including those of the SU community, through research partnership."
Boso connected with Dr. Tina P. Reid, SU professor of nursing, during her visit to UCC last summer to enhance mental health curriculum as part of her ongoing work as a Fulbright Specialist. They are partnering on a new initiative while at SU this year.
"Dr. Reid and I are working on a study abroad program with a research component titled 'Broadening Students' Perspectives Through Global Exchange Programs: Interdisciplinary Students' Experience,'" said Boso, who will present the research with Reid at the 119th annual Maryland Nurses Association convention.
He earned his Ph.D. in nursing science in 2019 from the Stellenbosch University in Cape Town, South Africa. His areas of specialization include nursing education, accident and emergency care, and adult health nursing
"SU has cultivated a trusting and collaborative relationship with UCC," said Boso. "It is envisaged that such relationship will continue to build a momentous effort toward a mutually beneficial outcomes in terms of students and faculty development."
Learn more about SU and opportunities to Make Tomorrow Yours at www.salisbury.edu.

SHARE