SU Best Buddies Named Chapter of the Year
Friday October 7, 2022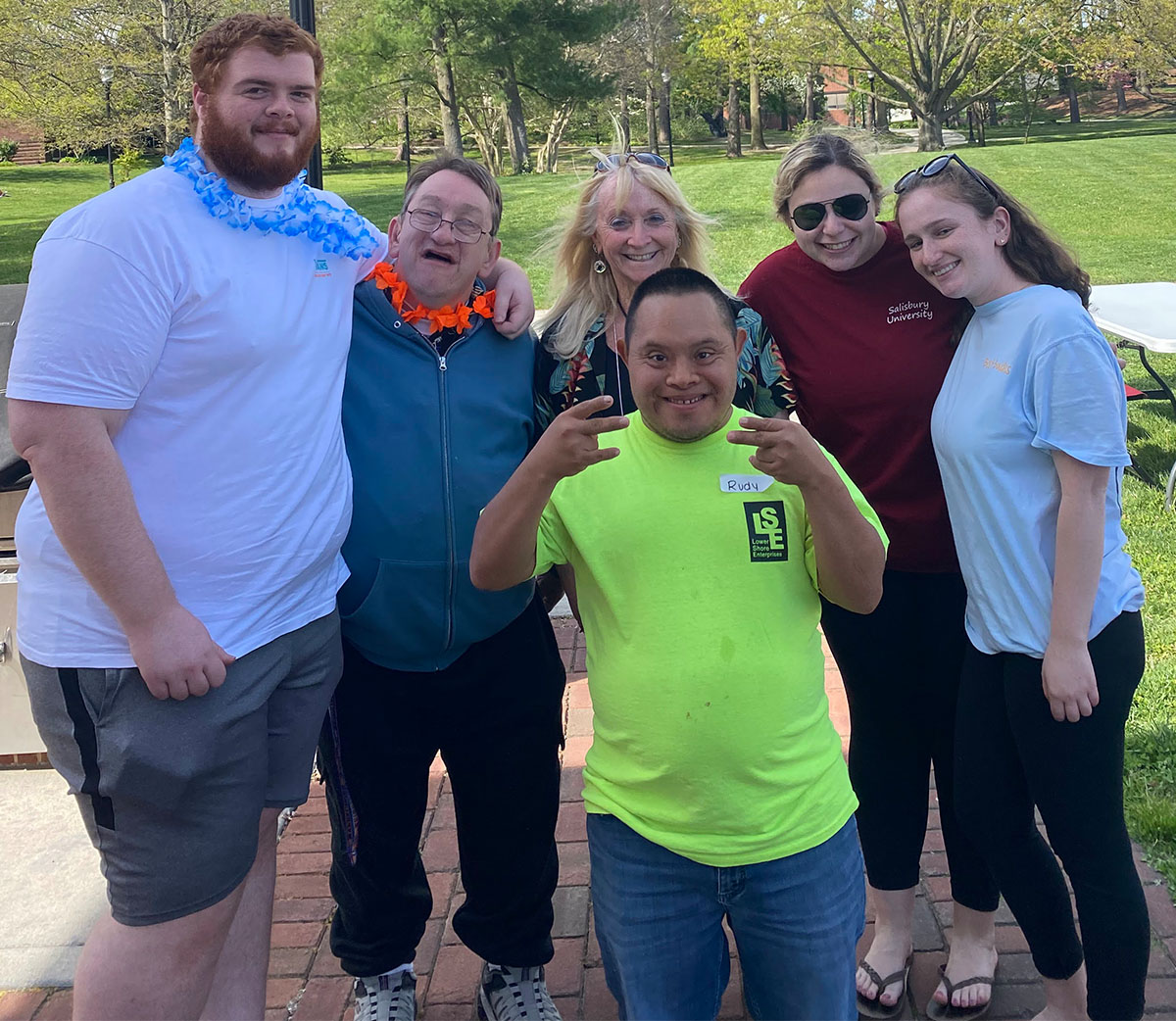 SALISBURY, MD---Salisbury University is known by many as a welcoming and inclusive space. A group of students who spend their free time ensuring the atmosphere lives up to that description recently were recognized for their efforts as SU's Best Buddies chapter was named the collegiate chapter of the year for 2021-22.
"I was surprised, but we did have a really good year," said recent graduate Danielle Pendergast, who was president of the SU chapter last year. "We were really involved with Best Buddies Maryland and the Friendship Walk."
Best Buddies is the world's largest organization dedicated to ending the social, physical and economic isolation of the 200 million people with intellectual and developmental disabilities (IDD). Its programs empower people with IDD by helping them form meaningful friendships with their peers; secure successful jobs; live independently; improve public speaking, self-advocacy and communication skills; and feel valued by society.
With some 15 campus members, SU's chapter partners with Lower Shore Enterprises to connect with 30 or more buddies from SU and the greater Salisbury community, hosting monthly campus events that encourage friendships and inclusion.
The chapter had a strong showing in a social media competition run by Best Buddies Maryland and impressive turnout at its monthly events, including bingo and holiday-themed activities. Members also participated in the Best Buddies Friendship Walk: Maryland, which raises funds for and awareness of the program.
Perhaps the chapter's most successful event was the final one of the academic year, at which students and their buddies were able to come together outdoors, resulting in others on campus joining in. The SU men's club volleyball team was practicing nearby, and some of the buddies wanted to play. The team welcomed the buddies with open arms.
"There were so many people who came out from SU and hung out with the buddies, and that's our main goal," said Pendergast. "Our main goal is to build friendships with them and try to communicate about the club with other people so they get involved."
That camaraderie is what Best Buddies is all about. While current president Elisabeth Eufemia, a senior, has been working for years with individuals with intellectual and developmental disabilities, she enjoys seeing new members evolve and open up to the buddies.
"I've been involved with this community for so long that for me, it's not really educational any more; they're just my friends and we just go hang out," she said. "But I think for a lot of students, it's a whole new experience, and it's really cool to watch it. You can see them evolve from being nervous and not knowing how to act, watching what they say to becoming really open with them."
Eufemia's and Pendergast's interest in inclusivity work actually started much earlier, when they were high school students together in Severna Park. There, they participated in Unified Sports, which pairs non-disabled students with those with intellectual disabilities in sporting events.
"Unified sports just lets individuals with IDD know that there are people in the school that are there for them," Eufemia said. "Especially at [Severna Park], they're kind of segregated into a hallway just for them. These sports allowed our classmates to know there are people there for them. That's what we want to do with Best Buddies on campus: make sure this community knows that we're here for them, as well."
Eufemia was the president of her Best Buddies chapter in high school before attending Anne Arundel Community College and then transferring to SU, where Pendergast was president of the Best Buddies chapter and recruited her to assist.
Along with hosting social events, Best Buddies also educates and informs. One of its most important events, "Spread the Word to End the Word," promotes awareness each March to end use of derogatory and outdated language in describing individuals with IDD. The SU chapter was active on social media with those efforts as well, receiving recognition from the state organization for its work.
The chapter's next event is a pumpkin painting activity Friday, October 28, just before Halloween, in Fireside Lounge in the Guerrieri Student Union. SU community members and those from the greater community are invited to participate. For more information email Eufemia.
Learn more about how SU students and faculty are exploring opportunities for greatness and making tomorrow theirs at www.salisbury.edu.
SHARE