Gift to Name Men's Lacrosse Locker Room Honors Late SU Alum
Wednesday October 5, 2022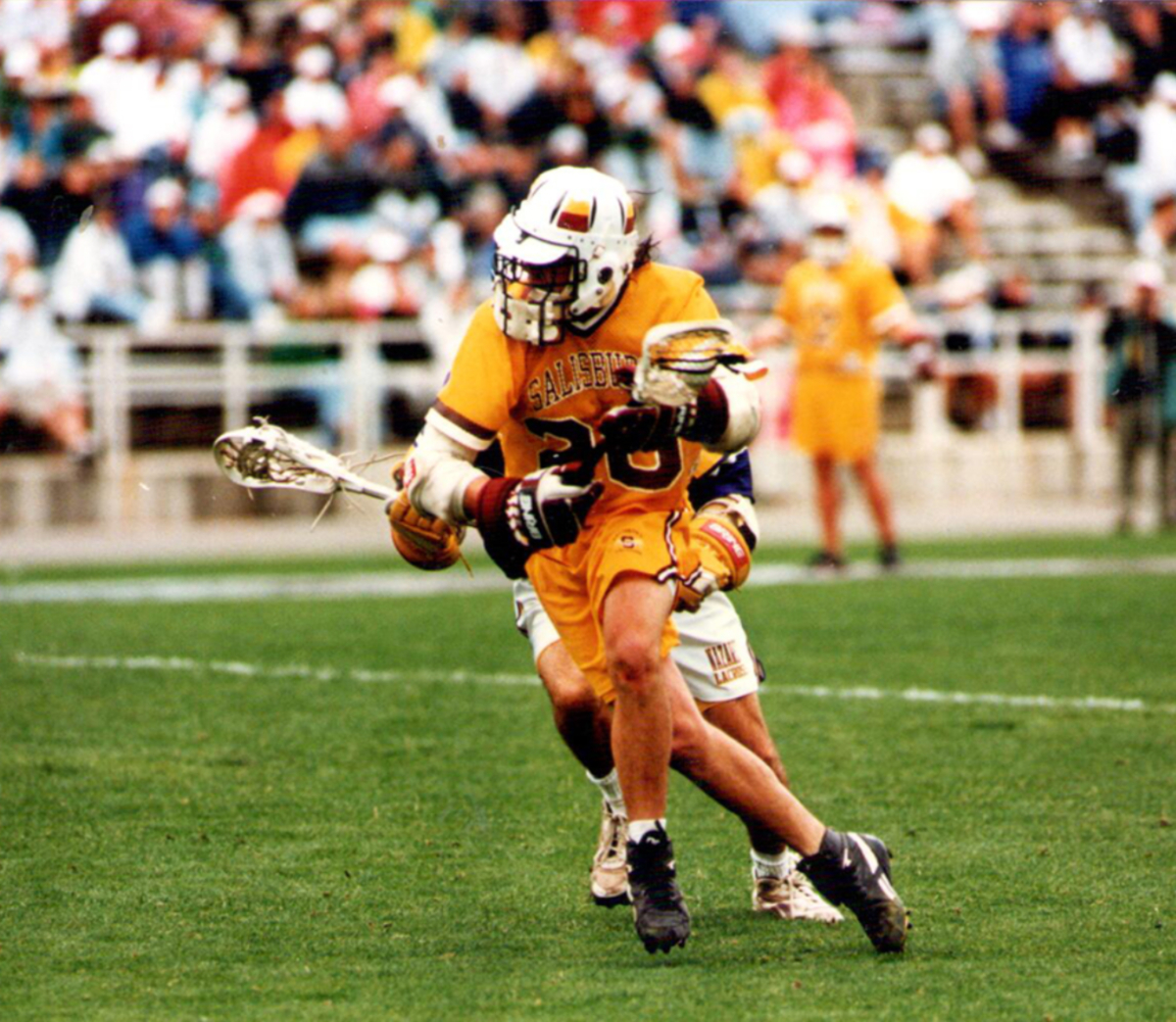 SALISBURY, MD---For many student-athletes, what they miss most after graduating and hanging up their gear is not the field, but the locker room.
That's what former Salisbury University Sea Gulls Brendan and Holly Kelly thought when they decided to give $200,000 to endow the men's lacrosse locker room at SU.
"I spent more time there than on the field playing," Brendan said. "It was in the locker room where I really built a relationship with the team and coaches, day in and day out at practice."
The locker room will be named in honor of Dennis Leonard, the couple's friend and a well-loved Sea Gull lacrosse player, who passed away in November 2021 at age 47. Dennis was a communication major and graduate of the SU Class of 1997, where he achieved two NCAA National Lacrosse Championships with back-to-back undefeated seasons. But the impact he made extended beyond the field.
The Kellys remember their time at SU fondly, especially lacrosse and the bonds they made, thanks to Dennis. Brendan remembers how Dennis welcomed him from day one. While Brendan was only at SU for a year, it felt longer, and the Kellys maintained a close relationship with Dennis after they all left SU.
"Dennis is the locker room," Brendan said. "He embodied what a locker room was all about, so it was easy to put his name on it."
Men's lacrosse head coach Jim Berkman said the funds will help lacrosse players at SU travel for tournaments and purchase new equipment, and allow the lacrosse program to continue offering growing experiences for future student-athletes.
"Dennis Leonard was truly a great teammate and Sea Gull," Berkman said. "Recognizing him with his name on the locker room is truly a tremendous tribute."
For the Kellys, lacrosse is a sport that keeps giving back to them.
As the CEO of Smartlink and former owner of the Chesapeake Bayhawks Major League Lacrosse team, Brendan has found lacrosse to be a touchstone throughout his career. His relationship with Dennis and the SU men's lacrosse team started in 1995, when the team won the NCAA Division III national championship. He has been a member of the Annapolis Youth Lacrosse Association's board of directors and has coached area youth sports programs for many years. His experience as a lacrosse athlete taught him the importance of making connections, which helped build his business. Since starting Smartlink, he has been proud to hire other lacrosse players at his company.
The couple's recent gift is another illustration of how lacrosse and the people they've met through the program have impacted their lives.
"Brendan and Holly Kelly's willingness to both give to the men's lacrosse program and to recognize and remember Dennis Leonard is a testament to the special place the University, program and teammates hold in their heart," said Gerry DiBartolo, Director of Athletics and Campus Recreation. "What a great way to honor a former player and their legacy at SU."
Learn more about opportunities to Make Tomorrow Yours at SU.