Hermes Creative Award Recognizes Success of SU's 'Make Tomorrow Yours' Brand
Wednesday October 12, 2022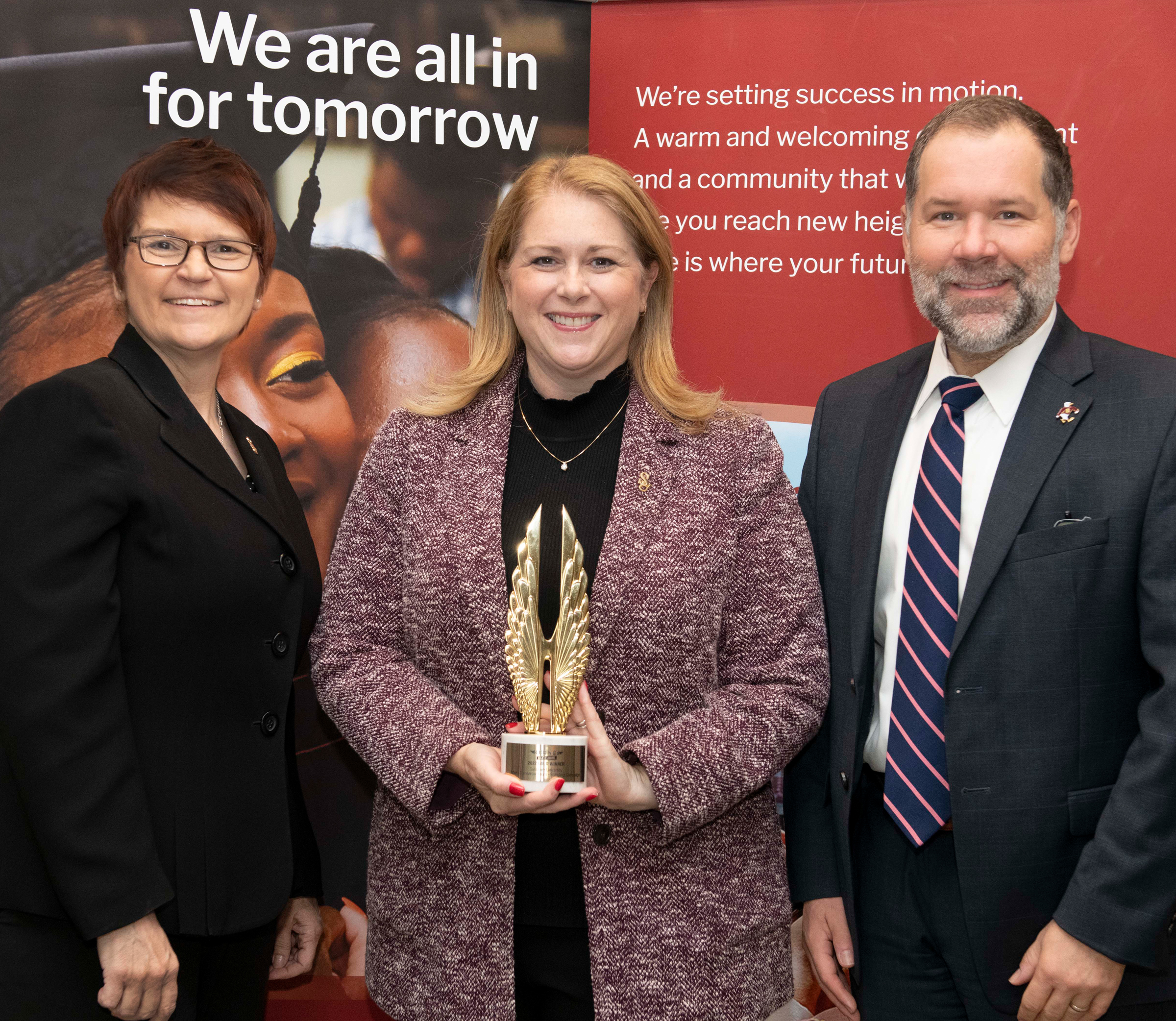 SALISBURY, MD---For nearly a century, Salisbury University has opened doors for students striving to shape the future.
Last fall, SU conveyed this long history of potential and success into its new brand, "Make Tomorrow Yours," recently recognized as a Hermes Creative Awards Gold winner.
Presented by the international Association of Marketing and Communication Professionals, the honor positioned SU's campaign among the top marketing initiatives of 2022, out of more than 6,500 entries.
"The Hermes Creative Award recognizes organizations whose work exceeds a high standard of excellence and serves as a benchmark for the communications industry," said SU President Carolyn Ringer Lepre. "Our Marketing and Communications team not only worked diligently to develop a brand identity that speaks to the heart of SU, but also to launch it in a way that continues to spread the message that an SU education is the best way to Make Tomorrow Yours. This honor serves as confirmation of the dynamic and innovative atmosphere that makes up our institution."
Working in partnership with Stamats Communications, Inc. and Red Cactus Marketing, SU's Marketing and Communications team conducted a year-long exercise of research and discovery before SU's new brand identity was launched in October 2021. This included focus groups of students, faculty, staff, alumni, community supporters and others.
"The thread that ran through each group was that SU has a history of preparing students for what lies ahead, whether that be employment, civic engagement, the next level of education or something else," said Sue Eagle, SU associate vice president of marketing and communications.
"In response to strategic plan goals, our aim was to develop a brand promise and pillars that best reflected the University's mission, vision and priorities. Once we heard from our constituents how their SU experiences gave them the tools to succeed in so many ways, the concept of 'Make Tomorrow Yours' naturally emerged."
"'Make Tomorrow Yours' is more than just a tagline," said Jason Curtin, SU vice president of University advancement and external affairs, and executive director of the SU Foundation, Inc. "It's a promise to our students, faculty and staff — the Tomorrow Makers — that we will provide them with the resources they need to achieve their goals. SU is the place where tomorrow begins."
The steering committee leading this effort also sought to identify the pillars that help fulfill SU's brand promise, showcasing the University's strongest assets. Four emerged: A warm and friendly environment, faculty who open doors for students, opportunities for students, and affordability and return on investment.
"These are the things that allow SU to set success in motion," said Eagle. "It's impossible to tell the SU story without those four essential components."
In evaluating SU's brand launch, Hermes judges took into consideration how well the campaign conveyed these and other messages in a variety of ways, including publications, websites, videos, advertising, marketing and communications strategies.
"The concept 'Make Tomorrow Yours' is distinctive in its adaptability across audiences, said Beatrice Szalas of Red Cactus Marketing, who led the team that partnered with SU. "It successfully and strategically pairs with the idea that members of the SU community are Tomorrow Makers. We are really pleased to see how the new brand campaign is being successfully integrated into all aspects of the University's marketing and communication efforts."
Adding flair to the University's efforts was a new visual component, the SU Wave, serving as an immediate identifier for all things "SU." In the recently concluded first phase of the brand rollout, it has graced signs, publications, webpages, email signatures, advertisements, billboards, buses and even some campus buildings. In addition, bright new yellow banners adorning SU's most historical building, Holloway Hall, implore visitors and those driving past the campus to "Make Tomorrow Yours."
In phase two, an even bigger push will be made to tell the stories of the students, faculty and staff who have made SU one of the best universities in the nation according to U.S. News & World Report, The Princeton Review and others.
"The concept of being Tomorrow Makers is intricately woven into SU's identity," said Eagle. "It is the standard by which we hold ourselves as one of the country's leading public institutions of higher education."
Learn more about SU and opportunities to Make Tomorrow Yours at the SU website.