SU Students Represent South Africa at Model UN Conference
Thursday January 6, 2022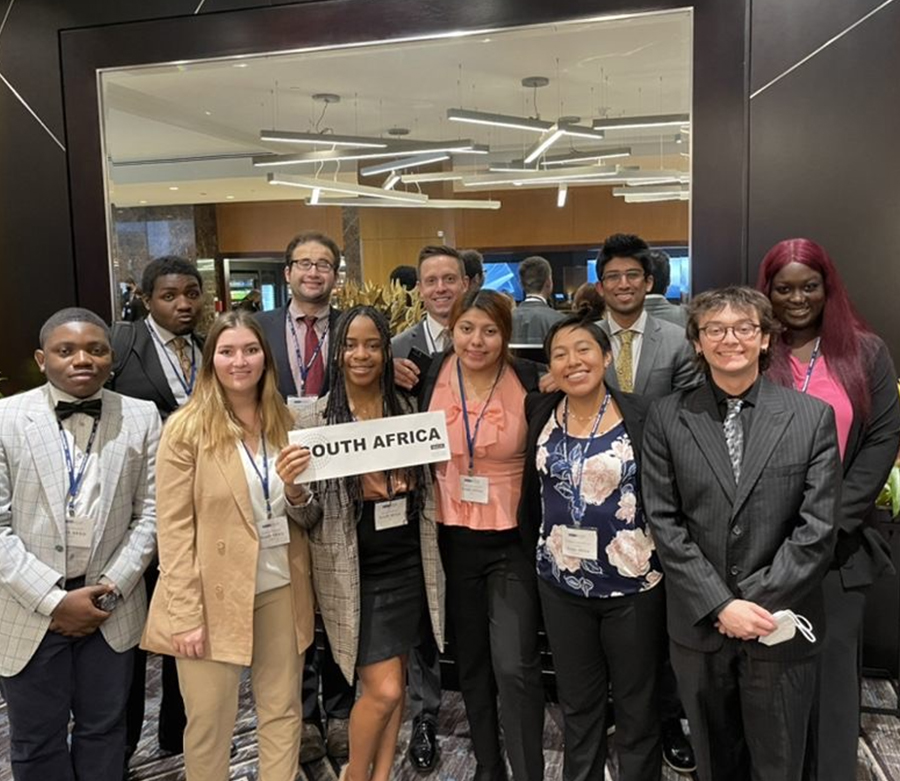 SALISBURY, MD---Salisbury University students spent a recent weekend forming resolutions that could make the world a better, safer place to live.
Their new policies may not take hold now, but the lessons learned during their participation in the Model United Nations conference could send each student on a path to careers that do just that.
Ten students and Dr. Eric Rittinger, the group's advisor and chair of the Political Science Department, recently traveled to Washington, D.C., to participate in the Model UN program to represent South Africa, learning about diplomacy, large group team work and public speaking.
SU's Model UN program started nearly eight years ago as a student-driven organization. Since then, students have made yearly trips to Model UN conferences in Washington, D.C., and New York.
Upon being assigned a country to represent, the students conduct extensive research into that country and its residents – how they live, what struggles they face, their true stances on global topics and more – to best understand the nation they will represent.
The conference is a three-day whirlwind, beginning on Friday night and running through Sunday afternoon, with students discussing challenges faced in the world, making arguments for possible solutions, and drafting resolutions which are voted on at the end of the conference.
"It's a wild scene because it's 19-year-olds who are talking about the fine-grain points of international diplomacy on a Saturday morning," said Rittinger. "It's very intense, and it's a really cool outlet for students who are interested in diplomacy and international affairs and global problem solving."
Membership in the organization is not limited to political science or international studies students, though credit can be earned through Rittinger's "The United Nations System" course when the two schedules coincide.
At this year's conference, COVID-19 pandemic recovery, sustainable development, climate change, weapons nonproliferation and other issues were covered. The SU team's research and immersive efforts fueled a link to their adopted country.
"It really has given us a connection with South Africa, as far as our research and getting an idea of how the country really works," said junior Sufyaan Aqil, a political science major from Salisbury, who attended his first conference this year. "I would actually like to visit South Africa now because it has been in my head for the past four or five months, having learned how they feel about the environment and how they want to lead Africa into the future."
With South Africa in mind, Aqil and the SU delegation helped pass a resolution to assist in the fight against climate change, something they say is very hard to accomplish in the true United Nations, which they took away as a victory.
"That's the challenge: You start with nothing written down, and over the course of a weekend, students are putting together these really extensive documents which look like actual UN resolutions, and then they are put up for vote at the end of the conference," said Rittinger.
The students and Rittinger are already looking forward to a 2022 conference in Washington, D.C.; New York; or possibly Japan.
Agi Sirra Sallah, a senior from the Gambia, who has participated in Model UN since her early high school days, believes the program will help her in her future endeavors in law. The Model UN and its real-life counterpart are based not just on politics, but on people helping people.
"The Model UN and the UN are for people who care about the earth and care about other people," said Sallah. "I think a lot of people have the impression that Model UN or the UN doesn't do much. It's actually a lot of people who genuinely care and are trying their best to find a solution."
Students interested in joining SU's Model UN Club should contact Rittinger.
Learn more about how SU students and faculty are exploring opportunities for greatness and making tomorrow theirs at the SU website.