Kelly Earns USM Board of Regents' Staff Award for Effectiveness and Efficiency
Thursday July 29, 2021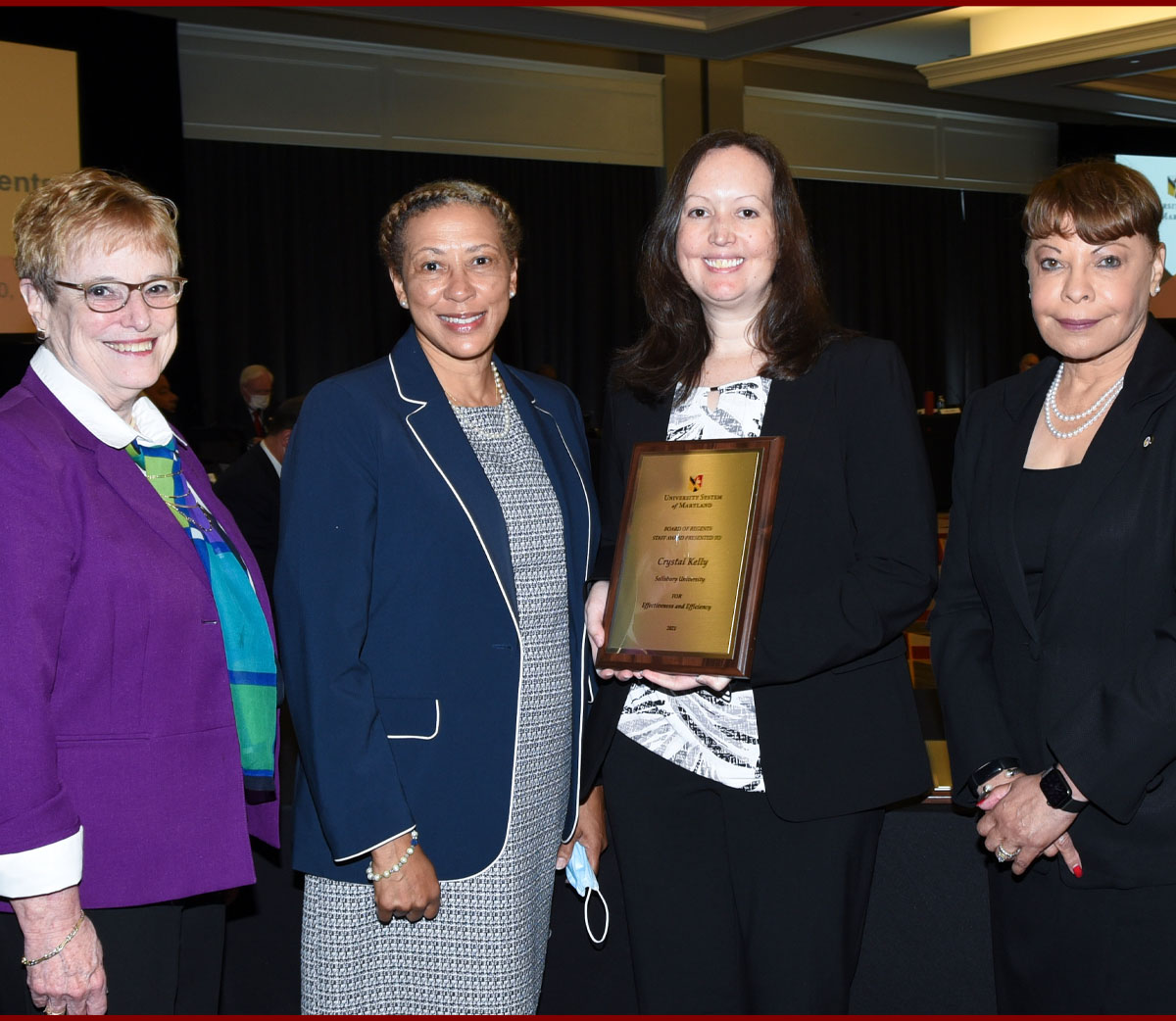 SALISBURY, MD---For many years, Salisbury University's Publications Office kept track of jobs, billing and other operational facets via paper workorders.
While the system worked, publications director Crystal Kelly believed it could be more efficient. After investigating the most appropriate digital tools, she worked with SU's Information Technology Office to implement Jira, a third-party software solution.
Implemented prior to the advent of COVID-19, the new system not only streamlined the process, but helped the office continue running smoothly when the University shifted to remote operations during the pandemic and saved more than $11,000 per year in the process.
The University System of Maryland recently rewarded Kelly for her efforts with one of its highest honors: the Board of Regents' Staff Award for Effectiveness and Efficiency.
"Crystal has had a major impact on how students, faculty, staff and members of the community view SU," said SU President Charles Wight. "She and her team often help to form the first impression of our University through their artwork, graphics and publications."
He also noted Kelly's contributions to the University's operational efforts during the pandemic, developing and sharing COVID-19 safety graphics and signage, and serving on the SU COVID-19 Task Force.
"Crystal has strived to make systems used in the Publications Office smarter, faster and more cost-effective," said her nominator, Sue Eagle, SU associate vice president of marketing and communications.
In the transition to Jira, "It was not enough to just transfer the required information from the printed workorders. She remodeled the various processes of the department and evaluated how to interact with all our clients," Eagle added. "Thanks to her proactive efforts, the transition from on campus to teleworking [during COVID-19] was seamless."
Jason Curtin, SU vice president of advancement and external affairs and executive director of the Salisbury University Foundation, Inc., echoed those praises: "Crystal is dedicated to the University and well respected among her colleagues. The significant lift of moving the Publications ticketing system to a completely paperless and online process has been so huge and well received. It is this type of initiation and ingenuity that sets Crystal apart from other employees."
For more information call 410-543-6030 or visit the SU website.
SHARE