SU Opens New Dave and Patsy Rommel Center for Entrepreneurship
Friday October 29, 2021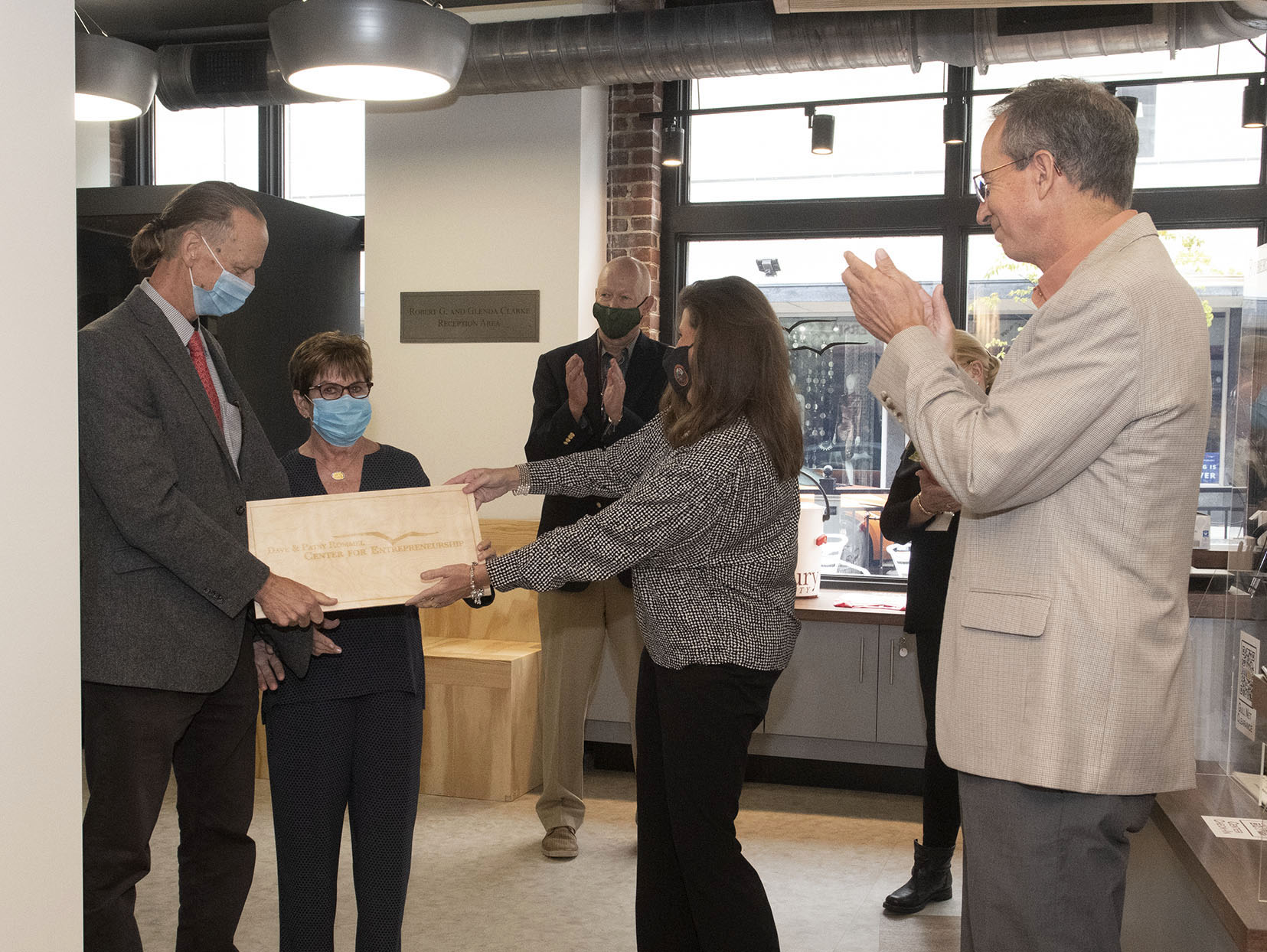 SALISBURY, MD---In 2017, local philanthropists Dave and Patsy Rommel announced a $5.5 million gift to publicly launch "We Are SU: The Campaign for Salisbury University," the largest such initiative in campus history.
Some $500,000 of that gift was earmarked to help the University provide a space for student entrepreneurs in downtown Salisbury. This fall, students and others are using that complex officially for the first time following the opening of the Dave and Patsy Rommel Center for Entrepreneurship at SU Downtown.
"Since 1987, when SU hosted its first student business plan competition, entrepreneurship has been a pillar of the University's Franklin P. Perdue School of Business," said William Burke, SU executive director of entrepreneurship. "This facility marks a new chapter in our commitment to developing student entrepreneurs and innovators into the business owners and employers of tomorrow."
"The Rommel Center will benefit not only students, but community members and local small business owners, who will have the chance to share their expertise with our students and learn how the students' efforts and perspectives can help them in return," said Dr. Christy Weer, dean of the Perdue School. "The fact that this facility is in downtown Salisbury, the heart of the city, places our students and their innovation on the frontlines with area business, government and community leaders."
"Thanks to the generosity of Dave and Patsy Rommel, our student entrepreneurs now have unprecedented access to a vast array of prototyping equipment, meeting space and business resources," said Jason Curtin, SU vice president of advancement and external affairs and executive director of the SU Foundation, Inc. "We are grateful for their efforts and especially to Dave for his work as chair of the We Are SU campaign, which their gift helped support."
The center features shared co-working space for SU student entrepreneurs, including four studio offices and eight individual "garages" for winners of SU's Philip E. and Carole R. Ratcliffe Foundation Shore Hatchery competition for business startups in the Mid-Atlantic, and annual Student Entrepreneurship Competitions.
Additional features include a "wet lab" geared toward science startups such as agriculture, medical technology and biotechnology, as well as a "makerspace" for robotics, small product assembly and technology-enhanced products with 3-D prototyping, including a textile workshop for fashion and theatre creations.
Everything in the center is purpose-built, with innovative designs and materials custom made by local entrepreneurs for many of the asymmetrical angles and spaces in the building. A unique glass-topped conference table and other features, created by Bill Wolff, SU Art Department chair, are made from original wood preserved from a 2016 renovation of the 1930 SU Downtown building.
In another room, a reproduction gas streetlamp, sponsored by Chesapeake Utilities Corp. and Sandpiper Energy, represents the spark of inspiration that ignites the fire of the young entrepreneurs who will use the facility's resources to begin their paths to becoming tomorrow's business leaders.
For the Rommels, the complex represents a gift to future business owners just starting out, as Dave was when he began working with his family's business, Rommel Electric Company, in 1976. Today, that and multiple other businesses fall under the Rommel Companies umbrella, including Rommel Construction, Rommel Infrastructure, Rommel Harley-Davidson, Rommel's Ace Hardware, The Fairfield Company (an electrical/mechanical contractor) and National Fire Protection.
Additional sponsorship opportunities within the center are available and will help the University reach its We Are SU campaign goal of $75 million. Currently, some $67 million has been raised.
For more information email Christina Howard, Perdue School major gifts officer, or call 410-548-2311. To learn more about the Rommels' gift, visit the We Are SU campaign webpage.
Learn more about how SU students and faculty are exploring opportunities for greatness and making tomorrow theirs at the SU website.
SHARE