Nieves, Siers Receive 2020 Distinguished Faculty Awards
Wednesday September 2, 2020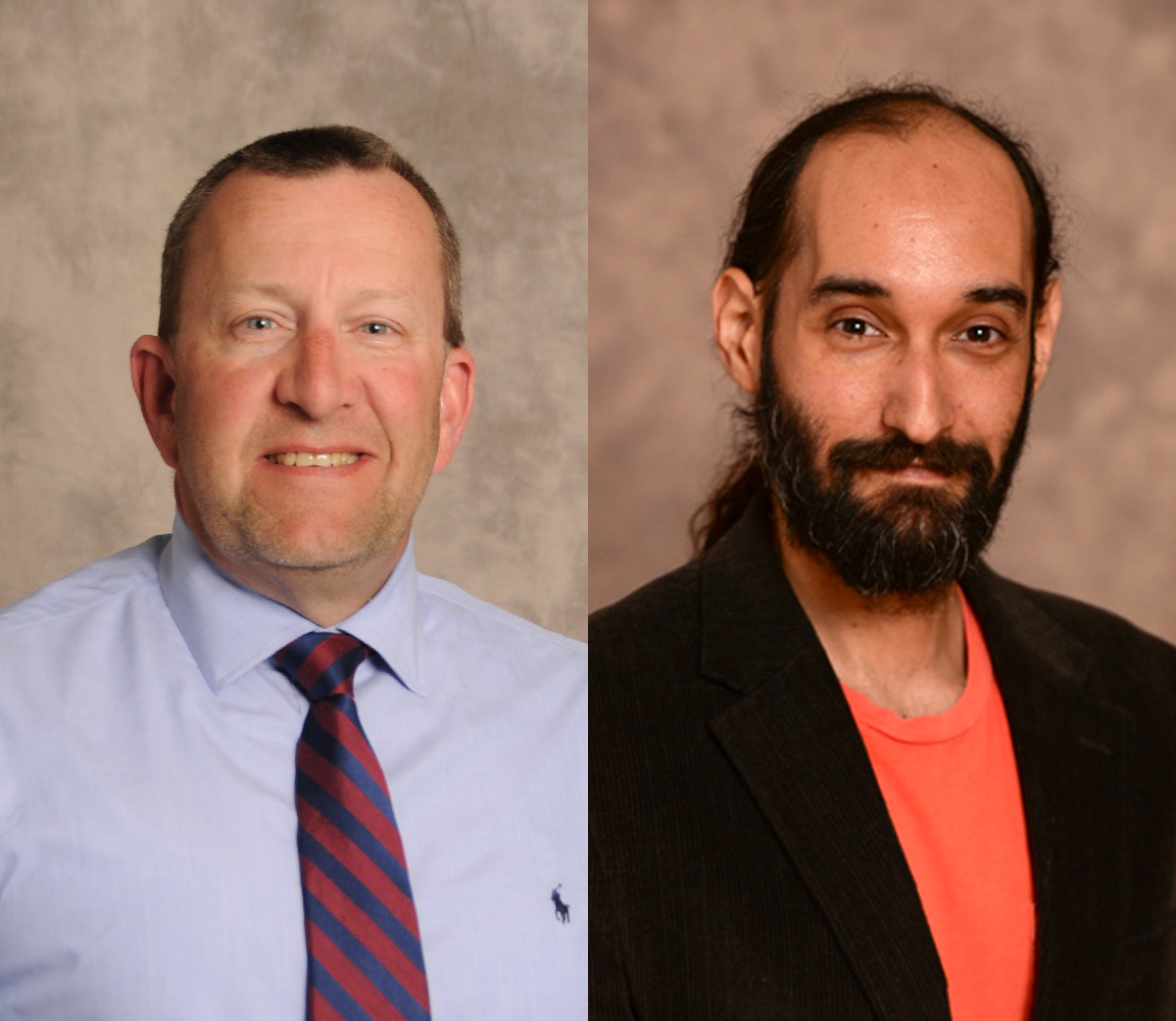 SALISBURY, MD---Drs. Ron Siers, professor of education, leadership, and athletic coaching and John Nieves, associate professor of English, this year's recipients of Salisbury University's Distinguished Faculty Award, are described as "a masterful mentor to students," and "the most inspiring professor I've had … in my SU career."
The honor, awarded yearly, is selected by faculty to recognize faculty.
Former students of Siers in the Secondary and Physical Education Department lauded his vast levels of energy and motivation for teaching. "I hope that I can bring as much enthusiasm to teaching as he does," one student wrote.
Siers' dedication to the profession reaches well beyond the limits of campus, as SU's liaison for the Professional Development School Program at Mardela Middle and High School. He mentors aspiring educators at Mardela, teaching in the immersive model.
He also has published 16 peer-reviewed articles and served as the senior editor of the National Association of Professional Development Schools' publication PDS Partners.
"Dr. Siers embraces the use of innovative instruction technology, which he leverages to garner high engagement and reflective practices from his students," said Dr. Laurie Henry, dean of the Samuel W. and Marilyn C. Seidel School of Education.
Siers spends his spare time assisting others, having served as the associate head baseball coach at SU for 23 years, while leading a contingent of SU students, student-athletes and student organizations to assist with breakfast service Friday mornings at Salisbury's Hope and Life Outreach (HALO) Ministries for the past four years.
"John [Nieves] is a masterful mentor to students, enabling them to find or unleash their words, to work hard on their writing, and to connect that writing with an audience," said Dr. Maarten Pereboom, dean of SU's Charles R. and Martha N. Fulton School of Liberal Arts.
Nieves also is involved with students and the University in numerous other ventures, including as the faculty advisory for the Scarab literacy magazine since 2013. He has served as the director of graduate studies and chair of the Graduate Committee for the English Department since 2019. He also served two terms as an SU faculty senator.
"What makes Dr. Nieves so unlike many other professors is that his efforts extend beyond the immediate classroom setting," said one of his former students. "Dr. Nieves carefully trains his undergraduates for success both at and beyond Salisbury University."
Along with being an outstanding faculty member, Nieves is an accomplished poet, having published dozens of poems over the past few years in various leading journals. Curio, his book of poetry, has received rave reviews from top poets around the country. Nieves has been nominated six times for the prestigious Pushcart Prize.
SU now has honored 74 faculty with the Distinguished Faculty Award through 33 years of recognition. The names of this year's winners will be added to an honor roll listing all recipients since the award was established.
For more information call 410-543-6030 or visit the SU website.
SHARE