Gifts Add Value to Education of SU Accounting Students
Friday July 24, 2020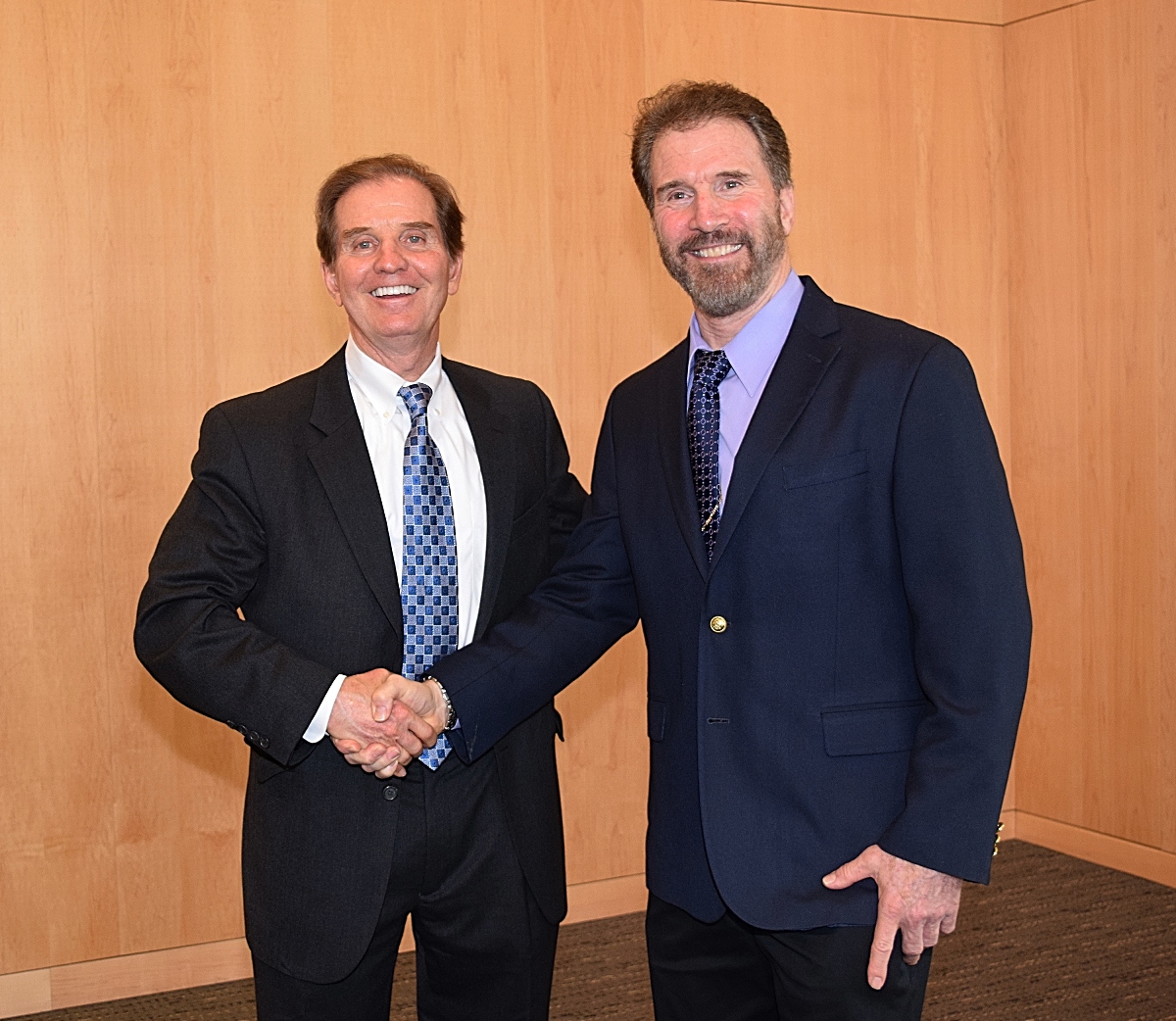 SALISBURY, MD---When it comes to bettering the lives of students, there are many ways to give.
Internships help students gain the experience they need to succeed in their field. Scholarships can help a student in need earn a degree they otherwise couldn't afford. Networking opportunities help students secure jobs upon graduation.
In all of these ways and more, Dr. Kenneth Smith has played an active role in helping Salisbury University students take the next step in their lives.
The chair of the Accounting and Legal Studies Department in SU's Franklin P. Perdue School of Business represents a long line of faculty who have gone above and beyond to add value to their students' education. His predecessor as chair was another example.
Smith remembers Dr. Robert Dombrowski as an innovator and a leader in SU's Accounting Program, who contributed greatly to its growth during his tenure from 1992-2004. When Smith arrived at SU, Dombrowski was going out of his way to help students in his auditing courses gain real-life experience by involving them in his work with area nonprofits. Small nonprofits that didn't have the financial wherewithal to hire outside accounting firms to provide needed accounting services, and Dombrowski helped fill that gap while giving his students valuable job experience.
"What he had going was basically a fantastic internship program," Smith said. "It grew so much that eventually I knew we had to make it official."
In 2007, Dombrowski's efforts were formalized as a course offered through SU's Accounting Program. It now satisfies for accounting majors the Perdue Applied Business Learning Experience (ABLE) requirement that is required for all Perdue students to earn their degrees. The program now has a large client base across the Lower Shore.
"I was always so impressed with Bob's attitude of helping people grow to make the Accounting Program as successful as possible," Smith said. "He contributed so much to the program."
Dombrowski passed away suddenly in 2015. Recognizing his impact on the SU community, Smith participated in a campaign to set up a scholarship in his name. Many faculty, staff, students, alumni and friends have contributed to the fund and raised $12,500 to establish the Robert Dombrowski Memorial Scholarship. The scholarship awards $500 to accounting students who demonstrate financial need.
"We wanted to honor the ideals Bob would have liked in a student, someone who is hard-working and a self-starter," Smith said. "We have a few scholarships like this now, and we know those funds will help others who need it and have earned it."
In his 28 years at SU, Smith has been instrumental in securing support for a number of fundraising efforts, including his TGM Group, LLC professorship. He also helped grow the Partners in Excellence Accounting Fund, which is used to give awards and support other initiatives. In 2018, a $50,000 gift in part from the audit, tax and consulting firm RSM US LLP to the Partners in Excellence fund helped name the RSM Accounting Studies Classroom in Perdue Hall.
Smith also has been involved in several programs to help students with job placement, including a "Meet the Firms" night to connect them with potential employers and opportunities for students to observe workers in the field.
"Whether it's a needs-based scholarship or new technology and training, there are so many ways a donation can be used to support our students," Smith said. "We want to provide our students with the skills to meet the needs of employers and bridge the gap between the classroom and board room."
Before coming to SU, Smith held positions at three other universities. He saw something very different in SU students that he hadn't seen at other campuses: extreme pride in their program. For faculty members, a gift to the University maintains that pride.
"As faculty, we have a fierce sense of pride in the Accounting Program at Salisbury," Smith said. "Our students come out of the program with that same sense of pride going into their careers. Their success is our success. We give because we want them to succeed not just in school but in life."
Join the We Are SU Campaign or email the SU Foundation, Inc. at ahwaters@salisbury.edu to learn more about scholarship endowments.
SHARE