SU's Bosserman Center Named U.N. Regional Centre of Expertise
Tuesday March 24, 2020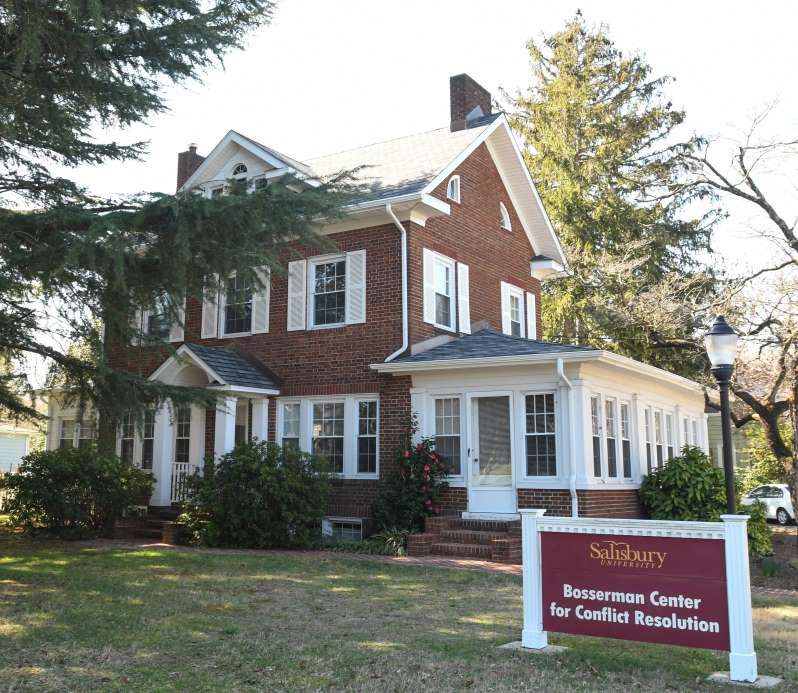 SALISBURY, MD---A small blue flag bearing the logo of the United Nations (U.N.) sits on the corner of the desk of Dr. Brian Polkinghorn within the Bosserman Center for Conflict Resolution on the campus of Salisbury University.
The same logo will soon adorn the sign on College Ave., marking the Bosserman Center as the newest Regional Centre of Expertise (RCE), acknowledged by United Nations University and United Nations Educational, Scientific and Cultural Organization (UNESCO).
The Bosserman Center is one of only eight RCEs in the U.S. and 174 worldwide.
An RCE is a designated hub of expertise in a particular area, making the Bosserman Center the point for experts within the area of the University, Salisbury, and the surrounding communities. The Bosserman Center's, also referred to as "RCE Salisbury" substantive expertise is based in conflict prevention and creative problem solving. It is the only RCE that is designated with this area expertise.
"For years, the Bosserman Center, working with SU's Conflict Analysis and Dispute Resolution (CADR) Department at SU and students throughout campus interested in conflict prevention at all levels, has earned accolades for its work," said Dr. Brian Polkinghorn, the center's executive director. "This designation is an international recognition for the hard work of the students and faculty involved with the center. When anyone around the world needs guidance on a particular project relating to conflict prevention, they will look to SU for assistance."
With the limited number of RCEs worldwide the application process undertaken by Polkinghorn and Dr. Brittany Foutz, CADR lecturer, was complex, taking nearly a year to complete through review and acceptance.
As an RCE, the Bosserman Center is part of a network along with the other locations, able to share expertise and work together on large projects, not only in the U.S., but around the world.
One of the biggest benefits of earning RCE status will be the U.N. fellowships and grants that the Bosserman Center will be directly involved with, providing more research opportunities on campus and the possibility of SU students traveling abroad for research and fellowships.
"I come from working at the U.N., and the number of emails that I would get on a daily basis from people wanting jobs or opportunities was overwhelming," Foutz said. "I was based out of Geneva, Switzerland. To have that opportunity at SU, we can really help students make their dreams come true if they want to work for the U.N. It is an achievable dream."
The Bosserman Center is also in the process of becoming a U.N. Institute for Training and Research (UNITAR). Presently, the center training has UNITAR approval thus allowing students to earn SU credit and also receive a certificate indicating it is UNITAR approved. This would allow the Bosserman Center and the University to bring students to SU on fellowships.
U.N. and UNESCO hold a yearly summit, uniting many members of the network. This year's summit will be in Berlin, Germany, with Polkinghorn and Foutz asked to lead the U.S. delegation for RCEs.
Through the Bosserman-UNESCO Fellowship, six SU students have had the opportunity to work with the U.N., making an impact on their lives. These students are Harrison Leon of Chester, PA; Abiodun Adeoye of Hyattsville, MD; Arnaud Guyon of Fruitland, MD; Dana Day of Frederick, MD; Nathaniel Sansom of Eden MD, and Christa Peek of Cambridge, MD. The RCE designation will allow that impact to grow for the SU student body.
"The Bosserman Center really helped me in numerous ways as a student, as a growing academic, and as an individual. Working with Dr. Polkinghorn and Dr. Foutz, I sharpened my multitasking and communication skills, as much of our work relies on strong communication and fast correspondence," said Adeoye. "Working as a research fellow through the Center for Conflict Resolution with our new RCE designation helped me strengthen the communication and multitasking skills that was so integral to my UNITAR internship last spring. As a result, I now feel more confident working on several projects at once and balancing many priorities on a daily basis. Our new RCE designation is so important for future students because it will give our students a direct resource with which they can develop and implement projects that strengthens the messages and overall goals of the United Nations, and one which can really showcase the great quality of an education at Salisbury University."
For more information call 410-543-6030 or visit the SU website at www.salisbury.edu.
SHARE