An SU Student's View of Field Work in the Brazilian Amazon: Part 2
Friday September 27, 2019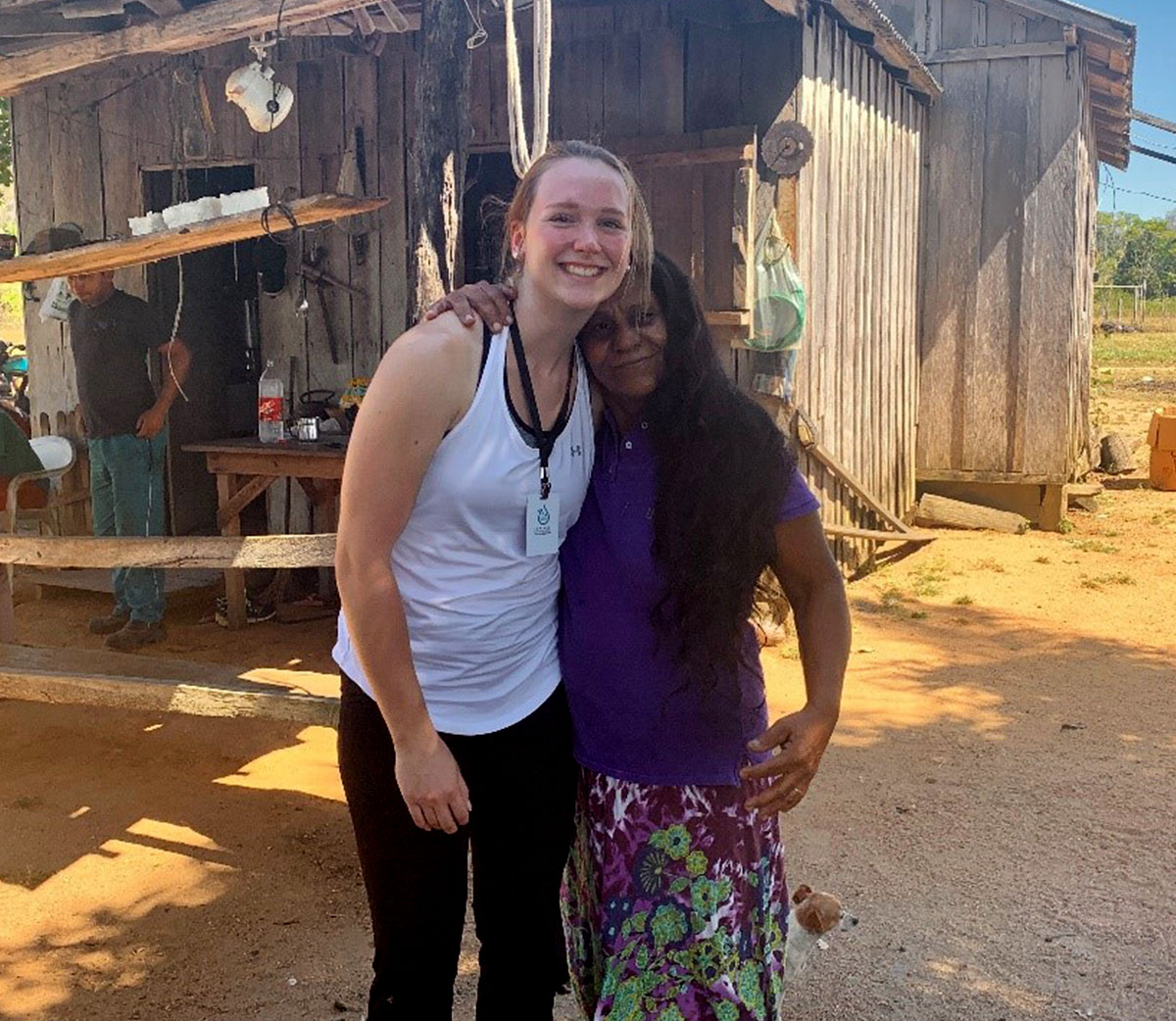 For more than 20 years, Drs. Jill Caviglia-Harris of Salisbury University's Economics and Finance and Environmental Studies departments and Daniel Harris of the Geography and Geosciences Department have studied the effects of land use and deforestation in the Brazilian Amazon. Although the science is what motivates their work, it is the Brazilian farmers, students and researchers they work with, and their welcoming culture that keeps them going back.
As part of an international team of academics, they spent one month this past summer conducting National Science Foundation-funded field work in Rondônia, Brazil, within the Brazilian Amazon. SU environmental studies and political science major Rachel Dubbs followed the researchers and recorded her observations in a series of articles. The second of three appears below.
Story of the Farmers
My preparation for travel to Rondônia included reading Behaving Brazilian, a book that describes typical Brazilian customs, manners, and etiquette. I was skeptical that the book would be useful as it was published almost forty years ago. However, I found certain Brazilian mannerisms noted to be interesting and still relevant.
For example, in Brazil it is almost always rude to eat with your hands, the "OK" signal is an offensive gesture, and the way you dress portrays your socioeconomic status.
My skepticism of the book began to dissipate as soon as I touched down in Brazil. It was then that I noticed the Manaus airport was full of people sporting designer handbags and high heels. Suddenly, I felt very out of place in my grey sweatpants and worn out book bag.
After landing in Porto Velho and joining the team, my recognition of cultural differences continued when I accompanied students who were surveying local farmers. The long drive to the farms allowed me to reflect upon the book and the passages that described what is expected of the host upon a guest's arrival. I understood that Brazilians supposedly were warmer and more welcoming than Americans, but when I found out that we were showing up unannounced to the farmers' homes with hundreds of survey questions, I thought we would be turned away by every single one.
Once again, I learned that the cultural norms outlined in Behaving Brazilian were correct.
Gilberto de Assis Miranda had an established cheese business called Queijo 4 Cachoeiras ("Cheese 4 Waterfalls"). Gilberto opened his home to the survey team and me, and gave us a tour of his farm. As we sat down, he picked a fresh papaya from his tree and cut it for us to eat. Later he plucked another unusual fruit and sent me home with "cupaçu," a unique, indigenous fruit unlike anything I'd had before.
I found him to be someone of what I thought was rare selflessness, a trait I thought we'd never encounter again. That was until I met Clara. Her land was vast, but her home was small with only a kitchen and three bedrooms for 13 people. As she spoke, I noticed she was signaling toward my shoulders and my face.
Thais, a bilingual Brazilian postdoctoral student, began laughing and told me that Clara wanted to know why my shoulders were so broad, skin was so fair and face was sunburnt. Thais communicated to her that I was an American. Clara gasped and said "Un Americana em minha casa!" She rushed over to me and began pinching my face and ears, and taking the hair out of my ponytail. She told Thais that it had always been her dream to go to America, and that she had never met an American. The experience brought Thais and me to tears.
It was difficult to say goodbye to farmers like Gilberto and Clara. I will always remember their warm and welcoming behavior and being offered fresh papaya, bread, coffee and bananas. I will also remember when the Brazilian students purchased English translation books to communicate better with me, and when the students all got together and began to sing and dance when we had Brazilian barbeque.
There is something so genuine, honest, and lively about Brazilian culture… even a book as accurate as Behaving Brazilian could not have prepared me for it.
(Harrison, Phyllis A. Behaving Brazilian: A Comparison of Brazilian and North American Social Behavior. Newbury House Publishers, 1983.)
SHARE